Custom-Built 2013 Ski-Doo 880 XM Summit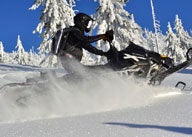 Building a forearm-popping XM Summit that peaks at will
For as long as we've written about mod sleds, we've mostly chronicled modified Polaris RMKs, Arctic Cat Ms (and, earlier, the King Cat) and Yamaha's Apex MTXs and Nytro MTXs. These were popular with the aftermarket muscle crowd due to their fairly open electronic fuel injection system with easily accessible EFI computer codes. That made designing pipes, big-bore kits, turbochargers and superchargers a fairly easy engineering process for aftermarket companies.
Back then, the Ski-Doo Summit had a loyal following, but its EFI computer was locked down – mostly – which made it difficult for aftermarket companies to harvest its computer codes. It could be done, but the return on investment was not as appealing as it was for the Cat M and Polaris RMK with its two-stroke twin-cylinder motors.
Regardless, the Summit has always had a deep and loyal following. The ZX chassis Summit was a highly favored Summit, beginning with the 2000 151 Summit 700 Highmark X. The early model year 2003.5 and 2004 REV Summits pulled in many new riders, but those mountain snowmobiles generally remained in stock configuration.
The next generation REV Summit XP was a lightweight wonder, but like the REV it mostly remained stock (except for a lightweight muffler canister), which limited sales to "stocker" riders. However, the third generation REV Summit, the XM, is a stellar mountain snowmobile, which for two years (2013 and 2014) we labeled as our Editor's Choice for mountain snowmobile of the year.
Now with this quick history, enter in a vocal and well-known Ski-Doo Summit man, Mark "Slim" Phillips of Idaho Falls, Idaho, who is a Ski-Doo loyalist extraordinaire. We believe when his time comes to pass on to the other side of the mountain, his casket will be made from left over wood from Ski-Doo Summit shipping crates.
"Slim" is a snowmobiler with 30 years experience. He notes that his two most memorable snowmobiles were a 2009 Ski-Doo XP Summit SHR880 Mod (built up by Sled Head Racing) and the "the revolutionary" 1998 Summit X 670. In getting to know Slim, he will tell you that the most exotic place he has ridden is Benton City, Wash, where its elevation is just 500 feet above sea level. He laughs about this as a mountain rider, for he, like all mountain riders, life begins at 8,000 feet.
Ski-Doo snowmobiles are his favorite brand because he is addicted to Ski-Doo's "Pure and unadulterated power." He adds, "Since my initial Ski-Doo 440 TNT Silver Bullet, much larger displacement snowmobiles of other brands can't match their (Ski-Doo's) performance."
Slim, like us, is not a young-in-age rider. But Phillips believes that "with the new advancements of these [modern current production] sleds, their innovation in handling and power actually gives us 'old timers with experience' the advantage." He states that other than the fear factor of dropping off a 100-foot cornice, today's current mountain snowmobiles, for Phillips the XM Summit, has kept him in the saddle and competitive against younger riders. This now brings us to our topic, Slim's 2013 XM Summit X 800 which rolls along as a "163er." A virtual Summit supersled.
Read about how to How to Set Up Your Sled's Suspensions
Slim's 2013 XM Summit X, as he calls it, "has forearm-popping power" from Sled Head Racing's (SHR) big-bore 880 R ETEC motor which was built by John Wilmer of Oak Grove, Minn. The motor's spent fuel routes out through a High Performance Sports' (HPS) muffler. Phillips states he and SHR worked together to assure that the motor's mountain tuning (for thin air and deep powder) was specific to his needs.
Slim states that with SHR, horsepower for the big-bore 880 hovers near the 190 mark, conservatively speaking. For you motor geeks, the Summit's air intake system remains stock and no changes were made to the EFI's mapping. What this means is no add-on EFI controller to alter the Summit's brain. This is a boon to SHR as this is a build-and-go-ride, plug-and-play motor kit. Translate that to read: ultra user-friendly. The break-in period of this Summit needed ZERO adjustments for full power reliability.
For the 880's clutching, Slim holds it as a trade secret, but know that the drive clutch has fully weighted pins and was balanced with one pound of rotating mass removed to improve rotating efficiency. The driven clutch is a fully adjustable Shockwave. The driven clutch relies on a helix angle, which Slim will eventually land on, but provides a constant angle of 44 or 45 degrees; this is up four to five degrees from stock, which is 40. Slim explains that motor RPM must remain just under 8200, which is optimum. Any higher and the motor runs the risk of damaging its intake reed valves.
The exhaust system is made up of a ceramic-coated pipe and Y-pipe. Though not a part of the motor's performance, a lightweight battery was installed, which improves the Summit's power-to-weight ratio, plus electric start is nice to have.
To keep the motor's power aligned up the steep chutes, Phillips relied on Ryders' Performance of Rigby, Idaho to install a Timbersled rear suspension, which he pulled from his previous 2009 XP Summit 880. At the nose, the XM manages the wallops and junk via an Alternative Impact Front suspension. Fox Float shocks manage impact energy and rebound.
Read our guide to Snowmobile Turbochargers
Through the front and rear suspension swaps, battery and shock change out, Slim has dropped the XM Summit's weight by over 40 pounds. Estimated dry weight for the 163 is 410 pounds. Other than all of the above, the XM Summit X remains as is, no handlebar, track, runningboard or seat changes.
The Ride
The XM Summit has no outward appearance of being a big bore mod, except for an "880R" decal replacing the Ski-Doo factory-applied "800R." The motor is quiet, stealthy and brawny.
From our perspective, the 880 big bore is nasty good, if you know what we mean. We've featured so many turbocharged snowmobiles that it is refreshing to ride and feature old school big bore; especially a big bore that works like this one.
When Slim wheels his XM Summit X up around a mountain slope to take on winter's drifts, the XM does not emit an exit note that is deafening; it is as quiet as stock. However, when Slim pinches the XM's throttle the nose lifts and the flat black Summit lurches forward. The Timbersled rear suspension controls rearward-transferred torque, which settles the nose down thus keeping the XM flat as it motors forward.
Inside Modern Snowmobile Drive Belts
To move around rocks, trees and other slow moving snowmobiles, the XM's Alternative Impact front suspension mated to Fox Float shocks assures Slim is controlled and chilled. While shooting pictures for this feature and being wholly aware how an XM works, we noticed Slim and his XM Summit were dancing as one, like equally matched pair figure skaters. The XM Summit is a well-balanced snowmobile, but with the Timbersled rear skid and Alternative Impact front end, power and finesse were sweetly managed.
When this mountain snowmobile veteran got to take the controls, I experienced what I saw: a hyper Summit that took full advantage of its 163-inch long by 16-inch wide track with quiet force from its big-bore power. The XM Summit, when soaring through waist-deep freshly fallen powder, did not trench and auger down to the Earth's core. The Shockwave driven and Timbersled rear suspension received the motor's power in full harmony with the driver's demands. The sled was and is that good.
In a mountain snowmobile world dominated by turbochargers and superchargers, it is good to reach back to some old-school technical wizardry and see and hear a big-bore motor tear down a mountainside. It is good to hide in plain sight.
For more information on Sled Head Racing, go to http://www.sledheadracing.net/.