2009 Yamaha Nytro RTX SE Review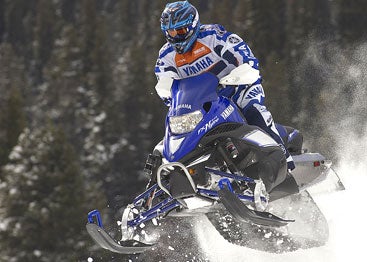 Yamaha's all-new 2009 4-stroke super sport showcases changes for the future
If you like what you see in the 2009 Yamaha Nytro XTX, expect to like Yamaha's sleds of the near future. Look closely at the new aluminum chassis. Expect future Yamaha's to sport both a long and short version of this steep-angled design. You already have seen the future if you checked out Yamaha's 'Spring Only' FX Nytro RTX SE. Both it and the new XTX share similar components.
Fast Facts
Engine Type:Horizontal In-line
Cylinders:3
Engine Stroke:4-Stroke
Valve Configuration:DOHC
Displacement:1049 / 64
Starter:Electric
Turbocharged:No
View Full Spec
The difference between the two is that the XTX headed into 2009 as a full production model, while the short chassis RTX SE was supposedly a very limited edition model.
We fully expect the RTX SE previewed an evolved line of new Yamaha sport sleds. You don't really think Yamaha developed the all-new aluminum chassis strictly for limited sales to off-trail riders? The chances are quite good that the two versions of the new chassis find their way into 2010 and beyond sport models. Let's fully expect the 'SE' version is simply phasing in the new chassis and suspensions for a fuller production run next season. Expect some evolution in the Nytro RTX designed around the 'SE' version. For example, the chassis and base suspensions may comprise the future RTX but with less expensive shocks and other features.
But, if you are a Yamaha enthusiast and can get your hands on a 2009 Nytro RTX SE, enjoy it. Think of this sled as the short tracked version of the new-for-2009 XTX, already available as a full production model.
Under the seriously sloped nose is the same 130-hp triple that powers the XTX and base Nytro models. It marks the second time Yamaha started with blank paper in establishing a snowmobile-specific three-cylinder engine. Following in the Vector tradition, Yamaha engineers determined that three cylinder engines offered smoothness and an underhood sizing to allow some weight reduction versus the four-cylinder Apex engine.
Smooth Triple
Looking to triples for smooth power is not new. In the mid-1990s Polaris felt that its Xtra Lite Triple (XLT) offered advantages over twins. Polaris engineers thought the big twins of the time tended to vibrate too much and that a triple would be smoother. The reality is that Polaris was correct, but the marketplace led by snowmobile magazine editors clamored for big bore twins, which were a bit lighter and could be more easily modified for mountain running.
Yamaha engineers look to triples for the high torque and lower revs it can sustain versus the quad cylinder engine. In the Nytro's case, the base motor comes with ample torque and its instant action electronic fuel injection feeds quick revs for a 10% power gain over the Vector triple. At 1,050cc the Genesis 130FI came as a surprise to BRP/Rotax which was preparing a 4-stroke challenger of its own. Word is that news of the 130-hp Yamaha triple caused Rotax to up the power output on its all-new 1200 triple to mimic Yamaha.
Frankly, the Genesis 130FI, with its attention to lightweight technologies in its construction and the rapid response from its precision-tuned fuel injection, gives the Nytro RTX SE a hands-down win over the 1200 Rotax engine.
When compared to the new Venture GT triple, you start making a better comparison with Rotax 4-stroke versus Yamaha. The new touring motor may be derived from the 1050 Nytro engine, but it is tuned for a totally different application.
Compete In The Bumps
Make no mistake, the Nytro RTX SE is fully expected to compete against the best 2-stroke big bump sleds on the market. There is a horsepower edge when compared to performance sport 600s, but no advantage versus the 800cc versions of the competition's high-performance trail racers.
Hoping to lure riders off 2-strokes and on to its Nytro models, Yamaha dropped engine braking and conceded a 2-stroke feel of free-rolling action. Called Engine Braking Reduction System, Yamaha followed Arctic Cat who outfitted its Jaguar with a freer system in its drive. If you are a Yamaha rider moving up to a Nytro, you'll pick up this change right away. If you are coming off a 2-stroke, EBRS won't mean a thing.
Truthfully, since we retain an old-fashioned riding style of relying on throttle action and not the brake, we preferred Yamaha's strong engine braking. We have noticed that most riders hammer the throttle and brake almost equally. We tend to ride the throttle, rely on the sled's natural friction and go easy on the brake — hitting it hard when we really screw up. Our style is a carryover from a time when sled brakes didn't so much slow you, as they didn't speed you up. You vintage riders know exactly what we mean.
For us, Yamaha engine braking took a little getting used to, and now the lack of it reverses our mindset. It's not a real biggie, but Yamaha riders will want to remember it's no longer there when you make that turn in.
SE vs. RTX
If you see a Nytro RTX SE parked alongside a standard Nytro, note the 11-degree tipped up runningboard of the SE. The idea is to give rough trail riders maximum clearance in the big whoops. Like the XTX which comes with a slightly longer version of the new tunnel, the design features larger punched out holes that give your boots improved grip and allow snow to pass up and out so it doesn't get wet and bogged in the suspension or undercarriage. This very ride-friendly tunnel came from snocross.
You'll feel the advantages of moving the Nytro RTX SE steering position almost directly over the engine. In maintaining its philosophy of centering the mass of heavy components, Yamaha engineering gives you an 'in control' riding position. The curved handlebar combines with the wide runningboard platform to give you excellent placement for riding hard as you dare over the nastiest of moguls. Thank the snocross circuit for this.
Snocross Influence
Snocross racing influenced front and rear suspensions as well. The double A-arm front suspension provides up to 8.5 inches of travel and gains more trail and relaxed caster that directly contribute to more precise steering and keeping the skis planted for aggressive cornering.
Controlling front ski action is a pair of Fox Float X dual-clicker shocks. Developed for racing, these shocks take the standard Fox Float design another step in performance by adding a remote reservoir. The result is a shock that combines the benefits of Fox's air springing system with a race-proven external adjustable damping system. For you the shock offers exceptional tuning capabilities. The Fox Float design is fade resistant, which is a big plus in serious ditch banging.
Yamaha claims its Dual Shock Pro 46 rear suspension is the culmination of four years of development and testing. The RTX SE does the standard Nytro RTX one better, even though both designs allow up to 14.5 inches of travel. The SE comes with what Yamaha calls a competition specification in the suspension arms and slide rails. There is a three-way clicker shock on the rear arm and a two-way clicker shock on the front arm. The high-pressure gas rear shock features a 40mm body with 16mm piston. Both shocks are designed to be rugged and durable, but feature aluminum construction to minimize weight.
You should expect the Nytro RTX SE to pound the bumps with any other sled on the market. But you may find it more tunable, which is a good thing when fitting this sled to your personal riding style.
Adding to the overall capabilities of the Nytro RTX SE is the stylishly narrow seat that came from the input of Yamaha's snocross racers. Make no mistake, the Nytro RTX SE is a racer-look sled designed for serious riders who salivate at the sight of a rutted trail or rough roadside ditch.
Standard Extras
To give the sled appeal to racer wannabes, the Nytro RTX SE comes with more than US$4,000 in goodies. The Fox Float X shock package is worth US$1,400 if you were to add them to a standard Nytro. The rear suspension shock package adds US$700 if you fitted them to an existing rear suspension. Of course, there's another US$600 you'd need to spend to get the latest competition specification rear arms, rails and tunnel.
The Nytro RTX SE is a special package and that is why it comes with a price tag of US$11,299 and comes in one color — Yamaha Factory blue. That's the price you pay for the best high-performance 4-stroke sports sled in the business. This is Yamaha's best answer for those riders looking for a truly serious, 4-stroke ditch-pounder. The 2009 Yamaha Nytro RTX SE will surprise you — and your 2-stroke riding, ditch-banging buddies!
2009 Yamaha Nytro RTX SE Specs
Engine
Yamaha Genesis 130FI; 1050cc, liquid-cooled triple; Mikuni fuel injection
Horsepower
130 (Estimated)
Drive
Yamaha YVXC variable ratio drive and driven
Brake
Yamaha 4-piston hydraulic with lightweight, ventilated disc
Front Suspension
Yamaha double wishbone with long arm, short spindle; 8.5-inches maximum travel; Fox Float X dual clicker aluminum-bodied shocks
Rear Suspension
Yamaha Dual Shock Pro 46; 14.5-inches maximum travel; High pressure gas dual clicker shock on front arm; three-way clicker shock on rear arm with adjustments for high speed and low speed compression damping plus adjustable rebound rate
Length
110.4 in
Width
46.4 in
Ski Stance
41.3 in
Track
15 x 121 x 1.25 Yamaha/Camoplast Rip Saw
Weight
529 lbs (claimed)
Fuel Capacity
7.4 US Gal
MSRP
$11,299