2017 Yamaha Viper X-TX SE 141 Review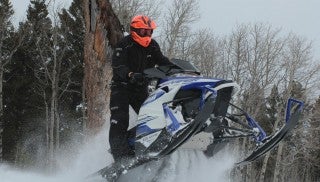 A crossover for the turnkey crowd
Yamaha's X-TX SE, the crossover in the SR Viper chassis rips through the powder relying on a four-stroke motor and a 141-inch length track remains fast, long-lasting, and fun to ride.
Fast Facts
Engine: 1,049cc four-stroke Triple
Power: 130+ horsepower
Track: 15 x 141 x 1.6 Cobra II
MSRP: US$13,499
View Full Spec
We know public- and media-hype goes to the Sidewinder X-TX and B-TX (a 153), but for crying-out-loud, the Viper X-TX SE 141 deserves some time in the spotlight.
The Viper X-TX SE is a four-stroke crossover we've come to enjoy. When the SRV Viper X-TX came to be, Yamaha shipped us one with a PowerClaw track, and we tested it beyond its design by forcing it to surf the powder waves alongside our Pro-RMKs, M8000 and Summit. In the right hands, the SRV Viper X-TX SE can rope and tie down a mountain. But, to be in the show, you must be confident and capable to handle a crossover (this crossover) in Wyoming's deep powder.
We've been hard on Yamaha this season; hitting the company about weight and nothing-else-available-but-four-stroke-power. We would like to see Yamaha offer high-tech two-stroke motors in its line; given the popularity crossovers have achieved, both two-stroke and four-stroke crossovers from Yamaha make sense. Furthermore, if Yamaha offered a crossover that is a normally-aspirated four-stroke (which Yamaha does), and one that is a turbocharged four-stroke (which Yamaha does), and a normally-aspirated two-stroke (a hope and wish from us and the crowd), they could own the crossover market.
But for now, let's look at one fine crossover snowmobile, the SRV Viper X-TX SE, one we are fond of.
The Yamaha X-TX is built on the SR Viper chassis, which chassis Yamaha purchases from Arctic Cat (ACAT) – the ProCross chassis. While the SR Viper (ProCross) makes its way down the ACAT assembly line, it receives Yamaha's three-cylinder four-stroke Genesis motor, a 1049cc fuel injected, get-it-done handyman. This motor first saw daylight in the now abandoned FX Nytro XTX and has served Yamaha well these many years. The unique four-stroke staccato pumping from its exhaust pipe is easily recognizable up close and beyond.
The Viper X-TX SE had, for a time, a brother from a different mother, the Arctic Cat XF7000 Cross Country. That "brother" snowmobile from Arctic Cat is no more. The only Yamaha-powered somewhat "crossover" from Arctic Cat is its XF 7000 CrossTour which is a 146 with mirrors and a long tunnel bag. The CrossTour is built for long single-rider cruises, not on- and off-trail mashup riding.
One standalone four-stroke competitor is Ski-Doo's Renegade Enduro with its 1200 4-TEC motor delivering about 130 horsepower. The Enduro is a bit shorter, coming in as a 137. The Enduro's Ice Ripper XT track is capable with its 1.25 inch lugs. Additionally, the Enduro has Ski-Doo's obedient RAS-2 front suspension and standard rMotion. For these two crossovers, motor performance will be somewhat similar, though the Yamaha Genesis three-cylinder 1049 feels snappier than Ski-Doo's four-stroke. There is from Ski-Doo another four-stroke motor in the Enduro, the 900 ACE, which places the Enduro, with this motor, more in the 500cc two-stroke class, whereas the Genesis from Yamaha and the 1200 4-TEC reside in the 600cc two-stroke class.
Standard track for the X-TX SE is the 1.6-inch lug Camso Cobra which is ample for the on-and-off-trail rider who knows how to read trail conditions in Michigan and powder depth in Wyoming, especially when taking a 90-degree turn off Grey's River Trail to explore the Squaw Creek country, which we have done. For the trail the X-TX SE's track bites into the snow with determination and will move some powder for forward thrust.
There was a time during Yamaha's Spring Power Surge when early X-TX purchasers could opt for the 2.25-inch PowerClaw track, which we've had here in our mountain test cave. For us, the PowerClaw is the better track, for its lugs are not too high to wind down the X-TX's performance, yet just right for minor steep-n-deep. But, that is us.
Our point here is that if the Camso Cobra track is not your mojo, then the 2.25-inch PowerClaw can mojo-up your grin just a wee bit more. OK, there is the catch though. You and your dealer will need to work out a track swap and dollar amount to do so. The option to order an X-TX with the deep lug track ended with the LE model in 2016.
The famed 1049cc three-cylinder 130-horsepower four-stroke motor in the nimble SRV chassis (which is a ProCross in Arctic Cat speak) and quick-reacting front and rear suspensions, are tuned for trail haranguing. The X-TX is not designed for full-time mountain riding, but it delivers fine flatland cross-country riding.
What makes the X-TX an excellent blend of two worlds – trail and powder – has to do with its handlebars. The X-TX has a laydown steering post which allows the bars to rotate down – right and left – in automobile-like fashion; this makes fast trail attacks effortless as the bars stay aligned with the driver's body and arms as he or she dives deep into a hot corner. Yet, the handlebars have a center pull strap, a mountain strap, for those times when a sidehill slam is wanted to explore the rolling boonies.
The X-TX's Tuner III Skis are more trail-oriented than off-trail, but is a ski that bridges on- and off-trail riding, its marginally-deep keel and width as ample. If you as a new X-TX owner and are wanting to go deeper and steeper, along with the track swap mentioned above, we recommend changing out the Tuner III skis for Yamaha's new Mountain Ski. This new Yamaha ski is nearly perfect for powder pounding.
Missing from Yamaha's literature trove is information on the X-TX's runningboards which have large dump holes to let the snow and ice fall through, and an aggressive serrated edge for locked-on bite when playing hooky on a mountainside. The bars, pull strap and runningboards give the X-TX some serious versatility.
Being this is a crossover, where driving it is mostly a sit-down activity, the X-TX has "centralized mass" to keep the snowmobile and its driver mated "in the middle" where nose and tail arcs are less noticed and too, managed by the driver as he or she adjusts throttle input, seat and foot positions.
The Viper X-TX SE will impress owners with its adjustable ski stance; for trail, push the ski saddle out to 43-inches center-to-center, for powder riding, pull the stance in an inch to 42-inches center-to-center which will make the X-TX easier to pull over when riding in a standing position.
With the Camso Cobra track, the Viper X-TX, is a 70/30 crosser, 70% trail and 30% off trail. With a change in track – PowerClaw – and to a mountain ski – the Mountain – we believe the X-TX will transition to 55% trail, 45% powder.
Yamaha's 2017 SRV Viper X-TX SE continues Yamaha's philosophy, starting with the 1049-powered Nytro XTX, that crossover riding should be turnkey and long lasting. The Genesis motor will lumber on forever and ever – its 10-gallon fuel tank will assure this. With a turn of the ignition key, and regular oil changes, the Viper X-TX will deliver miles and years of trouble-free riding.
We often field questions about Yamaha and its dedication to four-stroke motors. Regardless of others' arm chair quarterbacking, to include ours, the Viper X-TX is tough and fast. The motor snaps out from its unique idle rumble to fantastically fast. The Genesis motor has long legs and for a 130-plus horsepower motor, it is crisp and hard working. We, like you, desire low-end grunt and midrange pull over that of overall top speed – the Genesis motor is grunt-filled. Yes, low end pull is most important, but as we briefly mentioned above, the X-TX will roll off the miles in rapid fashion and will peel out a contact lens.
When we've battled hard packed snow with low-laying pencil drifts, the Viper X-TX LE's front and rear suspensions absorb the smacks. The tall front spindles give 10-inches of travel managed through Fox Float 3 air shocks. The 141 Dual Shock SR 141 rear suspension is built with "sliding action" which helps ensure weight transfer is controlled as it receives motor torque and twist from the track drivers. The SR rear skid has 14.5-inches of vertical stroke and relies on an aluminum-bodied high-pressure gas (HPG) shock and a Fox Float 3 at control arms. This techno speak means one thing – control and a glued-down ride.
The Sidewinder B-TX and X-TX may be Yamaha's crown jewels in the crossover segment. Yet, the Viper X-TX SE 141 glows in our hearts as a capable mostly-trail crossover that makes trail cruising delightsome with some limited powder blasts. Do yourself a favor and check it out.