Asphalt racing series ready to kick off
Series begins June 14 in New Hampshire
Story by Snowmobile.com Staff, Jun. 02, 2008
Email a friend
Print Friendly

RSS
The start of the 2008 National Speed Association (NSA) season is around the corner and the best Pro Stock asphalt racers are ready to get started.
Past NSA champions Jeff Cullen (Abbott's Power Equipment) and Jeremy Hannen (San Marino Racing) are slated to compete in the season opener at the third annual Camoplast Asphalt Challenge at New England Dragway on June 14.
Hannen edged Cullen by less than 4/100ths of a second at the 2006 Camoplast Asphalt Challenge when the pair squared off in the final.
Also returning this year are Joe Riccardi on the San Marino Racing custom Pro Stock asphalt sled, the Scooter Boy/Big-E Racing team of Scott Marsh and Eric Conklin, Gary Schweikert on his Ski-Doo R/T, Lee Hunter and his Chuckaroo Motorsports Ski-Doo R/T, Kevin Zucco on the Zucco Racing Yamaha, Chris Smith on the Bichteman Racing's Ski-Doo Pro Stock and two-time NSA event winner Ed Armstrong on the A2Z Racing Yamaha. Six veteran race teams from Maine are also ready to do battle - Jay Pearl on the Bangor Motorsports Arctic Cat Pro Stock, Ryan Mason on his Ski-Doo Pro Stock, Kristin Stanley and Jeff Cullen on the Polaris team of Abbott's Power Equipment and PCS Performance, Mark Wakem on his Firecat Pro Stock and Ken Lund on the Wise Man Racing Polaris Edge Pro Stock.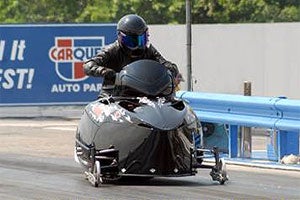 A group of NSA newcomers will also be making their debuts, including the daSilva Motorsports Team with rider Paul daSilva, the Pro Stock asphalt sled John Renauld, the Meyer Racing MRE powered Ski-Doo CK-III with Dan Meyer riding and the brand new 2007 Ski-Doo Rev MRE powered Pro Stock sled of Swartwout Racing's Dale Swartwout.
There will be three qualifying sessions for the NSA Pro Stock sleds on Saturday, June 14 starting at noon. Eliminations for the top 16 qualifiers will begin at 6:00 p.m. For information about the June 14th Jet Wars show at New England Dragway visit www.newenglanddragway.com.
For those not familiar, the NSA is a heads up, Pro Stock asphalt snowmobile drag racing circuit. Since its inception in 2005, NSA has brought together riders from all over the US and Canada to give them a venue in which to showcase their talents.
At an NSA race, spectators and fans can take a close-up look at cutting edge two-stroke race engineering and talk directly to the builders and riders of these machines.
For more information on the NSA Pro Stock asphalt sled series, visit http://www.nationalspeedassociation.com/.
2008 NSA Schedule:
| | | |
| --- | --- | --- |
| Date | Track | Location |
| June 14 | New England Dragway | Epping, NH |
| June 28 | Maple Grove Raceway | Reading, Pa. |
| July 12 | New England Dragway | Epping, NH |
| August 9 | New England Dragway | Epping, NH |
| August 16 | Maryland Internatioal Raceway | Budds Creek, Md. |
| September 19-21 | Toronto Motorsports Park | Cayuga, Ont. |