Hibbert sweeps Pro Finals at Duluth
Arctic Cat rider picks up 40th Pro victory
Story by Snowmobile.com Staff, Photography by John Hanson, Dec. 03, 2008
Email a friend
Print Friendly

RSS
Pre-season favorite Tucker Hibbert didn't disappoint during the AMSOIL Duluth National Snocross, as he put on a dominating performance in both Pro classes to capture his 39th and 40th professional career victories.
"It doesn't get any better than this. It was my goal to win both finals this weekend
but I had no idea it would go so well," says Hibbert. "My Monster Energy/Arctic Cat was unbelievable. The engine and suspension package was dialed in. The entire crew has been working so hard the past few months. We did our homework, put in the long hours and it shows. My dad, Rob, Paul, Steve, Jeff, Fred and many others dedicated a lot of time to my program and I'm so thankful for them. I've been training really hard the past few years and feel stronger than ever.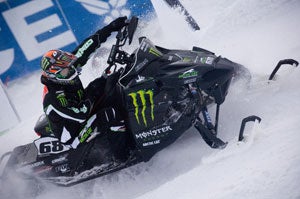 "I'm so pumped about the new race format. Finally, we're having long races that really showcase our fitness and the durability of our snowmobiles. The track was challenging, different and exciting. Every lap it changed so I constantly had to be watching lines. I had a blast. This is what racing is about and I can't wait until the next race."
The inaugural race of the AMSOIL Championship Snocross Series exceeded everyone's expectations and delivered on the promise of showcasing the biggest names in professional snocross on the best tracks ever developed. More than 36,000 fans witnessed an incredible display of dominance by Hibbert, as he pulled the holeshot in both pro finals and proceeded to lap over half the field.
During Sunday's Grand Finale race, Hibbert, who was the top qualifier, led the 30-lap race from green to checkered. Early on it appeared only a handful of riders could keep pace with Tucker, most notable of which was Polaris rider TJ Gulla. But mid-race Gulla dismounted his sled while attempting to negotiate the newly added 'Abyss' portion of the Duluth National track. This opened the door for fellow Cat rider Ryan Simons to takeover the bridesmaid position and finish second on the podium.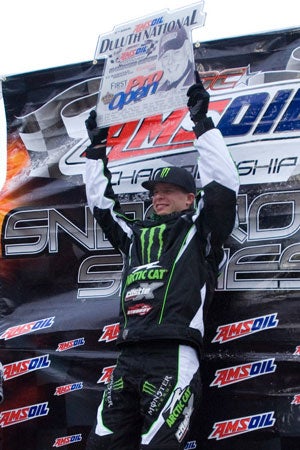 Rounding out the top three was last year's Pro-Open champ, Ross Martin (Polaris), who emerged from the start mid-pack and was unable to reel in Tucker but rode a consistent race to finish third. Completing the top five was Brett Turcotte (Arctic Cat) and Mathieu Morin (Ski-Doo).
On Saturday Hibbert once again nailed the start in the Pro Super Stock final, and lapped nearly the entire field in the 30 lap main. Only the charismatic Levi LaVallee (Polaris), who won gold at Winter X last winter in the Speed and Style competition, could keep pace with Hibbert. LaVallee emerged from the start in the second place and stayed on Hibbert's snowflap throughout the final, finishing just five seconds behind at the checkered.
Completing the podium in Pro-Super Stock was Ryan Simons, who appears to be the most improved Pro rider in the field. Simons had a mid-pack start but proceeded to pick off riders one by one on his way to a third place finish. The remainder of the top five in Pro-Super Stock was TJ Gulla (Polaris) and Matt Piche (Arctic Cat).
Semi-Pro competition saw hometown favorite Bobby LePage (Polaris) capture the win in Semi-Pro Open, edging out fellow Polaris rider Chris Kafka and Arctic Cat rider Christian Salemark.
During Sunday's Semi-Pro Super Stock final, Dylan Martin overcame a frantic last minute scramble to repair the front suspension on his Polaris mount, as his mechanic scoured the pits and the vendor displays to find replacement parts. With minutes to spare, Dylan's sled was ready for the main, and the younger Martin didn't let the panic overtake him, riding a brilliant race for the win. Rounding out the top three was Cory Davis (Arctic Cat) and Logan Christian (Arctic Cat)
Other notable winners of the weekend included: Earl Reimer taking the win in Pro Plus 30 Super Stock on his Ski-Doo; Carly Davis who made the trek from Soldonta, Alaska worth it with a win in Pro Women Super Stock on her Arctic Cat; Andrew Lieders (Polaris) took top honors in Sport Super Stock #1 while Cody Thomsen (Arctic Cat) won the Sport Super Stock #1 class; the final Sport class winner was Samantha Tarnowski on a Ski-Doo taking top honors in Sport Women Super Stock.
Support class winners for the weekend included:
Travis Muller (Ski-doo) – Jr 16-17
James Johnstad (Polaris) – Jr. 14-15
Dylan Jansen (Arctic Cat) Jr. Novice 10-14
Austin St. Cyr (Ski-doo) Transition 8-12
Devinn Galley (Polaris) 120 Champ 7-14