Polaris posts record sales in 2011

Snowmobile sales up nearly 50 percent
Apparently nobody told Polaris about the global economic crisis that's been making headlines for the past few years. While much of the powersports industry has been reeling, Polaris keeps chugging along with record sales quarter after quarter and year after year. 2011 was certainly no different.
Not only did Polaris see record sales of $782.0 million in the fourth quarter (an increase of 26 percent over the same period in 2010), but full year sales were a record $2.657 billion, a staggering 33 percent increase over an already successful 2010.
While Polaris saw sales increases across its entire product lineup (Off-Road, Snowmobile, Motorcycle, and Parts, Garments & Accessories), the Snowmobile lineup saw a significant boost in the past 12 months. In the fourth quarter Polaris' Snowmobile sale accounted for $169.1 million, up from $104.0 million in 20012. Year-end Snowmobile sales reached $280.0 million, compared to $188.9 million in 2010 – an increase of 48 percent.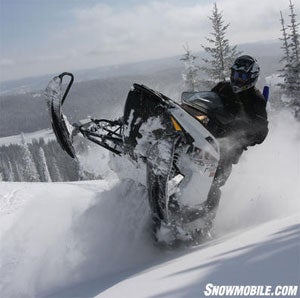 "Our record fourth quarter results were a fitting ending to a year in which we generated record annual sales and earnings and significantly exceeded our initial expectations," says Polaris CEO, Scott Wine. "Specifically, during the year we furthered our leading market share position in off-road vehicles while continuing to gain market share in motorcycles and snowmobiles. Moreover, we introduced over 20 new vehicles, including award-winning products like the Ranger RZR 570 value recreational off-road vehicle, the 800 Pro-RMK snowmobile, and the Victory Cross Country Tour motorcycle.
"Building on our surging core businesses, our military and Bobcat adjacencies continue to gain momentum, and we have made considerable progress in expanding our international presence with increased sales in Europe, China, and India. Lastly, we added to our small electric vehicle portfolio with the acquisition of Global Electric Motorcars (GEM) and Goupil Industrie SA, which expands our ability to compete in this fragmented, fast-growing $4 billion market."
As for 2012, Polaris doesn't plan on slowing down. Wine says the company anticipates further growth and market share gains.