2012 Polaris 800 Pro-RMK Review [Video]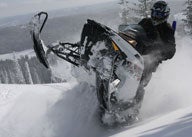 This is the standard bearer
After one season on the snow, the 2012 Polaris RMK enjoys the reliable and sweet history the 2011 800 RMK carved in the snow. The 2011 Pro RMK 155 was the most purchased snowmobile by all consumers. The Pro RMK, especially the Pro 155, lured riders en masse to Polaris showrooms. Little changes, mostly cosmetic, runningboards and to the multi-function display, comes to the 2012 Pro RMK.
Fast Facts
Engine Type:Horizontal In-line
Cylinders:2
Engine Stroke:2-Stroke
Valve Configuration:Reed Valve
Displacement:795 / 48.5
Starter:Pull
Turbocharged:No
View Full Spec
The Pro RMKs are the best mountain sleds Polaris has built to date. After a season on the 2011 RMK Pro 155, we have drawn the conclusion Polaris nailed it down and continues to excite the mountain rider for season-2012. It seems that early spring and summer orders are as strong for the 2012s as they were for the 2011s. This is remarkable given high fuel prices, and it being the Pro-RMK's second year. The excitement has yet to wear off. It appears that the stellar reputation the first year model produced trumps fuel costs and drives consumers into Polaris dealers for model year 2012.
Andy Mills and Marty Sampson, Polaris' brains-and-brawn RMK project leads, developed a product that mailed the goods to the mountain rider, who at times, is never satisfied and always wants more from the postman. Guilty.
The 2012 Polaris RMK with is light chassis, superb ergos, and mountain –specific lean and narrow design, will motor along to places that may be beyond your level. For me, your humble author, the RMK Pro improved my riding by polishing off the rough edges – the bad habits I leaned from older chassis and not-so-specific mountain snowmobiles – and did push me to challenge and ante up my riding level. I am a better rider.
Inside the Pro-RMK is Polaris' Liberty 795cc 2-stroke, liquid-cooled, Cleanfire fuel injected (CFI) twin cylinder motor busting out 150-plus horsepower. Bore and stroke measures 85mm X 70mm. The motor comes complete with throttle position sensors, detonation sensors and the ever-convenient PERC – Polaris Electronic Reverse Control.
When the RMK engineers created the Pro-RMK for model-year 2011, the number crunchers wanted a strong and rigid RMK that was approximately 40-pounds lighter than the model-year 2010 IQ RMK. While making the RMK lighter, the RMK project team also created a rigid chassis that resists twisting under load and torque. The RMK's over-structure is said to have 300% more torsional rigidity than the RMK chassis it replaced, the 2010 IQ Dragon. I bring this up because Ski-Doo with its XP and Arctic Cat with its new ProClimb worked hard to lessen torsional twist; this is important to the OEMs as well as the rider as lateral side forces are applied to the chassis when sidehilling and tree running. With all the twisting motions from crankshaft, to clutch spin, to jackshaft rotation, to driver and track rotation, the mountain snowmobile's drivetrain and its pilot's handlebar, subjects the whole snowmobile to many counter forces. Rigidity is important.
If you are a rider like the Snowmobile.com Mountain Team, you demand a mountain snowmobile that will throw itself into a hill without pushing the track out from the snow, commonly called lifting. Side panels on the Pro-Ride RMK are smooth, flat and do not extend beyond the width of its runningboards. The result is a side profile that is unified from bumper-to-bumper.
The Pro-Ride RMK has a laydown steering post with a series of 90-degree angles that deliver flat handlebar swing. The Pro-Ride RMK front suspension is narrower than the Rush and adjustable from 39-inches to 41-inches. We like the narrow setting.
The 163 RMK has tipped-up rails, which makes the 163er turn as sharp as the 155, whereas the 155 has flat rails. Speaking of the 163, it is a flotation king. It takes a bit more muscle to throw it around, only because it is longer than the 155. However, the 163 is only two pounds heavier than the 155. That is a big boon for a long, long track.
For 2012 the RMK engineers and project leads improved the runningboards on this hard hitter to improve traction, grip and snow excavation. While the 2011 boards were not bad at all, these new ones are like a fine piece of gourmet kitchen wear – sharp, clean and functional that keep a foot in check even when ice and snow occupy the real estate.
The 800 Pro-RMK comes in several models, Standard, Pro and Assault. They all share the same track, bulkhead, motor, and electronic reverse; Pro-RMK front suspension and RMK coil-over rear suspension, Gripper skis, lightweight spindles, RMK freestyle seat, and runningboards with large snow evacuation holes. The differences between the models are specific to suspension shock absorbers and springs, handlebars and carbon fiber parts. Broken down below are the subtleties.
Standard 800 RMK 155
Backcountry and deep powder use on a budget
Ryde FX shocks on all corners. Standard RMK handlebars (89mm) with mountain strap. Multi-function digital display that tilts upward for easy viewing when standing. RMK hydraulic brake system. Estimated dry weight is 440 pounds. White in color. Not a bad honker. I spent a half-day busting powder on a Standard and never felt like a budget rider. It is serious about its job duties.
Pro-RMK 155/163
Premium lightweight backcountry and deep powder use for the premium rider
Walker Evans at all front and rear points. Pro Taper handlebars. Colors are RMK black. Estimated dry weight is 436 for the 155, and 438 for the 163. Two pounds, that's nothing. Carbon rear bumper with lightweight snow flap. Lightweight Cyclone brake rotor and caliper. Hollow jackshaft.
The Pro comes in two eye-candy colors, black and orange. For the spring purchase customers, a retro TX graphic package was available. This graphic package makes the Pro stunning. I could see bowing down to it every morning due to its flashy appeal
RMK Assault 155
Freestyle, backcountry and deep powder use for the dropper and jumper
Up front, Walker Evans 16-position compression adjustable needle shocks and heavy-duty springs with remote reservoir. The competition front end has a wide range of adjustments to compensate for the swaybar-less design. Colors are white with a red and black wrap around. Carbon fiber rear bumper with lightweight snow flap. Lightweight Cyclone brake rotor and caliper. Hollow jackshaft. Stiff paddle competition track. Optional RMK softer-compound track for spring buy purchasers. Estimated dry weight is 446 pounds. The Assault's 10-pound greater weight versus the RMK Pro 155 lies with its heavier track and heavier shocks.
Summation
The Pro-RMK coil over rear suspension is well tamed through the bumps and allows the vehicle to handle deep powder and mountain ascents and descents with ease and confidence. From our season on the 2011 RMK, we found the snowmobile to be as "flickable" as Polaris claimed it would be.
The RMK ergos blend rider and snowmobile together for easy maneuvering. The tall and narrow RMK freestyle seat allows easy transitioning from sitting to standing. The Pro Taper handlebars fit a gloved hand with precision. However, the standard RMK bars take a bit of getting used to. Yet, some argue the RMK Pro steering post is too tall for technical tree riding. (I prefer the steering post height the Spring-buy Switchback Assault has, as I can leverage the snowmobile better in tight tree situations on 30-degree and greater slopes; but this is me after being a student in several backcountry clinics where low bars are preached – I heard and witnessed this from clinician, Dan Adams.)
We wish the RMK, all models, had under seat storage.
I wrote in 2010: "The Pro-RMK is going to change mountain snowmobiling, moving it aggressively forward. What many have thought impossible will quickly become the norm. Polaris has raised the bar for mountain snowmobiles." This came to be. Polaris did raise the bar. Polaris set a new standard with its Pro RMK mountain chassis.
Many riders cast their vote for the best mountain ride in 2011 by purchasing the Pro 155 in freight car loads. Remember from above, the 155 Pro was the most often purchased snowmobile across the snowmobile kingdom; 2012 may prove this again – two years running.
My Opinion
Sr. Mountain Test Rider, Kevin Allred
The sales numbers for 2011 impressed me. The sales numbers for 2012 impress me. Overall, the snowmobile impresses me. I know from firsthand experience why riders bought many 800 Pros and continue to do so.
Polaris listened to mountain riders, and hired a bunch of mountain riders to help them develop and promote its RMK product. And as a result, the Polaris RMK University built a snowmobile I am confident and most comfortable on. I trust it to take me into the West's nasty backcountry terrain and return safely, in good condition. The RMK fits me well, for my body height and weight, and for my riding style. It was easy to adapt to, and is a snowmobile that doesn't fight me in the trees, on the slopes, or on the trails. Its ergos, fit and finish are excellent.
A mountain snowmobile, for any serious backcountry rider, must be trustworthy, very Eagle Scout. The 800 Pro-RMK is such a sled. It is dependable, reliable and a snowmobile that becomes one with its rider. I have fun on this sled, and after a season on our 2011, I look forward to more good times on the 2012. Last year I wrote the Pro-RMK is what a mountain sled should be. After a year of experience behind us and looking toward 2012 I still feel the same.
2012 Polaris 800 Pro-RMK 155 Specs
Engine
Polaris Liberty, 795cc two-stroke, liquid-cooled, twin; Cleanfire electronic fuel injection
Horsepower
150+
Drive
Polaris P-85 drive with TEAM LWT driven
Front Suspension
Pro-Ride A-arm suspension; Fox Float Walker Evans shocks; 9.0-inches of travel
Rear Suspension
Polaris RMK coil-over parallel rail slide with Walker Evans shocks; up to 16.0-inches of travel
Length
129.0 in
Width
46.5 in
Ski Stance
Adjustable from 39-41-in
Track
15 x 155 x 2.4 Series 5.1
Weight
431 (claimed)
Fuel Capacity
11.5 US Gal
MSRP
$11,799
Related Reading
2012 Polaris 800 Switchback Pro-R Review [Video]
2011 Polaris RMK Review
2012 Polaris Early Release Snowmobiles Unveiled