Snow matters!
Recent cold spell, snowfall, causes immediate spike in sales
Story by Jerry Bassett, Dec. 20, 2007
Email a friend
Print Friendly

RSS
All the analysis in the world can be conducted on the state of the snowmobile world and what means success or failure. But it's pretty safe to say that any analyst who underestimates the effect weather has on our sport should never be taken seriously. All the schmoozing and pitches a sled manufacturer's executives do with stock analysts means nothing, as no one factor means more to snowmobile sales than a snowy winter—the earlier and snowier the better.
Here at Snowmobile.com's St. Paul, Minn. bureau, where we recently weathered an early snow storm of nearly a foot and expect more to follow within days, we have seen firsthand what snow means to dealers and consumers. We have the following scenarios on excellent account.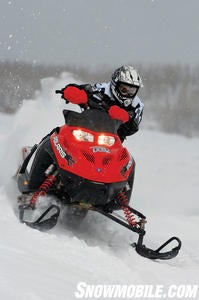 An early December snow is really moving sled sales as Minneapolis/St. Paul metropolitan dealers report running out of the most popular sleds:
• One local dealer reported selling 15 machines on a recent Saturday morning;

• Another suburban dealer reported 54 snowmobiles sold in the first 10 days of December;

• There are reports that in certain areas of Minnesota, virtually all Polaris Dragon sleds are sold out—with dealers stating that they getting five or six calls a day looking for this popular snowmobile;

• One of Polaris' largest Minnesota dealerships, Bristows, already sold 400 new sleds this winter and is worried that it will run out. Sales of the store's used machines are reported as being very brisk as well.

• In central Minnesota, one consumer reports that his sleds have been at a dealership awaiting service since before Thanksgiving. The combination Polaris/Ski-Doo dealer hasn't been able to get to the work because it's selling and preparing so many new sleds.

• Another consumer tells us that one dealership's parts deparment did such a brisk business that people were often three deep in line.
With snow in virtually all the key (and formerly snow-starved) areas, this would seem to be the big break that sled makers, snowmobile dealers and enthusiasts have been waiting for. Will this 'perfect storm' of snowmobile business across the snow belt mean a quick return to low dealer inventories? And, will it be difficult for people to find and buy a new sled in February?
Sled manufacturers certainly hope so. Polaris and Arctic Cat announced serious inventory reductions this past season in order to help dealers clear out non-current models clogging up supplies. With this early snow, those exceptional 'buys' will quickly fade and dealers will be able to order and sell the newest of the new—exactly what the sled makers wanted.
But, a caution: sticking the dealers with hefty inventory of the newest models next spring can be dangerous. After all, one good snow season doesn't make a decade of snowier winters. Maybe a little planning would be good on all our parts—manufacturers, dealers and us as buyers. Let's just enjoy the moment and snowmobile like crazy—and hope Al Gore's predictions of massive global warming can hold off for a while!