Winter Means Business for Snowmobile Industry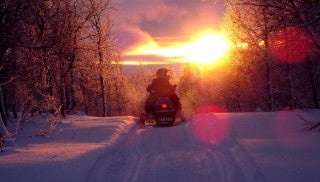 Winter snows are good for all
As we sit behind our keyboard and gaze out our office window at a fresh snowfall and watch the thermometer's numbers continue to rise from its -20 degree overnight low to +20 degree daytime highs, we know that winter is here. The most frenzied activity at local snowmobile dealerships we've witnessed in nearly three years suggests a successful snowmobiling season looming. When we took our personal sled in for its long overdue tune-up, we saw sleds sitting on the showroom floor with "sold" tags and in the back work area mechanics and service technicians were busy readying new and older sleds for the trails.
All of this has to encourage the snowmobile manufacturers who hinted earlier that pre-season sales were off somewhat from expectations. Now, though, there is snow everywhere that matters with the Weather Channel giddily naming winter storms and issuing blizzard warnings from Washington State to Washington D.C. Oh, the joy! And it's all happening before the New Year.
This makes for very good news as veteran snowmobile dealers will tell you that if they have unsold sleds after January 1st they likely will carry over to the next season. Not a good thing for a dealership that must pay flooring costs, insurance and such on unsold inventory. Even though the sled makers mark the sleds sold to the dealers, they have it counting to next season's inventory, making them more inclined to limit new sleds that the OEM wants them to order. Plus, with an early or normal committed winter, snowmobilers are riding and wanting add-ons or breaking things and needing parts for repairs. Early snow is good.
When we officiated as a guest judge at the 4th annual SNOWFEST vintage sled display recently, we felt the pent-up enthusiasm for snowmobiling that comes before the first meaningful snow. The local Driftskippers snowmobile club readied their grooming rigs and had one on display for SNOWFEST attendees to view. The latest trail maps were available and we overheard snowmobilers making plans for early season rides. This is central Minnesota with more than 20,000 miles of trails just waiting for ample snow cover.
In the mountainous West and the high plains snow came forcefully, causing the weathercasters to issue alerts and scary scenarios of impending doom. We really don't know where these folks come from – Florida, perhaps? But we do know that snowmobilers aren't easily taken in by these weather wussies who warn that 10 minutes of exposure to uncovered skin could cause severe something or other that would be unpleasant. Since we've never encountered a naked snowmobiler out riding on a minus 10 degrees day, we figure snowmobilers can handle the threat. We've challenged minus 45 degree temperatures (not wind chill, but the real ambient temperature!). That didn't account for the 50-plus miles per hour speeds we cruised that day. What would the weather forecasters think of that?
Over the weekend here at our palatial St. Paul, Minn. penthouse office, real world temperatures stayed between minus 10 to minus 20 degrees. Driving to the office this morning, we noticed fresh, but undeniably frozen snowmobile tracks on the adjacent trail ways. Guess those riders missed the weather report, or simply they're snowmobilers enjoying a ride.
While early winter means that we can get out and ride, it means sled sales should get a boost. That encourages the sled makers to bring us newer, improved toys. Look at what goes on out west where snowfall is a given.
Around the turn of the century trail sleds were kings and powder-specific sleds were more niche models. That has changed. In model year 2001 Arctic Cat replaced its line of "powder specials" with sleds like the Mountain Cat 800 that came with a plastic parabolic ski to increase flotation and bite. Ski-Doo's Summit 800 offered 800cc two-stroke Rotax power to spin its 144-inch long track fitted with two-inch paddles. This was also the time for the original Polaris RMK. The top of the line powder sled was fitted with a potent 794cc case reed Fuji-built twins You could get an RMK with a choice of a 144-inch track or the long 151 track. Yamaha's lightweight Mountain Max brought a 700cc two-stroke triple to the hills.
From the turn of the century forward, the sled makers invested development and marketing dollars to carve a profitable market for its powder sleds. Where long might suggest 144 inch tracks in 2001, today's 174-incher may become the new standard for deep powder adventurers. Power has grown with sled length. Where 100 horsepower made the grade in 2001, it takes almost double that for serious modern riders. Once the domain of the aftermarket, turbochargers now come on production sleds and include a manufacturer warranty.
You see, consistent snow makes a difference to the sled makers. Because they know they can count on winter in the mountainous west, they are willing to drop big bucks on developing new and intriguing powder products from 174-inch stretch tracked powder prowlers to an entirely new product niche of snow bikes.
Snow bikes in and of themselves aren't new-new as now defunct Chrysler Marine failed with its low-priced single ski/single track Sno-Runner and A&D Boivin created a better product with real performance. But its Snow Hawk, while predicting a new market, might have been a bit ahead of the times.
Today's snow bike creations tend to mate a unique track and ski system to an existing dirt bike. Polaris bought pioneering snow bike developer Timbersled with the idea of growing the market. For model year 2017 Arctic Cat announced its own snow bike creation, the purpose-built Cat-engineered and manufactured SVX 450. Depending on Polaris and Arctic Cat success, the other sled makers may follow, either by partnering with an existing snow bike manufacturer or building their own. Regardless, without consistent winter the snow bike market would wither and the sled makers wouldn't have any interest in this market, much less try to expand on it.
If we got a couple of solid winters under our snowmobile drive belt, you might be surprised at what the sled makers might spring on us. As it is, Ski-Doo took a calculated gamble on future winters when it totally revived its already successful line of REV models. While we figure that the mountain market drove the creation of the GEN-4 platform and the 850cc Rotax E-TEC twin Summits, Ski-Doo took a risk and expanded the GEN-4 to the trails with select MXZ and Renegade trail-oriented sleds. Despite the threat of global warming (i.e. climate change), Ski-Doo placed bets on winter continuing in the flatlands of the Midwest, the East and Canada, investing millions in the new technologies that will continue to roll out to more models for 2018.
For us snowmobilers, caution sets in when winter wimps out and we must curtail our riding. Maybe we don't buy brand new. We use up what we have and find winter somewhere so we can get in our snowmobiling fix. But, when winter appears to be cooperating, like now, we muddle through the work week to savor our weekends of riding when we attack the trails with vigor.
Winter snows are good for all. Snowmobile dealers are busy with sales of sleds, parts and accessories. Resorts fill up. Clubs plan activities and maintain trails, the lifeblood of the sport. The sled makers ready future products for us. And, we can suit up, with that little kid smile neatly hidden under our facemask.