Larry Berrio Releases New Powersports Themed Music Video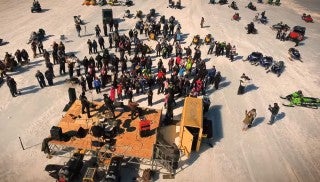 Country music artist Larry Berrio recently released a new music video for his song "What a Ride" features snowmobiles.
We snowmobilers are a passionate bunch. We're often quick to refer to each other as family. We meet up with new people and we don't judge what or how we ride, instead we praise each other because we ride.
Well this week we've seen a new country music video packed with a ton of sleds and other powersports machines, so we thought we'd share it with you.  This Larry Berrio guy sure seems excited about sledding.  Now I want to hit the trails!
After a week of seeing pictures and videos all over social media of "snow in 'dem hills" it's time for some sled wrenching.  Whether it's your style of music or not, we hope you enjoy a little Friday jam to get you excited for whatever you have planned this weekend.  Have a great weekend everyone.