This Guy Sends a Borrowed Sled Through the Ice + Video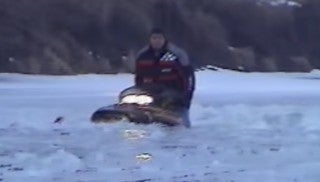 Do you think he looks a little panicked?
If you're going to ride a snowmobile across a frozen river, make darn sure the ice is thick enough to hold you. This fellow hopped aboard his buddy's sled and went for a casual ride across the ice. All was well until the ice cracked and then…well the look on his face says it all.
Snowmobile.com recommends that riders wear a helmet whenever behind the bars.