2017 Recreational-Utility Snowmobile Comparison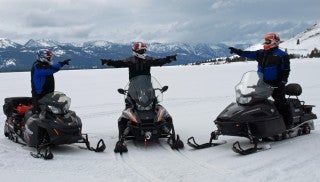 Arctic Cat Bearcat 7000 XT GS vs. Ski-Doo Expedition Xtreme 800 E-TEC vs. Yamaha VK Professional II
We most assuredly must be getting bored with go-fast sleds, because we've found test riding today's recreational-utility (Rec/Utes) sleds surprisingly interesting and fun – in their unique ways. In the past few seasons each snowmobile manufacturer has devoted what seems like an inordinate amount of time, money and effort in sleds that account for one of the smallest niches in the sport. When was the last time you even looked at a Rec/Ute unless it was to walk around it to view a new Sidewinder, MXZ or Thundercat?
Rec/Utes won't generate much enthusiasm with North American riders living near busy population centers like Toronto, Minneapolis or Boston. Those in places like northern Maine, wide open Nunavik or the trapping grounds of the upper Midwest might care more about Rec/Utes. Maybe. Scandinavian and Russian riders see the practicality of these sleds as do ski slope operators, utility companies and other winter jobbers. But diehard performance riders? Not likely.
Still, if each of the four sled makers produce utility sleds designed with a bit of recreational bent, then someone wants and needs them. In Arctic Cat's case, its engineers conceived a special chassis as the basis for its newest utility sleds. Of course, Cat's ProUte WT chassis manages double duty as the underpinning for select Pantera touring sleds.
A long time maker of work-related over snow vehicles, Ski-Doo created a special REV chassis for its series of Expedition models, which integrate touring concepts from the Grand Touring line with the more utilitarian needs of the Skandic and Tundra buyers. But why be boring? That's not really Ski-Doo's style. When you can add a dash of performance and flair to an otherwise boring segment, go for it. That's how the Expedition Xtreme came about and follows in the wake of the Tundra Xtreme, but with an 800cc power base rather than the 600cc E-TEC twin.
Yamaha introduced a primarily work-suited sled that was developed by its Yamaha Russia group. It's designed to be as rugged as a Siberian winter and as functional as a three horse troika.
All three of these Rec/Utes come with liquid-cooled, highly fuel efficient and reliable drivetrains. The Ski-Doo Expedition Xtreme's 800cc E-TEC twin is the only two-stroke, but it comes close to being as efficient as the Yamaha 1049cc four-stroke triple that powers both Arctic Cat's Bearcat 7000 XT GS and the Yamaha VK Professional II. Ski-Doo doesn't make any pretensions about the Xtreme, it's supposed to be an in-your-face rec/ute with power and speed that most worker wonks will never need – or want. But it does make the Ski-Doo stand out in this three pack of rec/utes. It was easily the fastest and quickest accelerating as it was constantly the one rec/ute everyone else played catch up with. This is without doubt the performance rec/ute for 2017.
The pure utilitarian pair of Yamaha-powered rec/utes may be attuned more for work purposes, but one is substantially more fun than the other. There may be too much Mother Russia bred into the VK Professional II for our liking. If you have serious needs for winter transportation and serious utility, the top of the line Yamaha work sled is the choice.
The Bearcat with its work tractor flourishes of a tall light bar complete with rotating amber beacon, floodlight and 3000-pound capacity winch would seem to be the likeliest sled to be the most serious for work. Like its Yamaha counterpart it comes with the 1049cc four-stroke, which can be fiercely geared down for some serious low end grunt thanks to its unique three-speed plus reverse gearbox.
All three of these rec/utes feature at least a two-speed transmission. Only the Ski-Doo gearbox comes with synchromesh so you needn't stop between shifts. This package was originally developed by Finland's Lynx snowmobiles, now a wholly owned piece of the BRP empire. The system works well and shifts fairly smoothly. With the 800 E-TEC's 150-plus horsepower you want to be a bit careful winding out in first gear. Yamaha's VK has its own two-speed drive, but it's Arctic Cat, working with Team Industries, that developed the industry's only three-speed transmission. It has three forward speeds, with the lowest gear being of the "granny" low range persuasion. It comes in handy when the Bearcat GS (Groomer Special) is actually teamed with the optional groomer assembly that works off a fifth wheel type hitch on the rear deck.
You would think that we'd see the Bearcat as the most utilitarian of these three rec/utes. We probably would if the darn thing didn't make us giggle like grade schoolers whenever we rode it. We admit that, according to the specifications, the Bearcat would be the least likely to be a favorite with our crew. But you have to ride it to understand just what a kick this thing is.
Performance-wise there is no comparison, the Ski-Doo Xtreme stands out as easily being the fastest and quickest accelerating, no question. You'd expect that with its Rotax 800cc twin. One look at the Xtreme told you it performed. The Ski-Doo we test rode had a very short racing-style windscreen compared to the huge picture window style windshields fitted to the Cat and Yamaha that seem to suck a good five miles per hour off top end in a straight line run. The Cat and the Yamaha were close to each other speed-wise across the tundra, which should be expected as they both use the base 1049cc Yamaha triple. We suspect that the Yamaha VK Professional II has a little lower gearing in top gear as it seemed a step or two behind on full throttle straights.
You don't buy these sleds for their speed or acceleration; that's the bad habits showing of test riders used to high performance trail sleds. No, you buy these sleds for their grunt and grip. As noted all three have more than adequate power. Plus, they get that power to extra grippy tracks that leave a 20-inch wide by 154-inch-long footprint. The Bearcat has the shortest lugs at 1.35 inches compared to the Xtreme's deepest profile at 1.75 inches. Yamaha fitted its VK with the 1.5-inch lug height of the Camoplast Cobra WT track. Since we weren't hauling a sleigh full of wood or supplies, we'd have to say that any of the three would be a good hauling sled.
As for ride and fun factor in a rec/ute, the Ski-Doo Xtreme is without doubt the most serious performer. Like the other models in this comparison, the Ski-Doo Expedition Xtreme is a serious sled for the tundra or backwoods. It'll probably get you out and back quicker than the other two, but it shares similar attributes necessary for safe passage in the wilderness. It has ample sized skis for good off-trail flotation and a boondocks orientation in its suspensions, which includes its SC-5U rear with articulation to assist in backing up. The seating is comfortable and the handlebar set includes a hard compound grab strap. Our test review Xtreme came fitted with a winch, spare gas can and commodious trunk. Let there be no doubt, this 800 ETEC powered Ski-Doo is a very serious rec/ute.
The Yamaha VK Professional II also offers a gas shock assisted rear suspension complete with flip up rails to keep you from trenching into the tundra when reversing. It offers 6.3 inches of front travel from its double A-arm front suspension. That's the least among these three sleds. The Bearcat has the most at a claimed 9.0 inches and the Xtreme sits in the middle with 8.3 inches of front travel. Like the other rec/utes the VK comes off your trailer ready to work. It has angled A-arms that allow the sled to better negotiate trail debris. You'll find a clever underseat storage compartment complete with a readily accessible tool kit. It even has molded cut outs for the tools so they don't bang around and get lost when riding rough terrain.
The Bearcat GS, though, is our favorite. We especially like the seating position, which puts you tall on the one-person saddle where you can peer confidently down the trail. This is a sled that is about as close as you'll probably get to feeling like you're in a Ram 2500, up high and getting down to serious business like using the 3000-pound standard winch to tow an over eager rider out of a trailside ditch. Must be that amber rotating beacon that gets us to thinking of this sled as the Trail Commander, ready to assist fellow snow travelers or groom those trails that sit just off the main corridor trail and access local restaurants, pit stops and such.
The Bearcat GS surprised us from our very first ride as to its agility and ride comfort, things we never expected from a hefty work sled. Like the others in this comparison, it's quick enough. We rate it as the most comfortable overall. The seating position, nicely curved handlebar and composed on trail behavior make it our favorite as this season's ultimate trail commanding rec/ute. The performance king is the Ski-Doo Xtreme and the hardest worker is the Russian-bred VK. Which of these three you prefer depends totally on your needs.
| | | | |
| --- | --- | --- | --- |
| | 2017 Arctic Cat Bearcat 7000 XT GS | 2017 Ski-Doo Expedition Xtreme | 2017 Yamaha VK Professional II |
| Engine | Yamaha 1049cc, triple cylinder four-stroke; Electronic fuel injection; 3-into-one exhaust | Rotax 799.5cc E-TEC; 2-stroke twin; 82×75.7mm bore/stroke; electronic direct injection | Yamaha 1049cc, triple cylinder four-stroke; 41mm Mikuni electronic fuel injection |
| Horsepower | 130+ (Estimated) | 150 (Estimated) | 125+ (Estimated) |
| Drive | TEAM Rapid Response drive with Team Rapid Reaction BOSS driven clutch; wide range 3-speed (WR3) gearbox with reverse | Ski-Doo TRA VII with QRS; 3800 rpm engagement; Synchromesh 2-speed transmission with reverse and neutral | Yamaha YVXC Hi/Low range transmission with reverse |
| Front Suspension | Arctic Race Suspension dual A-arm with Arctic Cat IFP 1.5 gas shocks; 9 inches of travel; ProUte-10 skis | Dual A-arm RAS2 with HPG Plus R shocks with coil-over spring assist; 8.3 inches maximum travel; Pilot DS2 skis | Yamaha dual wishbone with hydraulic gas cell shocks; 6.3 inches of travel; wide utility skis |
| Rear Suspension | Arctic Xtra-Action parallel rail slide suspension with adjustable torsion springs, fiberglass overload springs and Torque-Sensing linkage; Arctic Cat IFP 1.5 gas shocks; 13.0 inches of travel | Ski-Doo parallel rail SC-5U articulating design suspension; HPG Plus center shock; KYB Pro 36 EA rear shock; 9.4 inches of travel | Yamaha Pro Comfort parallel rail slide suspension with flip up rails; 40mm KYB rear gas shock; 11.3 inches of travel |
| Length | 133.0 in | 127.0 in | 128.0 in |
| Height | 58.0 in | 48.0 in | 57.5 in |
| Width | 50.0 in | 46.9 in | 47.2 in |
| Ski Stance | Adjustable 37.5 to 43.5 | Adjustable 38.4 or 40.1 | 38.4 in |
| Track | 20 x 154 x 1.375 | 20 x 154 x 1.75 | 20 x 154 x 1.5 Camoplast Cobra WT |
| Weight | NA | 625 lbs | NA |
| Brake | Race radial hydraulic disc system | Brembo hydraulic disc brake system with braided stainless steel line | 4-piston hydraulic disc system |
| Features | STANDARD: electric start; 12-volt outlet; winch; beacon light, backup light; floodlight; Heavy duty bumper; Pro Utility seat; Powersport multifunction gauge/display; winch with 50-ft cable; Pintle tow hitch OPTIONAL: heated passenger seating with handgrips; backrest; 19-inch windshield; mirrors | STANDARD: REV-XU chassis; electric start; multifunction gauge; One-person modular seat; aluminum handlebar with "J" end hooks; hard grab handle; air radiator with fan OPTIONAL: backrest; windshields; skid plate; mirrors; gear and storage bags | STANDARD: electric start; Automotive & DCA plug ins; multifunction gauge/display; Utility seat; passenger seating with handgrips; backrest; tall windshield; cargo rack area |
| Fuel Capacity | 14.7 US Gal (87 octane) | 12.0 US Gal (91 octane) | 11.8 US Gal (87 octane) |
| MSRP | US$15,199 | US$14,849 / CAD$16,949 | US$13,099 / CAD$14,699 |