Levi LaVallee Sets World-Record Distance Jump Record [Video]

In a live broadcast from San Diego, Calif., ESPN celebrated the New Year by televising the first-ever simultaneous world-record breaking distance jumps as Levi LaVallee and Robbie Maddison launched across more than 300 feet of water in San Diego's Embarcadero Marina Park. The world-record feats set by LaVallee at 412 feet, 6 inches and Maddison at 378 feet, 9 inches were witnessed by thousands of fans in attendance as the fog cleared over the marina.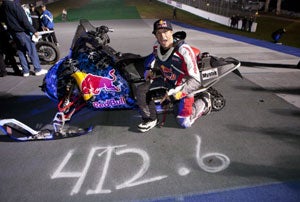 The previous snowmobile distance record of 361 feet was set by LaVallee during training for the 2010 Red Bull: New Year. No Limits. jump, while Maddison easily broke his previous certified world-record of 351 feet, 3 inches.
"I'm as excited as I think a person can be," says LaVallee. "I just landed an over 400-foot jump. I'm not sure how the sled's doing, but I'm okay, so it was good. It's an amazing feeling. You have no idea how pumped I am."
After being injured during practice for the 2010 event, LaVallee made his successful comeback this year alongside three-time Red Bull: New Year. No Limits. veteran Maddison, who began the series in 2007 with a record-setting football field jump. He then returned in 2008 to jump up to and off of the Arc de Triomphe at Paris Las Vegas while Rhys Millen backflipped an off-road truck. In 2009, Travis Pastrana jumped his rally car 269 feet, setting a new distance record while landing on a barge in Long Beach's Rainbow Harbor.
A successful snocross racer also recognized for his freestyle double-backflip – a first on a snowmobile – at Winter X Games 13, LaVallee is a seven-time Winter X Games medalist. The only athlete to compete in all seven non-adaptive snowmobile disciplines, LaVallee excels in both Freestyle disciplines and snocross racing. Focusing on rally car racing recently, Maddison is best known for his record-setting jumps during Red Bull: New Year. No Limits. events and is widely recognized and respected as a top freestyle motocross athlete.
Get the Flash Player to see this player.