Polaris Teases New Rocky Mountain King (RMK)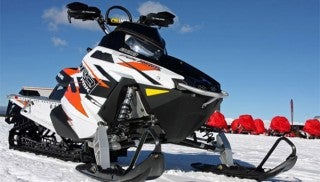 The Polaris snowmobile website is teasing an announcement of a new model, most likely some version of the Model Year 2016 RMK series, that will be announced on Friday, January 30th.
The video teaser, which you can see below, announces a new RMK ostensibly based on an expansion of the AXYS platform. The teaser notes that the "all new king takes its throne" with dramatic improvements made to all the things that make the current Pro-RMK series work. The Polaris video teases the new 2016 Rocky Mountain King will offer: instantaneous lift; rider balanced control, and immediate response. These are the stated hallmarks of the AXYS Rush and Switchback series of trail sleds for 2015.
Get the Flash Player to see this player.
The debut of the new model is scheduled for Friday, January 30th. Stay tuned for more information.