Camso Adds to Track Line at Hay Days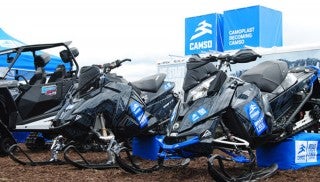 Camso, formerly Camoplast Solideal, unveiled a handful of new products to its track and track system line at Hay Days in Minnesota.
According to Camso, the new Challenger X3.2 builds merges the tallest lugs and the lightest weight in the category.
"It's undoubtedly the most exhilarating and versatile mountain track on the market," Camso says in a release.
"These new product releases are examples of our industrious nature – always trying to find a better way. For us, off-the- road is more than a product category, it's about understanding specific mobility needs of complex niche markets," says Bruce Dashnaw, sales & marketing drector – Powersports at Camso.
Also new is the Ripsaw II 1.5 tracks. Camso says these tracks offer "incomparable, all-round on and off-trail performance." The Ripsaw II 1.5 is aimed riders who spend time on and off trail.
Another new addition is the ICE Cobra 1.6, which is available in 2.52-inch drive pitch lengths of 121", 128", 136" and 144".
"We go one step further to outperform in the development of our products and in delivering our services to our clients," says Dashnaw.
Beyond snowmobiles, the Camoplast T4S UTV track system was also unveiled at Hay Days. The system, which features 14″ wide rear tracks, was designed specifically for Side-by-Sides.
"Its versatility makes it the track system of choice for deep snow, swamps, marshes and mud," Camso says in a release.