Camso Snowrush Program Offers Accessory Package to Early Orders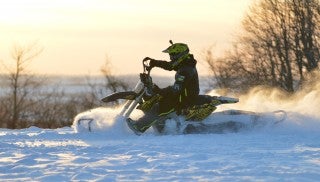 Free graphics kit for all snow bike kit orders before May 11
Camso, formerly Camoplast Solideal, is offering even more value for riders with its Snowrush Program for the newest model of the company's dirt-to- snow bike conversion system. The Program will allow customers and dealers early access to the 2019 Camso DTS 129, plus extras to further the experience.
Customers pre-ordering the 2019 Camso DTS 129 between March 7 and May 11 will be eligible for the Snowrush; with the 2019 Camso DTS 129 will come a voucher for a personalized graphic wrap kit to make customers ride one of a kind. The Snowrush Program also features a functional wheel kit that makes it easy to move the snowbike from the garage to the trailer.
"Dirtbike and snowmobile riders are passionate about the sport and their ride, and they love to customize the look of their machine. With the Snowrush Program, we're allowing them to stand out and move their bike around, as well as giving them early access to the new model," explains Bruce Dashnaw, Sales & Marketing Executive Director –Powersports, at Camso.
By taking advantage of the Snowrush Program, riders will receive their 2019 Camso DTS 129 as soon as in August.
The Snowrush Program package, which offers over $500 in accessories, is included at no extra cost when pre-ordering the 2019 Camso DTS 129.
A smoother ride for 2019
For the new model year, Camso's engineers have significantly improved the suspension to smooth out the ride.
With its redefined suspension geometry, it makes the ride even more responsive and the transition from the trail to deep snow conditions more progressive. Combined with a new rising cam and a revised spring rate, they've added suspension travel and sag to enhance rider control in rough trail conditions. The improved suspension also reduces peak pressure and feedback on the ski while ensuring constant track contact on the ground.
The new Camso DTS 129 provides riders with the perfect combination of deep snow performance and better handling so they can reach deep snow terrain smoothly. Providing the best of both worlds, this latest generation of dirt-to- snow conversion system will offer more of a motocross feel to the ride in all types of terrains. Camso's high-performance track is fitted with the unique single-rail suspension technology.
"Like our customers, we never let go of the idea that there's always a new adventure out there, a way to go the extra mile," says Dashnaw. "The Camso DTS 129 allows dirt bike riders to ride year-round and provides them with a new exhilarating way to extend their season."
Enthusiast snowbike riders can take advantage of the Snowrush Program through their nearest dealer between March 7 and May 11. For a list of dealers, go to camso.co/en/find-a- dealer.