Wahkon SNOWfest Returns for Third Year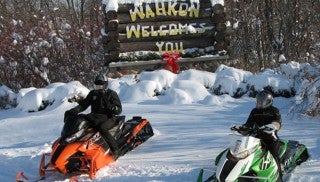 Wahkon, Minn. will play host to the third annual SNOWFEST on Saturday, December 12. SNOWFEST 3 is a celebration of snowmobiling wrapped around a snowmobile film festival.
"SNOWFEST features the best snowmobile action films," said Steve Dubbs, event organizer and chairman of the Wahkon Arts & Film Board. "This year's films literally bring the art form to a higher level with tighter chutes, bigger drops, and the best riders in the business, showing viewers how to take no prisoners, It's a great kick-off to a new riding season."
The invited films are 509 Vol. 10, BRAAAP 15, Boondockers 12, Thunderstruck 13 and Alpine Assassins 6 and some old school sled movies, from the Edgar Heteen archives in the morning. The most popular film will be awarded "Best in S.N.O.W." trophy or as Dubbs refers to it the "SNOWY."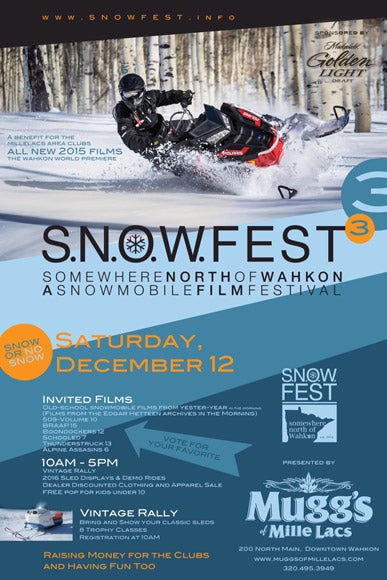 More than just a snowmobile film festival, SNOWFEST 3 will also feature a vintage rally in the morning, new snowmobile displays, deals on gear and 2016 demo rides (conditions permitting). Best of all, admission to this family friendly event is completely free and the kids are treated to free popcorn and pop.
The vintage rally attracts enthusiasts who bring rare and classic snowmobiles. Bring your vintage snowmobile to show or come a see some old iron and relive some memories.
Proceeds from the event go directly to the three local clubs who maintain over 400 miles of trails in the Lake Mille Lacs Area. The benefiting clubs are the Mille Lacs Trails Club, the Garrison Commercial Club and the Mille Lacs Driftskippers.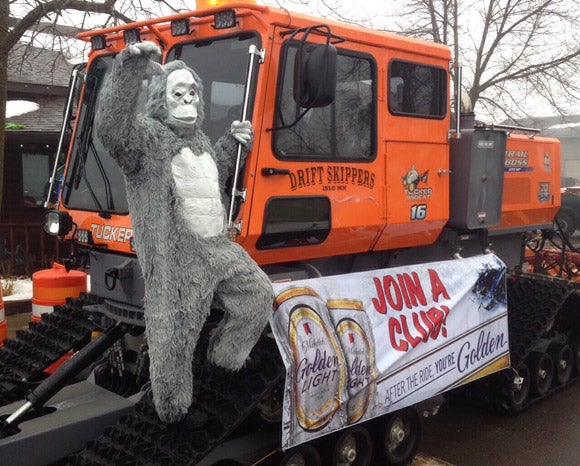 The event is held snow or no snow. If there is snow, attendees are encouraged to bring their snowmobiles. Wahkon is on the Soo Line Trail, so there is great snowmobiling nearby.
The event is sponsored by Michelob Golden Light. More event and lodging information is available at www.snowfest.info.
SNOWFEST 3 Schedule
Saturday, Dec. 12, 2015 10 am to 11 am Vintage Snowmobile Show Registration 9am to Noon – Old School Snowmobile Films 10am Silent Auction Bidding Opens. 11 to 3 NEW Snowmobile Displays 11 to 2 Vintage Show- (Judging at 1:30) 12 – Noon – FILM FESTIVAL BEGINS 12- Alpine Assassins 6 1PM BRAAAP 14 2PM 509 Vol. 10 3 PM Thunderstruck 13 4PM Boondockers 12 (Exact times may vary) 4; 30 PM Silent Auction Bidding Closes 5PM Awards to Best Films (SNOWY's) Door Prizes – ALL DAY Vintage Rally 10 Trophy Classes BEST VINTAGE COSTUME (no entry fee) CUTTER ( new class) ANTIQUE 68 & before VINTAGE 69-74 VINTAGE 75-80 CLASSIC 81-90 CUSTOM / RAT ROD RACE SURVIVOR -(all years – unrestored original) BEST in S.N.O.W.(People's Choice) $5 entry per sled / $20 entry 4 or more