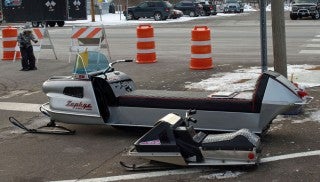 Unique sleds and outstanding snowmobile movies
It would be unfair to say that the annual SNOWFEST in Wahkon, Minn. started out five years ago as anything but a serious effort to promote snowmobile tourism in central Minnesota. But, if you consider that the event's original planning centered around a snowmobile pit stop with some seriously irreverent ideas being proposed, then you'd have some background of how it came about. This, of course, is somewhat typical of how many great ideas come to fruition.
We have it on good authority that the idea for the Jackson Hole hillclimb was hatched in a downtown pub. Even the world-renowned Eagle River World Championship Derby involved some talk around various local resort bars. The thing is, most all of these now classic events may have sprung from the "why not" talk that happens when snowmobile enthusiasts get together at pit stops in and out of season, but the idea seems to be the same: the promotion of snowmobiling and tourism in a prime snowmobile area.
We were even privy to the founding discussions of SNOWFEST, which stands for Somewhere North of Wahkon snowmobile film Festival (SNOWFEST). The thoughts were that the timing for the event could help businesses and tourism in the host village of Wahkon, which would be in a "shoulder" season between fall leaf-peepers and ice fishing traffic. If winter participated as it did that first season, the snowmobile trails would be open and ready for a deluge of snowmobilers coming up from Minneapolis and northern Iowa. But, just in case, the Wahkon city planners and SNOWFEST directors realized they needed to make the event viable with or without snow.
Now in its fifth season, SNOWFEST promoter Rob Dubbs offers his establishment as headquarters. "While we had good snow for our inaugural event," Dubbs explains, "we had to create other reasons to convince snowmobilers to participate. That's why we've worked so hard creating an annual snowmobile vintage show with awards for antique, classic and vintage snowmobiles and costumes. Combined with showcasing the most current and newly released snowmobile action video, SNOWFEST has something for every snowmobiler."
Brother Steve Dubbs volunteers his time marketing and promoting SNOWFEST by arranging for the videos, prizes and getting participants for the vintage displays. Both Dubbs know the value that an event like SNOWFEST offers to the local area. The Dubbs family has been involved in promoting snowmobile tourism and events for parts of four decades.
Izatys Resort, which was owned by the Dubbs family on February 24, 1982, was the site of a Budweiser-sponsored sled setting a new snowmobile speed record. Traveling across a carefully prepared track on Lake Mille Lacs, just off Izatys Resort in central Minnesota, the Bob Gaudreau-built and Tom Earhart-piloted speed sled recorded a top speed of 148.6 miles per hour on radar! The event drew hundreds of spectators and proved that snowmobiling could help boost tourism in the area surrounding the south shore of the 22-mile long lake.
Including that event, the Dubbs family have been staunch supporters of snowmobiling (and ATVing) in the area. The SNOWFEST site sits along the 100 miles plus of Minnesota's Soo Line trail, a well-traveled route for snowmobilers. It's also a route well known to the Dubbs Brothers, who put on hundreds of miles a weekend as time and snowfall allows.
Carrying on the Dubbs Family tradition of using their passion for snowmobiling and a solid business sense to promote snowmobiling in the area led them to convince fellow Wahkon business owners and city officials to support SNOWFEST.
While there may be other vintage gatherings throughout the snow season, few compare to SNOWFEST. This seasonal event sponsors claimed nearly 100 pre-1980 snowmobiles were on hand for the judging. International Snowmobile Hall of Fame judges Dave Guenther and I reviewed sleds from uniquely crafted customs to vintage survivors with more than 4,000 original hard-earned miles on them. The Survivor award winner went to the still running and well-used 1971 Chaparral entered by Joanne Johnson. The judges did admit to some difficulty in choosing just one of the pristine entries from Behlings Pro Vintage of Menomonee, Wis., but settled on a 1973 Polaris Starfire in the Race category.
There was never a doubt about the Best in Show winner, which also garnered the award for best Custom. Jason Johnson's finely crafted stretch-chassis Zephyr proved a crowd favorite.
Johnson said that he had created the sled between August 2015 and January of 2016 for its initial appearance at the Waconia (Minn.) Snowmobile Show. In that time, he had taken the front structure and hood of a 1970 vintage Mercury snowmobile and combined it with the rear section of a Hustler snowmobile. In between those pieces he fabricated an extra-long tunnel and fitted a specially built one of a kind 175-inch long three band cleated rubber track to spin around a modified and elongated Arctic Cat suspension. But, wait, that wasn't all. He also fitted a Briggs & Stratton Vanguard V-twin four-stroke to drive a hydrostatic transmission with foot pedal operation. The resulting snowmobile drew respect from all that viewed it. The unique snowmobile marked just one of Johnson's efforts as he also displayed a 1971 Massey-Ferguson Ski-Whiz 500 SST that drew top scores from the judges.
But, this is a snowmobile film festival that engenders reactions to on-snow action, which 509's Volume 11 did with its story, backed up with a strong musical soundtrack and solid video film presentation. The SNOWFEST crowd judged the 509 video as the people's choice and Best In S.N.O.W. Named winner of the Chairman's Award, Thunderstruck 15 drew audible gasps when it played for its display of steep climbs, gnarly jumps and nasty crashes.
In addition to some of the most dramatic snowmobile action footage to ever appear at SNOWFEST, there were historic films from the private collection of Polaris and Arctic Cat founder Edgar Hetteen.
"SNOWFEST was a success that can only continue to grow," noted Steve Dubbs. Indeed, plans are already underway for the 5th annual SNOWFEST, which will be held the second Saturday in December 2017, snow or no snow. And, most likely, some of that planning will happen at a pitstop.
SNOWFEST 4 Award Winners
| | | | |
| --- | --- | --- | --- |
| Category | SLED | NAME | HOMETOWN |
| Best in Show | Zephyr Custom | Jason Johnson | Belle Plaine, MN |
| Vintage Costume/Apparel | Arctic Cat Vintage Pink Suit | Alia Peterson & Family | Grand Rapids, MN |
| Cutter/Tow-Able | AMF Ski-Daddler | Chuck Reinhofer | Milaca, MN |
| Antique (1968 or before) | 1961 Ski-Doo | Mark Raich | Meadowlands, MN |
| Vintage 1969-1974 | 1972 Columbia Trackmaster | Rob Grover | Grand Rapids, MN |
| Vintage 1975-1980 | Ski-Doo Citation | Dick Tesch | North Branch, MN |
| Rat Rod Custom | Zephyr 175 | Jason Johnson | Belle Plaine, MN |
| Race | 1973 Polaris Starfire | Behlings Pro Vintage | Menomonee, WI |
| Survivor | 1971 Chaparral | Joanne Johnson | Mora, MN |