Add-Ons For Your Arctic Cat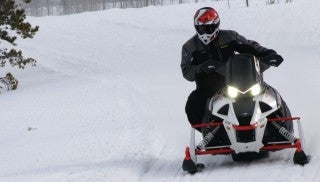 Add more comfort, convenience or performance to your Arctic Cat
Right or wrong, good or bad, one advantage to owning a recent Arctic Cat is that the fundamental platform, suspensions and ergonomics remain consistent from season to season. If you haven't been able to get much ride time on your current Cat due to El Nino's curtailing snowfall and circumventing real winter in many areas of the greater North American snowbelt, then adding a few tweaks and add-ons may keep your sled fresh and ready to ride for the expected return to winter in 2017.
As with the other sled making companies, Cat's parts, garment and accessory component is important to the company's financial position. In Cat's case, PGA profitability may be more important to the company, which is less diversified than its snowmobile competitors. In fiscal year 2015, snowmobile sales represented the largest sector in revenue. Sleds accounted for 43% of Cat revenues against the 40.7% contribution made by ATVs and Side-by-Sides. PGA trends heavily to the snowmobile consumer, which makes its 16.3% contribution to the Arctic Cat financial report significant.
Wisely Cat partners with leading companies to create and offer Cat-specific products to its loyal snowmobile customers. One such arrangement involves its offering of high performance Elka Suspension pieces.
Founded in 2000 and based in Boucherville, Quebec, Elka Suspension Inc. describes itself as a manufacturing company "…with the mission to provide the ultimate ride experience to powersports enthusiasts through shock absorbers adapted and calibrated for their vehicle's geometry." Based on description alone, the Elka philosophy sounds like a perfect match for the unabashedly performance-oriented Arctic Cat sled maker. Keep in mind that the Elka brand shock probably is not for the average rider as they are pricey. Cat's aftermarket suggested Elka shock setup retails for nearly US$2000.
Although this PGA option may be listed as being for any type of rider and riding, we suggest having a serious sit down with yourself before committing to this set up. Every snowmobiler is a hardcore and serious rider. I mean, we all are. But in truth, only a few of us are as keen as we like to believe. The Elka shock package option is race-bred, has multiples of adjustments and will intensify the ride and handling of your sled greatly. If you are not ready to invest the tuning time to maximize your Cat's set up, you might be better off forgoing Elka shocks and opting for the pre-programmed Fox QS3 three-way adjustable ones instead.
Here's a sampling of what the Elka shock package offers:
Low-speed compression resistance allows precise control of the suspension resistance for ski lift and front-end diving when cornering and braking, rear-end squatting under hard acceleration, riding over whoops at moderate speed, undulations and elevation changes in the terrain.
High-speed compression firmness allows precise control of the suspension for landing from big jumps, harsh or sudden square-edged impacts, riding at high-speed over whoops, vibration when riding at very high speed or when riding over choppy terrain.
Rebound extension speed controls the speed at which the shock absorber returns to its fully extended position after being compressed from an impact to keep the skis or track on the snow.
Threaded spring preload allows fine-tuning of the sled's ride height to raise or lower the center of gravity and balance weight distribution across the front and rear sections of the sled without affecting the spring rate.
What makes these shocks worth the premium? How about features such as:
Ultra-Lightweight design
Wide range, ultra-precise adjustment
Lightweight hi-tensile alloy springs
High-flow, low-friction internals
A proprietary one-piece "nylatron" ice scraper
Low-temperature certified, low-friction NBR O-rings and seals
External piggyback nitrogen reservoir
Cat's PGA carries this brand because both Arctic Cat and Elka share a performance philosophy centered on racing. Cat realizes that what works for a racer should also work for a performance snowmobile rider, whether a long distance groomed trail mileage-maker or an off-trail big air specialist. Information about the Elka option is available through Arctic Cat's online store (store.arcticcat.com).
If you opt for high performance shocks, you should consider upgrading to higher performance skis. Cat offers the C&A Pro XCS crossover ski. Retailing for just under US$500, this optional ski is said to perform well on or off trail thanks to outboard keels that reduce darting and provide extra deep snow flotation. These 6.75-inch wide skis are sold in pairs and come with all necessary mounting hardware and handles. Wear bars are not included, but can be ordered separately. This option includes select models from 2012 to current 2017 ZR and XF Cats.
The Cat online store as well as its affiliated Arctic Cat snowmobile dealers offers a variety of Cat-specific products to enhance your Cat lifestyle. For example, you'll find complete ready-to-ride packages for both two-stroke and four-stroke Cats. These packages provide all the essentials you need to get your sled ready for the trail and include handy and convenient add-ons.
The ready-to-ride kit for 9000 series ZR, ZF and CrossTrek models include an oil change kit, complete with C-TEC4 Synthetic oil, an oil filter and disposable oil funnel. In addition to that, you'll get a cover, drive belt, handlebar bag, goggle bag, and a towline. This specific package retails for US$580. Cat offers versions for various two-stroke models as well.
If you really want to stand out, literally wrap your new or older Cat in a special Cat Wrap. One version is a unique burst green hood wrap designed to make a bold and unique statement. Retailing for US$163, the Burst Green Hood wrap features high quality, durable graphics printed with UV-resistant inks. The kit graphics are screen printed to retain color accuracy. Keep in mind that these kits are sold as separate hood and/or tunnel kits. Other kit designs are available if the Burst Green is too much – or too little – for you!
You can take it, or someone, with you if you decide to add extra storage with bags, racks or Cat's 2-Up Seat kit. Just as Arctic Cat offers a variety of sled models, the company features kits to fit everything from a 2010 Z1 Turbo EXT to a 2015 Lynx 2000. The kit is designed and fitted to convert your sled from a solo experience to benefitting a friend. The kit, which will accommodate a rear rack or bag, includes the passenger seat, complete with handholds. Kits retail from about US$400.
These are just some of the options Arctic Cat makes available to you. As you get ready to prepare yourself and your sled for next winter, consider upping your on-trail style with a black anodized billet aluminum rack or a custom-fit gas cap and so on.
And, of course, Cat has an entire Tucker Hibbert apparel collection as well as garment offerings from its wholly owned MotorFist subsidiary. Cat's PGA provides you with many options to keep your sled looking fresh and up-to-date even if you if you didn't make the miles you hoped for last winter. This coming winter will be snowier and better, right? El Nino is fading and El Nina is advancing with more predicted snow. Plan ahead.