Record Attendance at Snowmobile Hall of Fame Inductions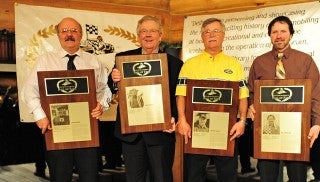 Annual Ride With The Champs and induction ceremony honor the best of snowmobiling
In February the Snowmobile Hall of Fame held its annual Ride With The Champs (RWTC) and Induction ceremony in St. Germain, Wis., bringing together legendary snowmobile racers and fans to celebrate snowmobile racing, culture, riding, machines while honoring four inductees for 2017.
Interest and growth in this event has continued in recent years, and 2017 was no exception. For the first time in event history, the formal induction ceremony on Saturday evening reached the capacity of the beautiful Whitetail Lodge. Approximately 340 people enjoyed an evening that included a celebrity autograph session, dinner and a wonderful induction of four great men: Burt Bassett, Bill Bickford, Pat Hauck and John Hooper.
Prior to the induction, however, the weekend included its annual poker run, BBQ and fish fry on Friday, along with a SHOF museum that buzzed with fans absorbing the impressive collection of permanent and temporary display sleds.
Saturday morning consisted of a group breakfast followed by an assortment of trail rides. Unseasonably warm temps on Friday and Saturday meant that a handful of ride routes were modified with different start locations in order to utilize decent snow conditions. One new ride for 2017 – to the Eagle River World Championship Derby track – was modified so that riders trailered their machines to the track, then were given a couple hours to enjoy as many laps around the famed oval as they desired. The experience of going to the track was a huge hit.
During Saturday evening at the Whitetail, the SHOF board announced several important fundraising initiatives for the construction of a new 60 x 100-ft. museum that will be built adjacent to the existing museum. One fundraiser included an unnamed donor who will match any individual donation of $1,000 (with a $100k limit) that arrives prior to the end of March.
Another initiative was the just-announced Hunter Houle Memorial New Building Fund, which will recognize the legacy of Hunter as well as donor names with a dedicated plaque in the new building.
Seeing the four inductees and hearing speeches that shed light on their careers is a key highlight of this weekend. Each inductee made huge impacts in the world of snowmobile competition. Each was clearly humbled and honored by the occasion. Snowmobile competition has delivered great drama, excitement and developments during the past five-plus decades. Bassett, Bickford, Hauck and Hooper are four people who gave the sport great accomplishments during their respective careers. The SHOF, friends and fans clearly enjoyed the opportunity to honor them.
The springtime Classic Sled Round-Up (May 27-28, 2017) is the next big event on the SHOF calendar, offering enthusiasts a massive swap meet, sled show, museum tours and low-key atmosphere for camaraderie. The 35th Annual Ride with the Champs/Induction ceremony will take place Feb. 17, 2018. Visit www.snowmobilehalloffame.com for more information.