Southern Snowmobilers Head to Northeastern Ontario for their Winter Fix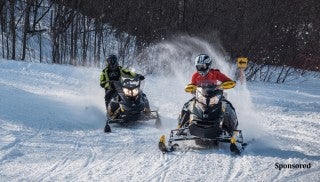 Have sleds, will travel
For those of us sledders in Southern Ontario, it certainly hasn't been the winter we were hoping for. As we eagerly awaited a winter storm that never came, most of us shifted our focus to getting our adrenaline fix a few hours north. That's what I love most about snowmobilers in Southern Ontario; we are determined. If there's a will, there's a way, and when it involves rolling on two skis in fresh powder, we will find a means to do just that. Smart Southern Ontario snowmobilers head to Northeastern Ontario when they need to get on the snow.
So after one trip was cancelled due to poor weather, the ultimate snowmobile trip opportunity presented itself on Family Day weekend. This is a Provincial holiday that provides Ontarians with a long weekend in February to spend time with family, and what better way to do that than snowmobiling north?!
Before you head out, check to make sure that the trails are available using the OFSC's Interactive Trail Guide. 
This trip was unique, though, because not only was I headed to Temiskaming Shores to explore Northeastern Ontario's snowmobile trails, but I was also sharing the experience with newbie sledder, Casey Cordeiro. I met Casey at an ATV event last summer, where we immediately bonded over our love of motorsports. As a die-hard off-road enthusiast from Arizona, Casey had mentioned that while he's enjoyed snowboarding in Flagstaff, Ariz., he was newer to the world of snowmobiling. Right away, my wheels started turning and a master plan was concocted to get Casey to Ontario for the adventure of a lifetime. In the past, I've been the one to fly in to a snowmobile trip with friends; however, this time the tables turned as Casey arrived by air. When I picked Casey up, he asked with a sly grin, "where's all the snow?" As I looked around at the brown grass, and lack of snow, I smiled back and said, "Just you wait".
With only one day after his arrival to prepare, we quickly got to work loading up snowmobiles from Revs Full Throttle Powersports in Welland. A Ski-Doo Renegade X 800R E-Tec and Ski-Doo MXZ TNT 800R E-Tec were our sleds for this trip, which fit perfect in the 17-foot enclosed trailer we had rented. Tools, gear, snacks and road trip music completed our packing list, and before we knew it we were breezing past Toronto with surprisingly very little traffic to deal with.
The seven-hour trip went by quickly, as we entertained each other with karaoke tunes, random chatter and even a Facebook live video. The familiar green sign of the Holiday Inn in New Liskeard greeted us as we excitedly rolled into town later in the evening. The parking lot at the Holiday Inn was huge, so we picked a prime location for unloading the sleds the following day.
The minute we started up those two snowmobiles, I knew Casey was hooked. The grin on his face and sparkle in his eyes was enough evidence for me. We geared up in Klim snowmobile apparel, packed a few necessities, and were on our way for a nice loop along Ontario Federation of Snowmobile Clubs (OFSC) trail L186 towards Latchford.
These trails, located in District 14, are part of the Timiskaming Abititi Trail Association. They were meticulously groomed and marked, which made it easy for us to navigate the area and find our way. We barely passed any riders on our way to Latchford which is home to the World's Shortest Covered Bridge. Playing tourist was fun, as we excitedly snapped a few pictures at the bridge before continuing on our way.
After departing Latchford, we connected with a local sled buddy who couldn't wait to leave work that day to ride with us. A slight detour to Devil's Rock was completely worth it. The 150-meter rock formation overlooks Lake Temiskaming and offers a beautiful landscape view of the Ontario-Quebec border. The view was majestic, and eerily quiet, commanding our immediate respect and vigilance as we navigated around the cliff to take a quick peek over the ledge. Following that detour, our enthusiastic guide took us to Bear Rock, located on the shores of Lake Temiskaming, where we could check out a true natural wonder. The day ended at Zante's Bar & Grill for dinner, which is located right in New Liskeard and a short walk or ride from the Holiday Inn. Those buffalo chips, warm sandwiches and top-notch customer service ended our day on a total high. Offering primarily Ontario-grown products, and a great menu selection, this place became a frequent stop on our trip that weekend.
Day two was the ultimate adventure to Elk Lake, located in the Township of James. The 250-kilometer loop took us along OFSC Trail A, through Earlton, where we stopped at a train bridge to take in the picturesque view of the Montreal River. The sun was out that day, which made the snow sparkle as we happily rode along our route to the Elk Lake Eco Centre for a lunch stop. With hot chocolates to warm us up, and full bellies, we continued on our way and took a different route back to New Liskeard.
This time, we headed east on the A Trail towards Matachewan, before turning onto L162 through Charlton. While the trail back was longer, and we were getting a bit tired from riding all day, the sunset we caught on the way back was absolutely unbelievable and unforgettable. Coming from a place like Arizona, which seems like the capital of epic sunsets, Casey was in awe over this sunset in the backcountry of Northeastern Ontario. We took a break on the side of the trail, and enjoyed watching the sun disappear behind the treeline. Cows from a local farm watched us with curiosity as we snapped pictures and smiled at the perfect timing we had that day. If we didn't stop for a leisurely lunch, or take that longer route back, we would have missed the golden sunset before us.
As quickly as our adventure started, it came to the perfect ending. We rode back to the Holiday Inn, and celebrated at Zante's again that evening after another successful day of riding. Casey confirmed what I already knew; this newbie sledder was hooked, and he couldn't wait for his next adventure snowmobiling in Ontario. Temiskaming Shores was the perfect place for this family day adventure, and I look forward to returning again soon!