2018 Camso DTS 129 Unveiled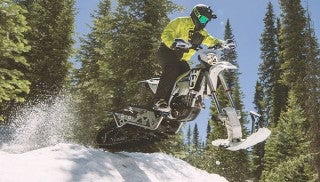 Camso promises a more responsive and better handling ride
Camso, formerly Camoplast Solideal, is launching its 2018 dirt-to-snow bike conversion system, the Camso DTS 129, for the coming winter riding season.
Building on last year's successful introduction of the system on the market, Camso also sought out feedback from snow bike riders when designing MY18 in order to exceed consumer expectations. The result is a dirt-to-snow bike conversion system that is more responsive, ensures better handling and gives riders the performance they've been looking for.
"Camso pushed the ride further this year with a new suspension in this 2018 model. You notice it instantly when running over logs, stumps or hitting hard into uneven terrain," says competitive motocross and snowmobile athlete Colton Sturm. "The handling has also improved with more responsive steering on those awkward side hills. The new system overall, it's just fluid all the way through."
Featuring Camso's unique single rail suspension technology, which was introduced in 2017, it allows for the same kind of dirt bike behavior liked on dirt, in the snow. The 2018 model pushes the performance to a whole new level. Among the improvements:
A new 8'' wheel track tensioner that provides a 2hp efficiency gain and better low RPM traction control;
New shock calibration for better compression and rebound in rough trail conditions;
Aluminum side rail reinforcement, reducing weight while providing better rail support;
An adjustable limiter cable that allows riders to change the ski pressure;
New ski runners improving stability in rough conditions and giving a better side grip feel in deep snow;
A new brake rotor and pad design, for consistent braking and less ice build-up.
An industrious accessory has been added to the lineup, a functional wheel kit to easily move the snow bike from the garage to the trailer. A special racetrack conversion kit is also available.
"We actively engage with riders and customers to develop innovative solutions to exceed the expectations of powersports enthusiasts and professionals," says Bruce Dashnaw, Sales & Marketing Director – Powersports at Camso. "We listened to the market and have delivered improvements that matter to those who want to ride their dirt bike year-round on all types of terrain."