Camso to Produce Snow Bike Conversion Kit + Video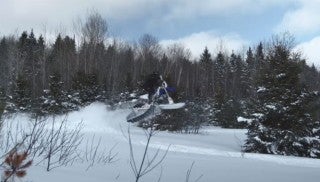 Details scarce on new kit
Camso is coming to market in 2016 with a new snow bike conversion system, which converts a normal dirt bike for use on the snow. The kits will compete head-to-head with the Polaris-owned Timbersled snow bike conversion kits.
Since Camso worked with Arctic Cat on the upcoming Arctic Cat SVX 450 snow bike, we were curious if the Camso kit will share the same track and ski as the complete Arctic Cat snow bike. We asked Camso about the kit, but were essentially told we'd have to wait until more information was released to find out.
Check out Camso's teaser video and press release below for more information.
Get the Flash Player to see this player.
(Press Release) Camso, formerly Camoplast Solideal, announces a new aftermarket solution for Powersports enthusiasts looking to convert their off-road motorcycle, or dirt bike, to a track and ski vehicle.
The Camso dirt-to-snow bike conversion system allows riders to switch the front wheel of their off-road motorcycle with a ski and the rear drive systems with a tracked undercarriage. This conversion system provides new heights of mobility and access in deep snow conditions that would otherwise be impossible with a conventional motorcycle.
"Tracks and tracks systems are in our DNA," says Bruce Dashnaw, Sales & Marketing Director – Powersports at Camso. "The snow bike niche is new and very exciting. We're enthusiastic to become part of a select group of manufacturers that offers this product and to generate interest in this new type of recreational riding," adds Dashnaw.
Camso has established its leadership in the powersports industry by focusing all its efforts on off-the-road mobility solutions for both OEM, OEA and its independent distribution channels. Camso is recognized for highly engineered, top performing and reliable products delivered with short lead times.
Adding a new product to its aftermarket offering is a natural step for Camso, which is known for its ability to deliver unique, client-tailored products and services across different niches and channels.
The new Camso dirt-to-snow bike conversion system is a universal conversion kit. Fitted with Camso's hi-performance track, it promises to be one of the lightest systems on the market, combining motocross agility and snowmobile performance. The new Camso dirt-to-snow bike conversion system will be available to consumers this fall through its established network of thousands of powersport dealers worldwide.