Team Arctic Wins Soo International 500 Enduro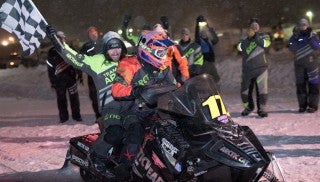 Zach Herfindahl and Wes Selby teamed up to win the 50th Annual Soo International 500 Enduro aboard their Arctic Cat ZR 6000R.
After 500 miles of battling snow, bumps and the fastest endurance racers in the world on the famed 1-mile oval in Sault Ste. Marie, Mich., Team Arctic triumphed at the 50th Annual Soo International 500 Enduro. The Christian Brothers Racing duo of Zach Herfindahl and Wes Selby prevailed to win the historic event in stunning fashion following a 100-lap dogfight with the top four teams, with the Cadarette Collision team of Troy DeWald, Ryan Spencer and Bill Wilkes taking fourth overall.
"That was one of the gutsiest, most hard-faught racing performances I've had the pleasure to witness" said Team Arctic Race Manager Mike Kloety, referring to the battle that ensued between the top four teams during the final 100 laps. "To have the top-4 teams finish within 20 seconds after 500 miles shows the parity and tenacity of the sport's best racers. To prevail was a testament to our racers and their teams."
Nine teams competed at the 50th Anniversary event aboard Arctic Cat ZR 6000R snowmobiles, and several appeared ready to take the win. Troy DeWald led a Team Arctic sweep of the top-5 places in Thursday's 25-lap Woody's Challenge event, plus set the fastest qualifying lap to take the pole position for Saturday's main event. As a previous two-time winner, Dewald knew what it would take to claim a third crown. The Bouchard Racing, Langaas Racing and Arneson Racing were in the mix for the first half of the race. The second Christian Brothers Racing team of Ryan Trout and Re Wadena finished third in 2017 and were in the mix until a track came apart on lap 285.
Likewise, the duo of Herfindahl and Selby were equally ready, having finished second in 2017 (with Selby winning the 2015 event with then-teammate Brian Dick) and regarded by many as two of the fastest terrain racers in the world today. They showed their intent by running near the front for the first few hundred laps, with a strategy putting themselves in a position to sprint for the win in the final 50 laps. They did precisely that.
The final outcome would reflect the expert preparation of the Arctic Cat ZR 6000R race sled with a Speedwerx-modified C-TEC2 engine, a dedicated crew that kept pit stops to a minimum, and remarkable driving by two outstanding athletes. Herfindahl's charge during the final 100 laps gave the extra margin needed to score the third win for Team Arctic since DeWald and teammates first put Arctic Cat on top in 2010.