2020 Arctic Cat Snowmobile Lineup Preview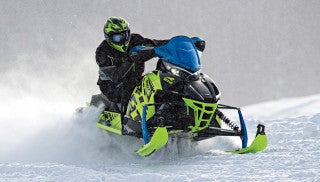 Next-generation C-TEC2 8000 engine and new Riot crossover sleds highlight 2020 offerings
The 2020 Arctic Cat snowmobile lineup features a refined C-TEC2 794cc 2-stroke, new Riot line of crossover sleds and more Alpha One mountain models.
The 2020 Arctic Cat snowmobile lineup has been unveiled and Cat is taking a more streamlined approach this model year with a total of 35 snowmobiles.
"While other OEMs are continuing to complicate their lineups with multitudes of engine, track length and package options, Arctic Cat is taking the approach to simplify our lineup to make the buying decision easier than ever," Arctic Cat says in a release.
C-TEC2 8000 Engine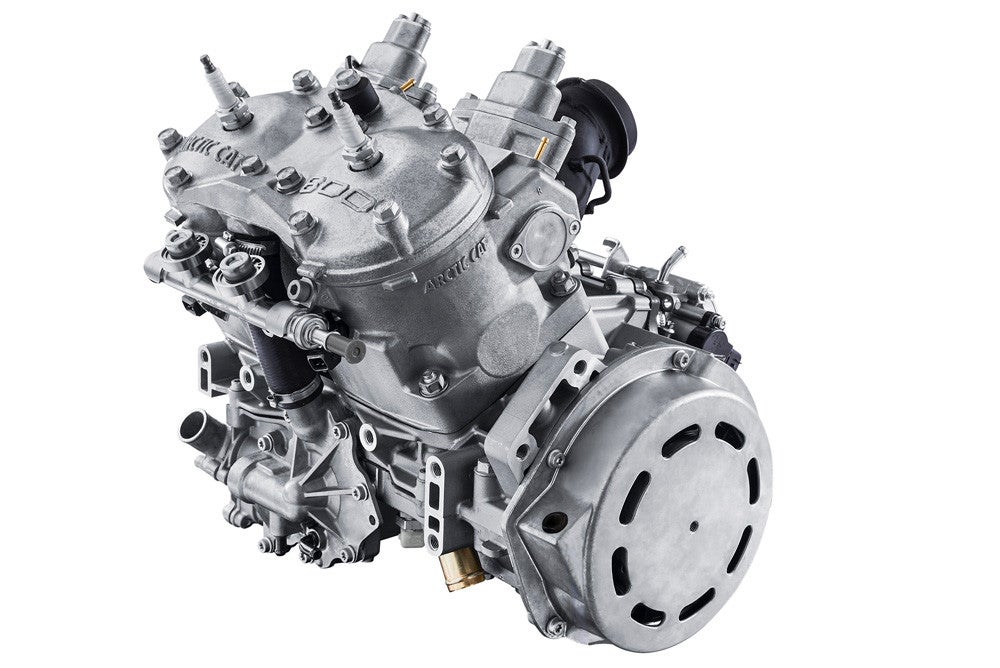 Arctic Cat gave its big C-TEC2 8000-Series two-stroke engine a significant makeover for 2020. The 793cc twin features new cylinders, pistons, combustion chamber, flywheel, and fuel rail. According to Cat, the engine also boasts "a new fuel calibration strategy that delivers cleaner and more responsive performance, with improved fuel economy and power in the 165 HP class of engines."
Designed and built by Arctic Cat in St. Cloud, Minn., this engine also features an Arctic Power Valve system with three-stage control of the auxiliary exhaust ports via side valves, as well as three-stage control of the primary exhaust port. Cat says oil injection is precisely delivered via an ECM-controlled electronic oil pump. Other features include battery-less EFI, Exhaust Pipe Temperature Sensor, knock sensor and engine-reverse technology.
2020 Arctic Cat Riot Lineup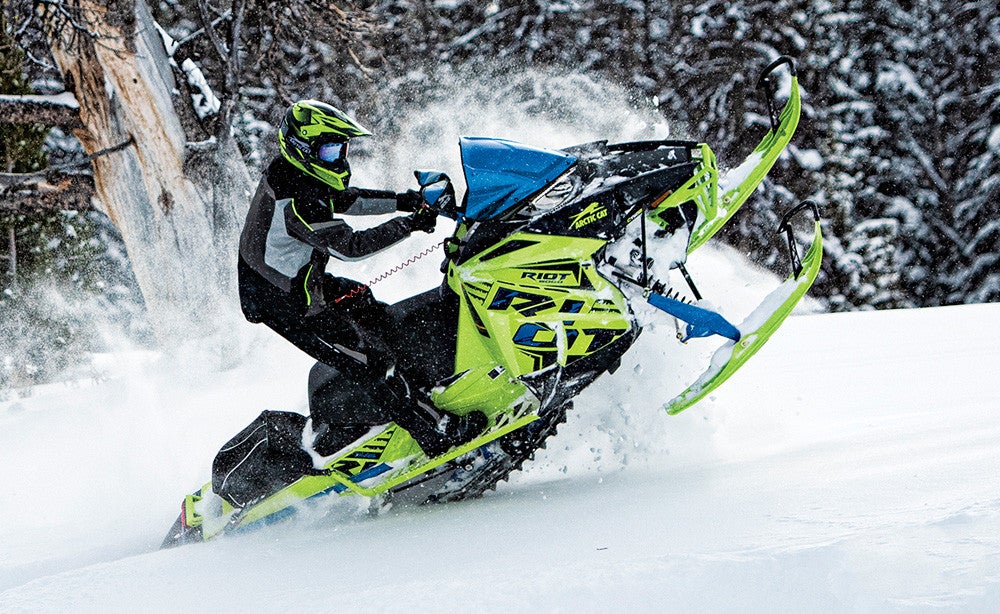 Brand new for 2020 is the Arctic Cat Riot family of crossover snowmobiles available with 6000- and 8000-Series engines.
"Built to tame the lakes, trails, trees and power lines that are the playgrounds for adventure riders, Riot announces a new revolution in 50/50 crossover performance thanks to its masterful blend of DNA pulled straight from M Series and ZR models."
Riot sleds feature the new ARS II front suspension and Cross-Action rear suspension. The ARS II has its lineage on the racetrack and boasts new geometry and a forged spindle that is 1.5" taller than Cat's outgoing crossover models. The Cross-Action rear end is uncoupled and is designed to be playful on the trail or in the powder "thanks to its great weight transfer that gets the front end up with every hit of the throttle"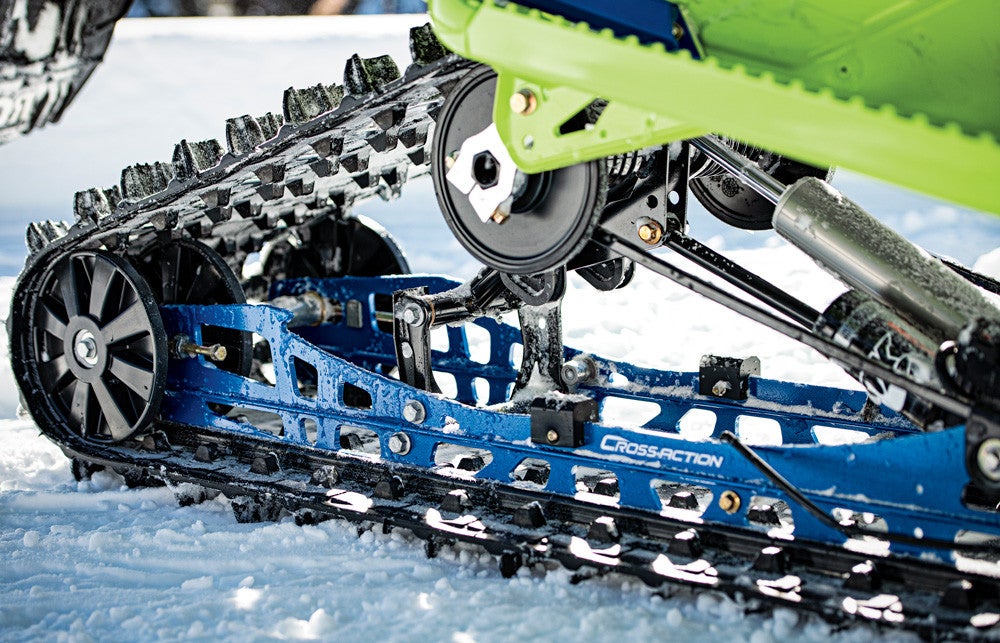 Other Riot features include a 146" Cobra (1.35" or 1.6") or Challenger (2.0") track, G2 ProClimb-7 skis with molded boot traction, a laydown steering post like ZR models, mountain seat, and adjustable 42" to 43: ski stance with sway bar.
2020 Arctic Cat Riot sleds also offer handlebar-mounted controls (control positions are visible on the digital instrument gauge), push-to-start button that doubles as a reverse button, Stealth lightweight brake master cylinder, and short-throw brake lever.
For those who are looking for more of a mountain-ready crossover sled, the 2020 Arctic Cat Riot X is the answer. This sled sets itself apart with lightweight front Arctic Mountain Suspension featuring mountain spindles and geometry. It also has an adjustable 39.5" to 41.5" ski stance and vertical steering post for improved side hilling, which is made even better with the 2" Challenger track.
2020 Arctic Cat M8000 Alpha One Lineup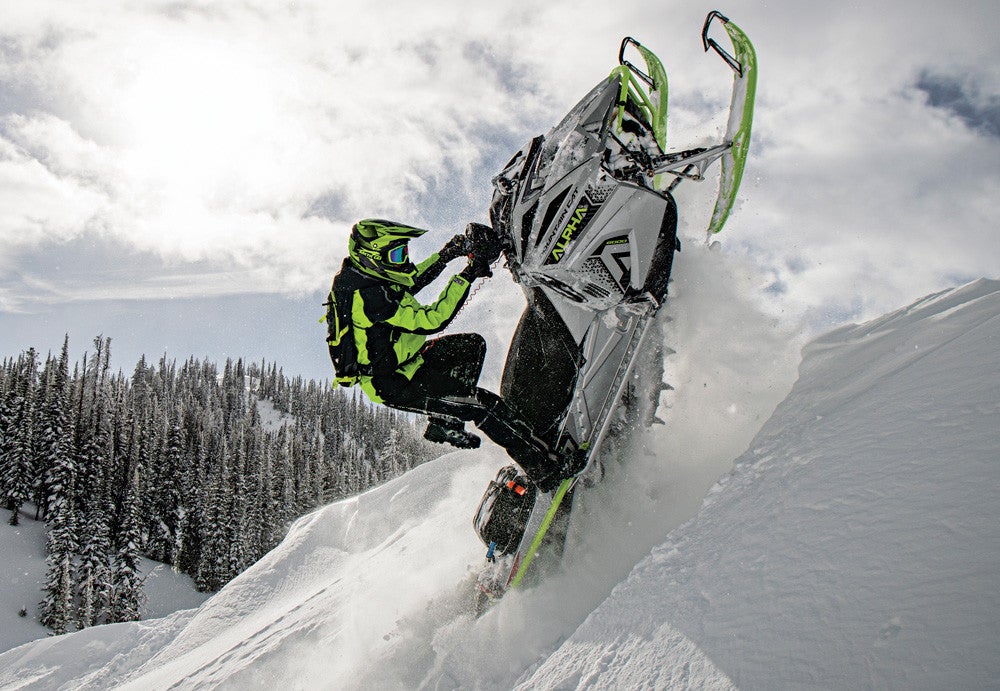 Arctic Cat had a hit on its hands last year with the release of the Alpha One, so it's no surprise to see some other versions for 2020. In fact, the entire M lineup is now made up of three Alpha One models – Hardcore 8000, Mountain Cat 8000 and M 8000
As a refresher, the Alpha One features a unique single-beam rear suspension that is lightweight and runs in the middle of a Power Claw track that features a single row of track windows and tall 3" paddles and 3.5" pitch. The track comes in 154" or 165" lengths.
All three Alpha One sleds are powered by the new C-TEC2 8000-Series engine. Shared features include TEAM Rapid Response II drive clutch, Rapid Reaction driven clutch, vertical steering post, 1" mountain-height windshield, 11.7-gallon fuel tank, and front-mounted heat exchanger.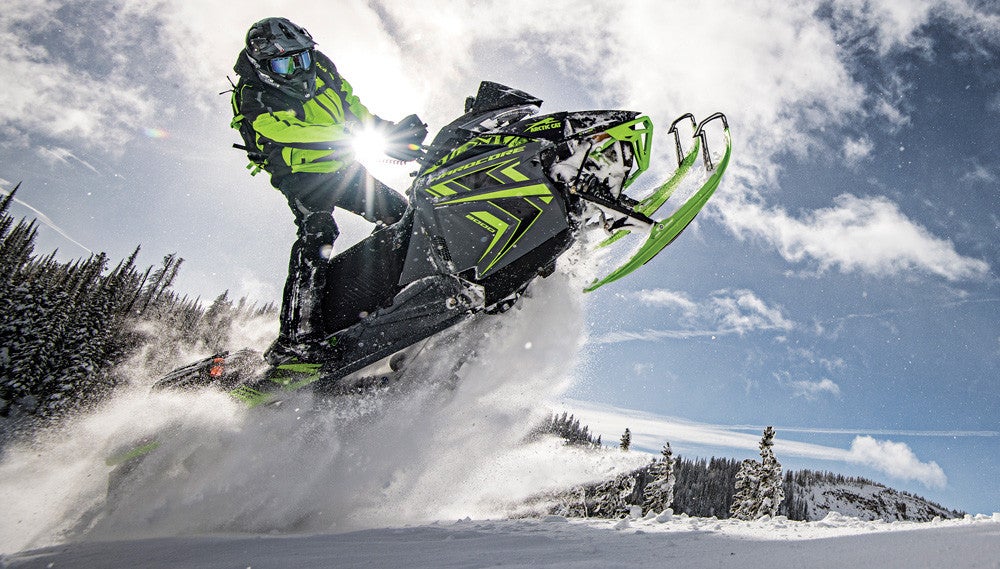 The base M8000 Alpha One features Cat's IFP 1.5" ski and track shocks and dual halogen headlight. It is available in Charcoal/Green color.
The Mountain Cat 8000 Alpha One is designed for maximum backcountry performance and features Fox Float 3 QSL rear track shock, Fox Float QS3 ski and front track shocks, LED headlight, goggle holder, and is available with or without push-button electric start.
Finally, the Hardcore 8000 Alpha One is Cat's new hillclimb sled and it comes equipped with coil-over Fox Zero QS3 and QSL shocks for maximum adjustability, tunnel reinforcement, LED headlight, and goggle holder.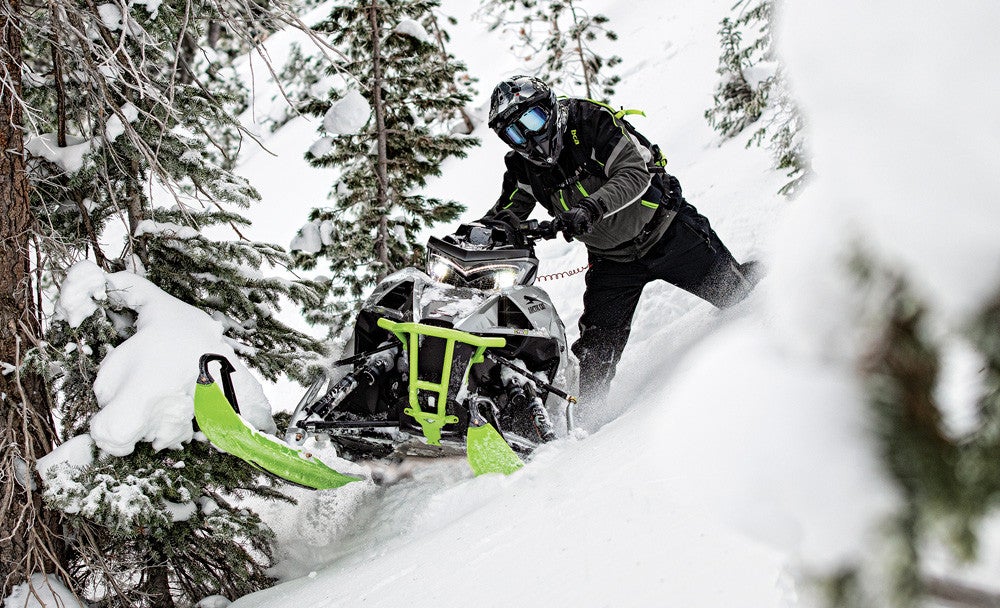 Complete 2020 Arctic Cat Snowmobile Lineup
Beyond the new Riot and Alpha One models, the rest of the 2020 Arctic Cat lineup features familiar sleds, though there are fewer engine, track and trim choices.
| | | |
| --- | --- | --- |
| 2020 Arctic Cat Model | Class | Engine |
| ZR120 | Youth | 123cc 4-stroke |
| ZR200 ES | Youth | 192cc 4-stroke |
| Lynx 2000 | Touring | 565cc 2-stroke |
| Lynx 2000 LT | Touring | 565cc 2-stroke |
| Bearcat 2000 XT | Utility | 565cc 2-stroke |
| ZR6000 137 ES Sno Pro | Trail | 599cc 2-stroke |
| ZR6000 LTD | Trail | 599cc 2-stroke |
| ZR6000 RXC | Trail | 599cc 2-stroke |
| ZR8000 RR | Trail | 794cc 2-stroke |
| ZR8000 LTD | Trail | 794cc 2-stroke |
| ZR8000 Sno Pro | Trail | 794cc 2-stroke |
| ZR9000 Thundercat | Performance | 999cc 4-stroke Turbo |
| ZR9000 Thundercat iACT | Performance | 999cc 4-stroke Turbo |