Ski-Doo Updates Digital Display and Pilot TS Skis on 2020 Models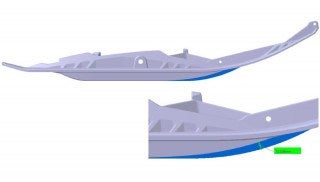 Minor changes affect 2020 Ski-Doo snowmobiles
While the 2020 Ski-Doo lineup was released months ago, the Canadian manufacturer has announced a pair of updates to 2020 models related to the digital displays and the Pilot TS skis.
Check out Ski-Doo's description and reasoning for the changes below:
Digital Displays Update
Following the announcement at Club BRP 2020 in February, we had some consumer feedback on social media platforms and during Spring Tour on MY20 Ski-Doo digital gauges that the initial Trip display options were not to their satisfaction. We listened and are responding. For 2020 models, the configuration of the new 4.5 digital display and 7.2 wide digital gauge will be updated at PDI to offer the following display options: Odometer, Total vehicle hours, Trip A distance, Trip B distance.
Update: There has been some confusion about the digital display. According to Ski-Doo/BRP, four different gauge configurations are available for the 2020 model year.
Compact (Freeride/Summit)
Analog with display (Sleds not on REV Gen4 platform)
4.5″ digital display
7.2″ digital display
All REV Gen4 models in the MXZ, Renegade, Backcountry Grand Touring and Expedition lines have either the 4.5 or 7.2 digital gauges and are the only models affected by this update. Deep Snow models on REV Gen4 have the Compact Gauge and are unaffected by this update.
Pilot TS Skis Update
We've listened to consumer feedback over the past seasons and we will be improving the Pilot TS skis in very specific cornering conditions while keeping the same overall level of trail performance these skis are known for.
As shown above, the keel of the skis will be longer in the front (NEW = Blue) helping reduce steering kick while cornering.