2015 Arctic Cat XF 9000 Cross Country Limited SOLD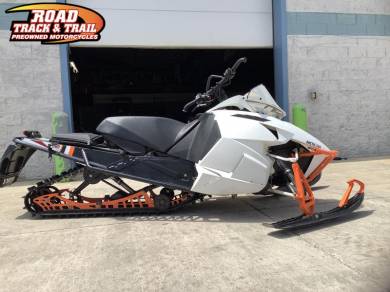 Year : 2015
Color : White
Mileage : 2,643 Miles
Location : Big Bend, WI, US
Price : $ 6,799
Product Description
ELECTRIC START, REVERSE, D&D EXHAUST, HEATED SEAT, TUNNEL BAG, FOX FLOATS! TURBO TIME!

2015 Arctic Cat XF 9000 Cross Country Limited


Features may include:
FasTrack Rear Suspension with 141-in. Track
This springless 141-in. FOX FLOAT 3 air shock rear suspension reduces snow buildup weight while providing a full range of pressure/tuning options.
Arctic Race Front Suspension
Tall, lightweight ski spindles and widely spaced A-arms provide great torsion rigidity and strength. Angling the shock load back toward the rider's mass, results in optimal caster/camber to improve comfort and cornering. FOX FLOAT 3 shocks and a sway bar provide excellent control and handling.
9000 C-TEC4 Engine
This turbo produces an industry-leading 177 HP at any altitude. The response is instant. Power delivery is smooth. Electronic fuel injection means starting your sled will be effortless, even at the highest elevations and coldest temperatures.
ProClimb Chassis
We need it to be as light as possible without sacrificing strength. The upper spar assembly design is the answer, proving itself on the scales, on trail and off trail. Shock mounts transfer energy directly to the spar assembly, the strongest point of the chassis. Rider position is ideal.
Deluxe Digital/Analog Gauge w/Altimeter
Choose between digital and analog speed and tachometer readouts. And check out the altimeter to see just how high up you are. There's also an odometer, two trip meters, engine hour meter, reverse indicator and warning lights.
Electric Start
With a simple turn of the key, the new and improved electric start is reliable and effective. Not to mention the easiest way to ignite the fun.
Push-Button Reverse
The push-button reverse is all about quick, easy activation. Just hit the button and backward you go.
ProClimb Front Bumper
These lightweight aluminum bumpers add superior protection and a bold, stylish look. They are scratch resistant and have a powder-coat finish.
Mountain Skis
Lighter with an increased keel depth for increased cornering traction. They also feature molded-in gripper traction on the top side and a ski loop design that is stiffer and provides better hand ergonomics.
Mountain Seat
The Cross Country is right at home in the deep powder. For more maneuverability, it comes standard with a shorter mountain seat that's great for your boondocking ways.
Adjustable Mountain Handlebar
The adjustable mountain handlebar allows you to rotate the bars in the riser block. That grab strap is there for when you need some extra leverage.
Goggle Holder
This is the bag to have. Heat from the engine dries your goggles while you ride, so you always have a dry, warm pair of goggles waiting.
Rear Storage Bag
The mid-capacity rear storage bag holds anything from gloves to water bottles. Secure, easy-to-use quick-fasten straps and semi-rigid construction add plenty of needed strength.
1.6-in. Cobra Track
The Cobra's lug design delivers superior handling, acceleration and braking in soft, loose snow conditions. Flexible lug design translates into excellent off-trail performance, while unique traction teeth add extra grip on hard-packed surfaces.
Image Gallery
Company Profile
Road Track and Trail
Contact Name Sales Department
Tel 262-662-1500
Fax 262-662-2009
Address W228 - S6932 Enterprise Drive
City Big Bend
State Wisconsin
Country United States
ZIP/Postal Code 53103