2017 Arctic Cat M 8000 HCR (153) SOLD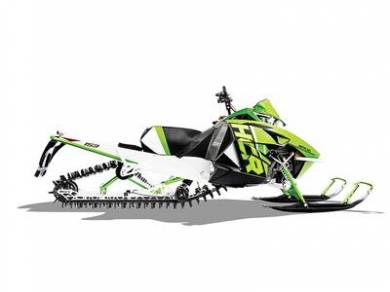 Year : 2017
Mileage : 414 Miles
Location : Big Bend, WI, US
Price : $ 6,999
Product Description
SLED IS IN A CRATE AT OUR STORE, PLEASE CALL FOR AN APPOINTMENT. ONLY 414 MILES!! 153" TRACK, 2.6 LUG, REVERSE, FOX RESERVOIR SHOCKS!!

2017 Arctic Cat M 8000 HCR (153)Features may include:
160-class HP makes this 794cc 2-stroke the most powerful 800 engine in the industry. It features a lightweight, quick-revving crankshaft, twin spark plugs per cylinder and weight-saving engine reverse technology. The engine knock sensor provides octane recognition, giving you more fuel options.
ARCTIC DRIVE SYSTEM WITH TEAM RAPID RESPONSE DRIVE AND TEAM RAPID RESPONSE BOSS DRIVEN CLUTCHES
The Arctic Drive System features a lightweight magnesium chaincase. The design incorporates a large TEAM driven clutch and TEAM drive clutch. By eliminating belt skid, these clutches reduce temperature and transfer more power to the track. In addition to their incredible strength, these clutches are known for their easy and precise tuning.
ARCTIC MOUNTAIN FRONT SUSPENSION WITH FOX 1.5 ZERO QS3 SHOCKS
The Arctic Mountain front suspension packs the essentials. The ProClimb-7 mountain ski is 7" at the tip, tapering to 6.5" at the center to enhance your carving. Single-post, angled-out spindles help you shed some sled weight while maximizing quality and strength. FOX 1.5 ZERO QS3 ski and skid frame shocks feature three-position dial compression adjustability for quick and easy tuning for riding style and conditions. They are rebound adjustable and feature remote reservoir architecture for fade-free performance.
FLOAT ACTION REAR SUSPENSION
The 2017 HCR gets updated with brand-new front and rear shocks that are ready to absorb whatever the mountain throws your way.
DELUXE DIGITAL ANALOG GAUGE
The deluxe gauge lets you choose between digital and analog speed and tachometer readouts. Theres also an odometer, two trip meters, engine hour meter, reverse indicator and warning lights. Like we said, its deluxe.
Need to charge your phone or another electrical device? Weve got you covered. Just plug in and power up while you ride.
Say goodbye to cold hands. Our hand and thumb warmers provide plenty of warmth and comfort on long rides.
Safety first. If you ever get separated from your machine while youre riding, the tether stop switch stops your machine.
153-IN. POWER CLAW TRACK WITH 2.6-IN. LUGS
The one that sets the standard for deep snow performance. This 15" x 153" x 2.25" track features stagger-set, curved-forward paddle towers that wont fold over or take a set.
Proven on our HCR model for the past four seasons, this exchanger is nearly 4 lbs. lighter than full-length versions. Plus it reduces snow build up to reduce even more weight.
As part of the heat exchange system, ice scratchers can save the day when theres minimal snow but plenty of ice. In that kind of riding condition, lowering the ice scrapers kicks up ice to help prevent your engine from overheating.
Want to shift your weight? This puts the extra leverage you need right in your hands.
The new ProClimb-7 mountain ski is 7" at the tip, tapering to 6.5" at the center. The wider skis enhance your carving abilities and prevent unintended downhill braking. A wider ski damper featuring a longer axle and bolt increases lateral adjustability.
For improved performance, weve made the rotor 12% larger, yet 60% lighter. That translates to more confidence for rugged backcountry riding.
LIGHTWEIGHT MOUNTAIN SEAT
In the backcountry, the less weight the better. So weve designed this seat to be low and short. That also makes it easier to hop from one side of your sled to the other when carving through challenging terrain.
Image Gallery
Company Profile
Road Track and Trail
Contact Name Sales Department
Tel 262-662-1500
Fax 262-662-2009
Address W228 - S6932 Enterprise Drive
City Big Bend
State Wisconsin
Country United States
ZIP/Postal Code 53103