2017 Arctic Cat Pantera 7000 XT Limited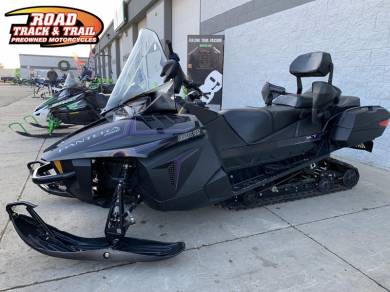 Year : 2017
Color : Black
Mileage : 2,216 Miles
Location : Big Bend, WI, US
Price : $ 9,499
Product Description
ELECTRIC START, REVERSE, MIRRORS, HARDCASE LUGGAGE, HIGH/LOW, 4-STROKE, 2-UP TOURING!

WWW.ROADTRACKANDTRAIL.COM Give us a call toll free at 877=870-6297 or locally at 262-662-1500. Used There will be more pictures available upon request. We also offer great financing terms for qualifying credit. Call us for buying or trading your motorcycle, atv, or snowmobile

2017 Arctic Cat Pantera 7000 XT LimitedFeatures may include:
Part of our clean technology family, the 7000 is a 1049cc 4-stroke, renowned for easily accessible midrange power. This quick-revving triple maintains optimal power thanks to EFI and a state-of-the-art engine management system designed to reduce engine braking
ARCTIC RACE FRONT SUSPENSION
The Arctic Race front suspensions geometry was developed through racing. Our unique wide A-arm spacing complements the chassis design, which allows us to maintain a tighter suspension. Arctic Cat gas IFP shocks feature a hard-anodized aluminum body, 0.5" shaft, aluminum internal floating piston, and high-quality seals and ice scrapers. For added strength, the eyelet on the shaft end is forged, replacing the welded design.
XTRA-ACTION REAR SUSPENSION
This articulating system allows the rear of the suspension to move up and down as you ride across rougher snow, making your machine more maneuverable and more versatile. Backing up in the unlocked position allows the rear of the frame to lever up, rather than dig into the snow. For more traction, just lock the skid and youll have a straight-rail suspension that takes full advantage of the track.
The information you need while riding, beautifully packaged. Thats the best way to describe this dual LCD gauge. Theres an odometer, trip meter, speedometer, engine hour, clock, fuel level indicator, battery voltage, coolant temperature, reverse and warning lights.
Need to charge your phone or another electrical device? Weve got you covered. Just plug in and power up while you ride.
This is just the thing for consistent, reliable starting. A simple turn of the key is all you need to get up and running.
Say goodbye to cold hands. Our hand and thumb warmers provide plenty of warmth and comfort on long rides.
154-IN. LONG X 20-IN. WIDE WITH 1.375-IN. LUGS
For towing, touring, grooming or patrolling the ski slopes, the 20 wide track, with patented Quiet Track technology, gets the job done. The hardworking articulating rear suspension benefits from a long 154" track featuring 1.375" lugs and a 2.86" pitch.
LOCKING DETACHABLE STORAGE CASES
These side cases give you plenty of storage for those long trips and are easily detachable when you dont need them. Got valuables? They even lock for security.
Not all mirrors are the same. Ours are heavy-duty, built to last and made to withstand whatever winter throws at them.
PASSENGER WIND DEFLECTORS
Cold wind and hands dont get along. These will help deflect that wind to keep your passengers hands nice and warm.
10" at their widest, tapering to 8". The tipped-up design allows you to run on deep snow without trenching. Whether youre working or touring, these skis provide effortless stability on and off the trail.
Just like the shifter in your car. What could be more convenient for shifting into reverse?
Looking for more comfort on long rides? This easy-to-adjust backrest allows you to dial in the just right amount of support.
With our heated drivers seat, you stay warm and comfortable even on long rides.
Want to shift your weight? This puts the extra leverage you need right in your hands.
If youve got a heate
Image Gallery
Company Profile
Road Track and Trail
Contact Name Sales Department
Tel 262-662-1500
Fax 262-662-2009
Address W228 - S6932 Enterprise Drive
City Big Bend
State Wisconsin
Country United States
ZIP/Postal Code 53103