2018 Arctic Cat M 9000 King Cat (162) SOLD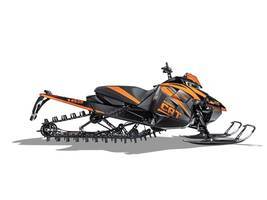 Year : 2018
Color : Orange
Mileage : 51 Miles
Location : Big Bend, WI, US
Price : $ 9,999
Product Description
(ON SITE STORAGE, PLEASE CALL FOR AN APPOINTMENT) ONLY 51 MILES! ELECTRIC START, REVERSE, TUNNEL BAG, FOX EVOLS, TURBO POWER!

WWW.ROADTRACKANDTRAIL.COM Give us a call toll free at 877=870-6297 or locally at 262-662-1500. Used There will be more pictures available upon request. We also offer great financing terms for qualifying credit. Call us for buying or trading your motorcycle, atv, or snowmobile.

2018 Arctic Cat M 9000 King Cat (162)Features may include:
1.125" DROPPED DRIVESHAFT
The King Cats increased track-to-tunnel clearance of 3" allows us to use 8-tooth drive sprockets on this model, giving you a flatter approach angle with more floatability and maneuverability. In addition, youll also notice a mountain of difference in your sled handling. This update in the King Cat delivers a more efficient power transfer to the snow, letting you enjoy more horsepower when climbing, carving, sidehilling and boondocking. The mountains are tough. Now youre equipped to get tough right back.
ARCTIC MOUNTAIN FRONT SUSPENSION WITH FOX FLOAT 3 EVOL SHOCKS
Lightweight, forged-aluminum spindles have less surface area than the previous design, reducing drag and improving performance in deep snow. Also, dual-phase high strength alloy-steel A-arms are lighter than previous designs.The premium FOX FLOAT 3 EVOL shocks offer lightweight design, simplified adjustment and premium bump control features of the FLOAT 3, but with improved resistance to bottoming and reduced cornering roll thanks to the added EVOL air chamber.
FLOAT-ACTION REAR SUSPENSION WITH FOX FLOAT 3 EVOL FRONT AND FOX FLOAT 3 QSL REAR SHOCKS
The FLOAT-ACTION Rear Suspension features revised rails that shed 1.25 pounds, giving optimal suspension travel and a better ride quality in all conditions. The FLOAT-ACTION suspension incorporates mountain-specific geometry, delivering consistent track tension. The FOX FLOAT 3 EVOL front track shock features simplified adjustment and premium bump control. The FOX FLOAT 3 QSL rear track shock is engineered to be lightweight design and he quick switch allows you to choose from three specifically calibrated ride control settings allowing you to change up your ride in a matter of seconds.
ARCTIC DRIVE SYSTEM WITH TEAM RAPID RESPONSE II DRIVE AND TEAM RAPID RESPONSE BOSS DRIVEN CLUTCHES
The Arctic Drive System features a lightweight magnesium chaincase. The new TEAM Rapid Response II drive clutch features an auto-adjusting belt tension design that delivers consistent performance without manual adjustments. It also features a 12.5% lower effective starting ratio while maintaining the top ratio for smoother engagement and reduced belt wear at drive-away speed.
9000 C-TEC4 TURBOCHARGED ENGINE
This 200-class HP Turbo Triple 4-stroke engine packs seamless power delivery in order to give you better handling, more ride control and immediate throttle response. Response like this can only come from an innovative compact exhaust manifold that transfers energy with unprecedented efficiency and immediacy. The power-to-weight ratio is untouchable. No other mass-produced snowmobile engine can match this beasts output.
Need to charge your phone or another electrical device? Weve got you covered. Just plug in and power up while you ride.
This is just the thing for consistent, reliable starting. A simple turn of the key is all you need to get up and running.
Say goodbye to cold hands. Our hand and thumb warmers provide plenty of warmth and comfort on long rides.
This dual configurable LCD screen gauge allows to you check all the vital information about your snowmobile and more. 14 different readings to be exact. Theres an odometer, speedometer, max RPM, 2 trip meters, engine hours, low oil light, coolant temperature, exhaust temperature, intake air temperature, battery voltage, fuel level, clock and reverse indicator.
Image Gallery
Company Profile
Road Track and Trail
Contact Name Sales Department
Tel 262-662-1500
Fax 262-662-2009
Address W228 - S6932 Enterprise Drive
City Big Bend
State Wisconsin
Country United States
ZIP/Postal Code 53103