2018 Arctic Cat XF 9000 CrossTour (146)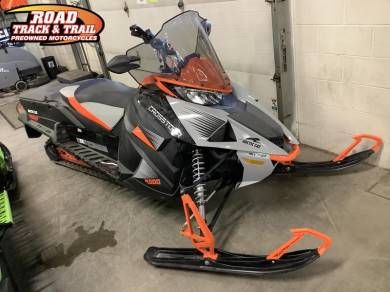 Year : 2018
Mileage : 5,000 Miles
Location : Big Bend, WI, US
Price : $ 7,999
Product Description
THE VEHICLE IS IN A CRATE AT OUR STORE, PLEASE CALL FOR AN APPOINTMENT. LUXURY POWER, TURBO POWER, 146 SUSPENSION, ELECTRIC START REVERSE

2018 Arctic Cat XF 9000 CrossTour (146)Features may include:
Arctic Cats Next-Gen body panels are designed to seamlessly cut through the air with as little atmospheric tension as possible. With only a quarter-turn of the two quick-release tabs, the side panel comes off and provides easy access to the engine compartment for general maintenance.
9000 C-TEC4 TURBOCHARGED ENGINE
This 200-class HP Turbo Triple 4-stroke engine packs seamless power delivery in order to give you better handling, more ride control and immediate throttle response. Response like this can only come from an innovative compact exhaust manifold that transfers energy with unprecedented efficiency and immediacy. The power-to-weight ratio is untouchable. No other mass-produced snowmobile engine can match this beasts output.
ARCTIC DRIVE SYSTEM WITH TEAM RAPID RESPONSE II DRIVE AND TEAM RAPID RESPONSE BOSS DRIVEN CLUTCHES
The Arctic Drive System features a lightweight magnesium chaincase. The new TEAM Rapid Response II drive clutch features an auto-adjusting belt tension design that delivers consistent performance without manual adjustments. It also features a 12.5% lower effective starting ratio while maintaining the top ratio for smoother engagement and reduced belt wear at drive-away speed.
ARCTIC RACE FRONT SUSPENSION WITH ARCTIC CAT GAS IFP SHOCKS
The Arctic Race front suspensions geometry was developed through racing. Our unique wide A-arm spacing complements the chassis design, which allows us to maintain a tighter suspension. Arctic Cat gas IFP shocks feature a hard-anodized aluminum body, 0.5" shaft, aluminum internal floating piston, and high-quality seals and ice scrapers. For added strength, the eyelet on the shaft end is forged, replacing the welded design.
SLIDE-ACTION REAR SUSPENSION WITH ARCTIC CAT IFP SHOCKS
The SLIDE-ACTION Rear Suspension brings race-day technology to everyday riding. Our U-shaped slot fits over a fixed shaft to allow a crucial half-inch of sliding movement. As the rear transfer blocks are engaged, the free-acting front arm follows the terrain, keeping your skis firmly planted over bumps, and during aggressive cornering and acceleration. This significant detail controls ski lift during acceleration. The Arctic Cat IFP gas shocks feature a hard-anodized aluminum body, 0.5" shaft, aluminum internal floating piston, and high-quality seals and ice scrapers.
This dual configurable LCD screen gauge allows to you check all the vital information about your snowmobile and more. 14 different readings to be exact. Theres an odometer, speedometer, max RPM, 2 trip meters, engine hours, low oil light, coolant temperature, exhaust temperature, intake air temperature, battery voltage, fuel level, clock and reverse indicator.
ADJUSTABLE HANDLEBAR WITH 5.5-IN. RISER
Our easily adjustable handlebar allows you to set the perfect position for riding comfort.
Not all mirrors are the same. Ours are heavy-duty, built to last and made to withstand whatever winter throws at them.
AUXILIARY GAS TANK 4.3 GAL. (16.28 L)
Want to ride even more? This 4.3-gal. auxiliary tank is just the ticket. It has a separate fuel cap located under the cowling behind the passenger seat and feeds directly into the main 10.7-gal. fuel tank to give you 15 total gallons of fuel capacity.
146-IN. COBRA TRACK WITH 1.35-IN. LUGS
The 146-in. Cobra tracks cupped lug design delivers superior handling, acceleration and braking in loose snow conditions. Its traction teeth add extra grip on hard-packed surfaces. The 1.35-in. paddles provide that extra traction needed when you find yourself blazing your own path.
Image Gallery
Company Profile
Road Track and Trail
Contact Name Sales Department
Tel 262-662-1500
Fax 262-662-2009
Address W228 - S6932 Enterprise Drive
City Big Bend
State Wisconsin
Country United States
ZIP/Postal Code 53103