2019 Arctic Cat M 8000 Mountain Cat Alpha ONE 154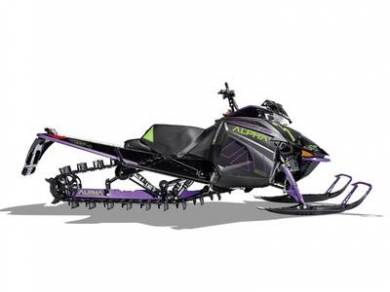 Year : 2019
Location : Big Bend, WI, US
Price : $ 12,699
Product Description
NEW, 1 YEAR MANUFACTURE WARRANTY

2019 Arctic Cat M 8000 Mountain Cat Alpha ONE 154


Features may include:
THE EXTRUDED ALUMINUM BEAM
Hollowed box support system with magnesium attachment points resulting in minimal parts and a lighter machine.
SINGLE PIVOT POINT
Allows the track to bend and conform to the snowwhether youre on a side hill or flat surface, or straight up in powder.
REDUCE CARRY WEIGHT
While other machines can accumulate snow equal to their rear suspension weight, the single-beams simple design virtually eliminates snow accumulation that would otherwise weigh you down.
NEXT-GEN POWER CLAW TRACK
Designed specifically for the Alpha One, this track features centered windows to align with the beam. And aggressive 3.0" paddles with a 3.5" pitch provide a fantastic snow-gripping power with the flexibility to maneuver almost effortlessly.
AWARD-WINNING ASCENDER PLATFORM WITH LIGHTWEIGHT ASCENDER BODYWORK
The 1.125-inch dropped driveshaft features an increased track-to-tunnel clearance of 3 inches allowing us to use 8-tooth drive sprockets on this model, giving you a flatter approach angle with more floatability and maneuverability. In addition, youll also notice a huge difference in your sled handling. This update delivers a more efficient power transfer to the snow, letting you enjoy more horsepower when climbing, carving, side hilling and boondocking.
8000 C-TEC2 ENGINE WITH DSI
The 8000 efficient, responsive and fresh out of St. Cloud, Minnesota. This 2-stroke engine features noticeably faster throttle response and acceleration compared with our previous 8000, plus up to 30% reduction in oil consumption below 7000 rpm, 36% increase in low-end torque and 18% increase in midrange torque. Delivering a rare combination of increased power, reduced emissions and ultra-low oil consumption, the overall crispness sets new standards for performance and rideability in the 160-HP class.
ARCTIC MOUNTAIN DRIVE SYSTEM
The Arctic Drive System features CVT drive and driven clutches for a combination of smooth shifting, optimal performance, maximum durability; great serviceability; and reduced weight. The new drive clutch features a roller bearing on the shaft that enables an auto-adjusting belt tension design and delivers consistent performance without manual adjustments. It also features a 12.5 percent lower effective starting ratio (while maintaining the top ratio) for smoother engagement and reduced belt wear at drive-away speed, with more evenly distributed force for lower belt pressure. Its a design thats unique to Arctic Cat.
PROCLIMB - 7 G2 SKIS
The all-new 2019 ProClimb 7 G2 Skis feature a new shape that delivers improved flotation with a slightly less aggressive keel shape for easier steering and more consistent performance in varying snow conditions. Molded-in foot traction on the top of the skis adds boot traction and usability for experienced riders. The new G2 skis work in concert with the AMS spindles to deliver a new level of deep-snow performance and adjustability, incorporating a tapered width, from 7 inches at the tip to 6.5 inches in the middle, which works with a unique rubber dampener to keep the ski tips up and floating on top of the snow while preventing diving or knifing. A wide ski saddle accommodates a full 2 inches of lateral ski stance adjustability.
Image Gallery
Company Profile
Road Track and Trail
Contact Name Sales Department
Tel 262-662-1500
Fax 262-662-2009
Address W228 - S6932 Enterprise Drive
City Big Bend
State Wisconsin
Country United States
ZIP/Postal Code 53103