2006 Polaris 700 Classic SOLD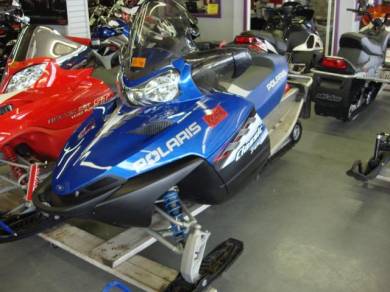 Year : 2006
Color : Super Sonic Blue
Mileage : 2,500 Miles
Location : Mason, MI, US
Price : $ 3,600
Product Description
2006 POLARIS CLASSIC 700 SNOWMOBILE GOOD CONDITION END OF SEASON SPECIAL $3600 (866)487-1257

BE AS BAD AS YOU WANT. WITH A RIDE THIS CUSH, YOULL STILL FEEL GOOD.


Our 2006 trail luxury Classics are built with a no-compromise attitude and skillfully blended with performance, handling and style. Easily make the boonies a day trip with these highly functional and well-equipped trail sleds. From the smooth, reliable, under-the-hood power to the state-of-the-art controls, the Classics are the epitome of a solid snow machine. An entire family of sleds so versatile, comfortable and flat-out fun to ride, the far away becomes a whole lot closer. The middle of nowhere is right where you want to be. No-mans land soon belongs to everyone. Climb on one today. See where it takes you.
Image Gallery
Company Profile
Grove's Motorsports
Contact Name
Tel 517-676-5667
Fax (517) 676-0205
Address 525 North Cedar Street
City Mason
State Michigan
Country United States
ZIP/Postal Code 48854