2015 Polaris 800 PRO-RMK 155 ES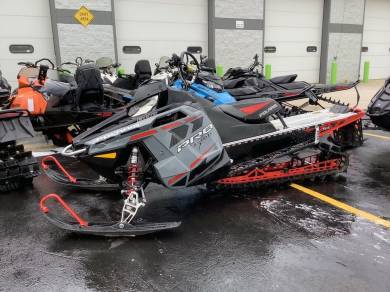 Year : 2015
Color : RED BLACK
Mileage : 4,369 Miles
Location : Big Bend, WI, US
VIN : SN1CG8GS6FC538527
Price : $ 5,499
Product Description
ELECTRIC START , REVERSE, ICE SCRATCHERS, HITCH, HOT DOGGER LIKE NEW, HOOKS, LOOP, WALKER EVANS SHOCKS, BMP PIPE, PRO TAPER BAR

2015 Polaris 800 PRO-RMK 155 ESstrong>Lightest. Strongest. Most flickable.Standard Features May Include:LIGHTEST
PRO-RIDE Chassis with Carbon Fiber Overstructure
Confidence comes standard. When you have a sled that responds to your every input, youve got a sled that you can trust. From technical tree riding to a demanding sidehill and turn out, the PRO-RIDE chassis helps make you a better rider. Better weight transfer for Rider Active Control, and 300% more rigid chassis for more precise handling. Carbon fiber overstructure for reduced weight without compromising strength.
In 2011, we introduced a 431. lb PRO-RMK 155. Now, when most sleds have gained weight, we continue to build em lighter and stronger. Our PRO-RMK 155 weighs in at 417 lbs. A weight normally reserved for high-dollar, custom-built mod sleds.
Mountain snowmobiling has changed and so has it's seat. Shorter by 5.5" allowing you to easily swing a leg from one side to the other along with a 3.75" wider, flatter area for more comfortable seated riding.
STRONGEST
PowderTrac Running Boards
The PowderTrac running boards have been developed for maximum snow clean out and maximum strength. Built from extruded aluminum with bonded cast lugs, they boast an open area of 50% and integrated traction that is machined in for sure footed performance.
Structural Adhesive Bonded Components
By using technology to improve our manufacturing, we continue to build lighter stronger sleds. Bonded lower control arms featuring forged aluminum ends and steel tubing. This process makes for a set of control arms that are 2 lbs. lighter.
The low-profile LED tailight, lightweight punched snow flap with hand access and carbon fiber bumper with extruded billet mounts add style and function. The narrower tunnel cooling extrusions save weight.
MOST FLICKABLE
QuickDrive Low Inertia Drive System
The QuickDrive Low Inertia System is designed to provide quicker acceleration and increased flickability through reduced rotating mass. Not simply a belt-drive, it is a complete lightweight drive system featuring an extruded drive shaft, lightweight brake, RMK-specific brake caliper and of course the most visible piece of the system a maintenance-free belt drive that requires no oil or tensioner system. The complete system reduces rotational inertia by 21% which means 5lb. less effort when carving.
Coil-Over Rear Suspension
The heart of any mountain sled is the rear suspension. The RMK Coil-Over Rear Suspension is designed for better flotation and deep snow performance with improved on-trail ride. By eliminating the torsion springs and redesigning the torque arms, this skid weighs substantially less. In addition, it is tunable to the snow conditions. A simple turn of the spring preload adjustment allows you change your set-up from deep powder to crusted snow.
This liquid-cooled Cleanfire engine with semi-direct injection (SDI) deliver outstanding throttle response and instant acceleration. These powerful, efficient engines produce the impressive power-to-weight ratios that deep snow riders demand. Cleanfire engines start easily and reliably and they calibrate automatically as the temperature and elevation change. These engines deliver impressive fuel economy in real-world riding situations, which, for Polaris riders, means aggressive, up-tempo riding, not low-rev lab conditions.
Image Gallery
Company Profile
Road Track and Trail
Contact Name Sales Department
Tel 262-662-1500
Fax 262-662-2009
Address W228 - S6932 Enterprise Drive
City Big Bend
State Wisconsin
Country United States
ZIP/Postal Code 53103