2015 Polaris 800 Switchback PRO-S ES SOLD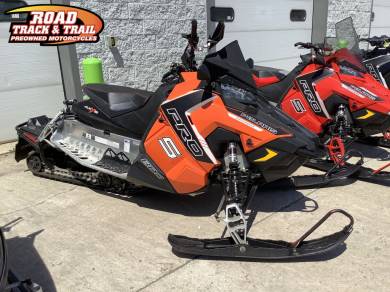 Year : 2015
Color : Orange
Mileage : 6,575 Miles
Location : Big Bend, WI, US
Price : $ 5,499
Product Description
ELECTRIC START , REVERSE, SHIPPING AVAILABLE , MIRRORS, HAND GUARDS, BAR HOOKS, WALKER EVANS RESERVOIR SHOCKS.

2015 Polaris 800 Switchback PRO-S ESSmoothest Riding, Most Versatile.


Built on the all-new AXYS platform, the industrys best crossover sleds just got better.
Standard Features May Include:RIDER BALANCED CONTROL
The all new AXYS chassis features 93% new parts, including a carbon-fiber overstructure. The new chassis structure and design makes it possible to change the rider positioning, centralize vehicle mass, redesign the rear suspension, add more power, remove weight, and evolve the riders riding experience. In short, it is the key to delivering rider-balanced control, unrivaled acceleration, and rider-centric comfort.
Rider Balanced Positioning
On the new AXYS chassis, the rider is moved forward to a more balanced position. The riders hands are moved 4.5 forward, the feet are 2 forward, the knees are 4.5 forward, and the seat is 4.5 forward. In the neutral riding position, the AXYS platform provides bite for flatter, positive cornering. When the trail gets rough or the rider jumps off into the powder, rider balance enables the rider to move back and make the front end light to climb up on top of the snow or the moguls.
The all-new PRO-XC suspension delivers Active Pitch Control which controls the pitch by suspension geometry and not simply by a high spring rate. This makes the sled less sensitive to adjustment while allowing optimal weight transfer.
UNRIVALED ACCELERATION
When developing the AXYS platform, Polaris engineers minimized weight throughout the sled without compromising strength. The 800 Switchback PRO-S is more than 35 pounds lighter than the previous chassis and weighs approximately 40 lb. less than a competitive crossover model.
800 Cleanfire H.O. Engine
Developed in conjunction with the AXYS platform, the new 800 H.O. engine delivers class-leading acceleration and its integrated mounting position optimizes the balance of the chassis.
Lightweight crankshaft weighs 2.5 lbs less, delivering 25% lower inertia, which increases acceleration.
RIDER CENTRIC COMFORT
The new left-hand controls feature improved ergonomics, updated styling, and enhanced hand and thumb warmer control. The controls are easy to operate with gloves on, and have an improved tactile feel.
The hood and windshield designs produce significantly enhanced wind protection for a rider, and the foil on the side panels further enhances protection.
Image Gallery
Company Profile
Road Track and Trail
Contact Name Sales Department
Tel 262-662-1500
Fax 262-662-2009
Address W228 - S6932 Enterprise Drive
City Big Bend
State Wisconsin
Country United States
ZIP/Postal Code 53103