2016 Polaris 600 Indy SOLD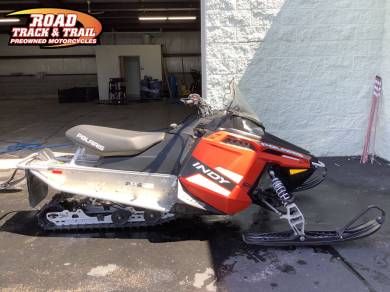 Year : 2016
Color : RED
Mileage : 6,012 Miles
Location : Big Bend, WI, US
Price : $ 3,999
Product Description
CALL FOR APPOINTMENT, NEED 1 DAY NOTICE IF POSSIBLE, ON SITE, BUT IN STORAGE ELECTRIC START , REVERSE, LIQUID COOLED, SHIPPING IS AVAILABLE

2016 Polaris 600 INDYLEGENDARY PERFORMANCE. SIMPLY FUN.


Features May Include:
The INDY is built on the proven PRO-RIDE Chassis that is 300% stiffer for precise, intuitive handling. The ideal choice for a nimble handling sled thats fun to ride.
Race-Proven Front Suspension
Lighter steering, sharper cornering. Developed in conjunction with the Polaris Racing program. Its performance and durability were proven in extensive on- and off-track testing.
INDY Coupled Rear Suspension
Legendary performance from the ride and handling experts. This proven design provides great ride quality in a conventional coupled design
This liquid-cooled Cleanfire engine with semi-direct injection (SDI) deliver outstanding throttle response and instant acceleration. These powerful, efficient engines produce the impressive power-to-weight ratios that deep snow riders demand. Cleanfire engines start easily and reliably and they calibrate automatically as the temperature and elevation change. These engines deliver impressive fuel economy in real-world riding situations, which, for Polaris riders, means aggressive, up-tempo riding, not low-rev lab conditions.
A wider surface right where a rider plants for seated riding provides enhanced comfort during long days on the snow, and the seat design allows easy transition between seated and standing positions.
A redesigned throttle block and a separate kill switch perch that can be positioned independently for improved ergos and ability to tailor your controls.
Image Gallery
Company Profile
Road Track and Trail
Contact Name Sales Department
Tel 262-662-1500
Fax 262-662-2009
Address W228 - S6932 Enterprise Drive
City Big Bend
State Wisconsin
Country United States
ZIP/Postal Code 53103