2016 Polaris 800 PRO-RMK 163 3"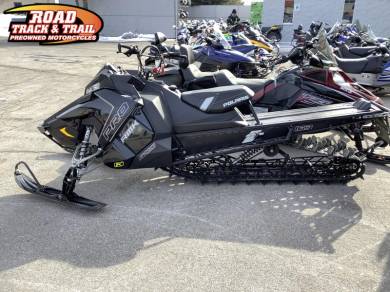 Year : 2016
Mileage : 2,426 Miles
Location : Big Bend, WI, US
Price : $ 6,499
Product Description
WALKER EVANS SHOCKS, BAR LOOP, BAR HOOKS, SHIPPING IS AVAILABLE ON THIS SLED.

2016 Polaris 800 PRO-RMK 163 3"NEW Patented Raised AXYS RMK Chassis


The AXYS RMK features a patented, raised chassis that increases clearance and reduces drag to keep you on top of the snow. This new chassis, purpose built for mountain riding, allows for improved sidehilling, faster and easier climbing, and instantaneous lift allowing the sled to pop onto the snow faster. The carbon fiber overstructure offers reduced weight without compromising strength. New, taller spindles for 2016 increases clearance to reduce drag.
Features may include:
NEW Rear Suspension
The new lightweight, rigid rear suspension design features revised geometry to control pitch. This improves weight transfer, delivering better control and a more compliant ride. The rigid suspension delivers power directly to the snow. Off-trail, riders will notice improved weight transfer while maintaining the approach angle. On-Trail, riders will notice a more compliant and comfortable ride. The rear suspension features a new rail design that helps lift the rear skid while driving it forward.
Proven 800 Cleanfire H.O. Engine
Developed in conjunction with the AXYS platform, the proven 800 Cleanfire H.O. Engine delivers +10% increase in power-to-weight ratio and quicker throttle response to generate instantaneous lift. The integrated mounting position optimizes the balance of the chassis. Featuring:
Grooved piston for improved durability and engine life
3-stage electronically-controlled exhaust valves for increased power and responsiveness
Electronic oil pump for reduced throttle effort and improved durability
Thermostat with bypass warms up to operating temperature 40% faster and improves durability
High-efficiency intake and exhaust for improved breathability, which increases power
Exclusive VForce Reeds for more power and improved reed life
Lightweight crankshaft that's more durable, 2.5 lbs lighter and has 25% less inertia
This is the same 800 H.O. engine released with great success in the 2015 Polaris RUSH and Switchback models, and has been proven through 100,000+ field testing miles.
3-Stage Electronically-Controlled Exhaust Valves
3-stage electronically-controlled exhaust valves provide improved running quality, crisper throttle response, smoother idle and improved fuel economy. The active feedback for the exhaust valve position provides more accurate fueling in transient situations. These exhaust valves also improve combustion stability, leading to improved durability and engine life.
Image Gallery
Company Profile
Road Track and Trail
Contact Name Sales Department
Tel 262-662-1500
Fax 262-662-2009
Address W228 - S6932 Enterprise Drive
City Big Bend
State Wisconsin
Country United States
ZIP/Postal Code 53103