2016 Polaris 800 Switchback PRO-S SOLD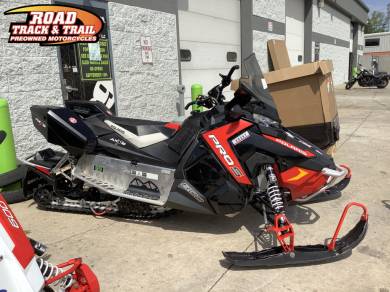 Year : 2016
Color : Red/White
Mileage : 3,583 Miles
Location : Big Bend, WI, US
Price : $ 6,999
Product Description
ELECTRIC START, REVERSE, PIDD NAVIGATION, POLARIS RACK AND HARD BAGS, KNEE PADS, MIRRORS, STUDS, TALL WINDSHIELD, WALKER EVANS RESERVOIR SHOCKS, BAR HOOKS, ICE SCRATCHERS AND MORE! SUPER CLEAN SLED!

2016 Polaris 800 Switchback PRO-SSMOOTHEST RIDING. MOST VERSATILE.


Features may include:
The AXYS chassis features 93% new parts, including a carbon-fiber overstructure and aluminum handlebars on SnowCheck Select or Limited Edition models and an aluminum overstructure on standard models. The chassis structure and design makes it possible to change the rider positioning, centralize vehicle mass, redesign the rear suspension, add more power, remove weight, and evolve the riders riding experience. In short, it is the key to delivering rider-balanced control, unrivaled acceleration, and rider-centric comfort.
Rider Balanced Positioning
On the AXYS chassis, the rider is moved forward to a more balanced position. The riders hands are moved 4.5 forward, the feet are 2 forward, the knees are 4.5 forward, and the seat is 4.5 forward. In the neutral riding position, the AXYS platform provides bite for flatter, positive cornering.
The PRO-XC suspension delivers Active Pitch Control which controls the pitch by suspension geometry and not simply by a high spring rate. This makes the sled less sensitive to adjustment while allowing optimal weight transfer.
The hood and windshield designs produce significantly enhanced wind protection for a rider, and the foil on the side panels further enhances protection.
Walker Evans Needle Shocks
Premium shocks with compression adjusters and remote reservoirs offer the best in tunability and fade-proof performance. Unique needle design uses hydraulic force at the end of the stroke to eliminate harsh bottoming.
Image Gallery
Company Profile
Road Track and Trail
Contact Name Sales Department
Tel 262-662-1500
Fax 262-662-2009
Address W228 - S6932 Enterprise Drive
City Big Bend
State Wisconsin
Country United States
ZIP/Postal Code 53103