2017 Polaris 600 RUSH XCR 121 1.352" Cobra LE SOLD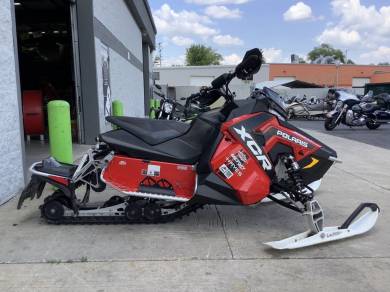 Year : 2017
Color : Red
Mileage : 1,849 Miles
Location : Big Bend, WI, US
VIN : SN10CL6P4HC723324
Price : $ 7,599
Product Description
C & A SKIS, WALKER EVANS RES SHOCKS, POWERMADD GUARDS, LOW MILES,

2017 Polaris 600 RUSH XCR LE 121 1.352" Cobra LE


SHARPEST HANDLING. QUICKEST ACCELERATING.
Features may include:
The AXYS RUSH XCR features 93% new parts, including IQR handlebars with an aluminum overstructure. The chassis structure and design makes it possible to change the rider positioning, centralize vehicle mass, redesign the rear suspension, add more power, remove weight, and evolve the riders experience. In short, it is the key to delivering rider-balanced control, unrivaled acceleration, and rider-centric comfort.
Rider Balanced Control gives the rider: *Flatter cornering without sacrificing the fun factor* More precise handling in all conditions. * Better control in big bumps AND chatter bumps
How did we get there? Polaris:* Put the rider in the right location on the sled. * Centralized vehicle mass.* Optimized the suspension geometry to better control pitch.
Rider Balanced Positioning
On the AXYS chassis, the rider is moved forward to a more balanced position. The riders hands are moved 4.5 forward, the feet are 2 forward, the knees are 4.5 forward, and the seat is 4.5 forward. In the neutral riding position, the AXYS platform provides bite for flatter, positive cornering. When the trail gets rough or the rider jumps off into the powder, rider balance enables the rider to move back and make the front end light to climb up on top of the snow or the moguls.
PRO-XC Suspension with Polaris Race Technology (PRT)
The completely redesigned geometry of the PRO-XC progressive-rate rear suspension is optimized for the best performance and Rider-Balanced Control. Through innovative Polaris engineering and construction, the suspension is both lighter and stronger, featuring: *Lightweight, forged aluminum rear crank.* Completely redesigned crank and pivot. * Front torque arm was moved rearward to control pitch, increase travel, and improve the rail profile.
To increase durability & strength for extreme performance, the XCR features additional Race-Inspired Suspension Components, including a Chromoly Rear Pivot, Heavy-Duty FTS Mount, Solid Hardened Jackshaft, Chromoly Front Torque Arm, Strength-optimized, Reinforced Rail Beams, Solid Bogie Wheels, and IQR Rear Axle Wheels.
Polaris Race Technology Brake System
The PRT Brake system delivers outstanding performance with unparalleled durability. The race rotor provides increased surface area that effectively absorbs heat from brake pads for more consistent performance and even pad wear. The Brake Scoop offers increased cooling and improves durability & performance, while the Type 81 Brake Pads withstand higher temperatures associated with higher speeds.
The PRO-XC suspension delivers Active Pitch Control which controls the pitch by suspension geometry and not simply by a high spring rate. This makes the sled less sensitive to adjustment while allowing optimal weight transfer.
Excellent performance on loose snow & on hard-packed snow surfaces
The PRO-STEER ski features a reshaped keel and shortened skag for reduced steering effort. Redesigned ribs atop the ski increase torsional stiffness for more precise steering, and bosses added atop the ribs provide traction to prevent slipping when a rider steps on the ski in deep snow.
The PRO-X Riser elevates the handlebars to comfortably accommodate stand-up riding.
Image Gallery
Company Profile
Road Track and Trail
Contact Name Sales Department
Tel 262-662-1500
Fax 262-662-2009
Address W228 - S6932 Enterprise Drive
City Big Bend
State Wisconsin
Country United States
ZIP/Postal Code 53103