2017 Polaris 800 Switchback Assault 144 SOLD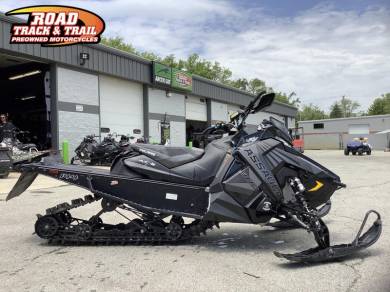 Year : 2017
Color : Black
Mileage : 4,852 Miles
Location : Big Bend, WI, US
Price : $ 6,999
Product Description
ELECTRIC START, REVERSE, TUNNEL BAG, WALKER EVANS RESERVOIR SHOCKS, HAND GUARDS, BLACKED OUT RIDE!

2017 Polaris 800 Switchback Assault 144 1.352" Cobra


SMOOTHEST RIDING. MOST VERSATILE.
Features may include:
The NEW AXYS chassis for the 144 platform is light and strong, offering rider balanced characteristics critical for the 50/50 rider. The rider is moved into a balanced position on the sled so it rides flat through the corners. When the trail gets rough or the rider jumps off into the powder, rider balance enables the rider to move back and make the front end light to climb up on top of the snow or the moguls.
NEW IGX 144 Rear Suspension
A core element to the new AXYS 144 platform is the all new Ideal Geometry X-Over 144 uncoupled rear suspension, which offers the ultimate blend of durability and strength. The IGX 144 rear suspension provides RMK-inspired off-trail agility and balance with a drastically improved on-trail ride. Pitch is controlled through geometry in this new rear suspension. With 43% more front torque arm travel, this sled features reduced bottoming and less drag off-trail. An all new optimized, lighter, tipped rail beam design gives the sled a nimble feel.
PowderTrac Hybrid Running Boards
The all new PowderTrac Hybrid running boards offer optimized design with 56% open space for maximum snow clean out while maintaining extreme strength. Designed specifically for the crossover rider, the boards are wider and flatter in the front for comfort while sitting and better positioning while standing up. The rear of the boards tapers back for better mobility and snow clearance when carving.
Image Gallery
Company Profile
Road Track and Trail
Contact Name Sales Department
Tel 262-662-1500
Fax 262-662-2009
Address W228 - S6932 Enterprise Drive
City Big Bend
State Wisconsin
Country United States
ZIP/Postal Code 53103