2018 Polaris 800 SKS 146 2.25 Peak SnowCheck SOLD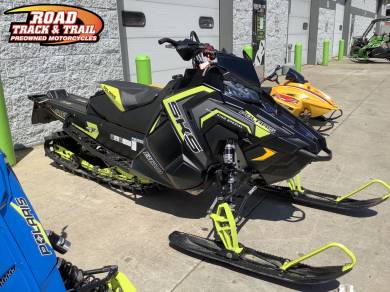 Year : 2018
Color : Black Yellow
Mileage : 1,438 Miles
Location : Big Bend, WI, US
Price : $ 8,499
Product Description
HAND GUARDS, AXYS , MIRRORS, WALKER EVANS , PRO TAPER BARS, REVERSE, GRAB LOOP, REAR BAG, 146 ,

2018 Polaris 800 SKS 146 2.25 PeakLIGHTEST. STRONGEST. MOST FLICKABLE.


The 800 SKS 146 is the ultimate deep snow crossover snowmobile. It offers both instantaneous lift when off-trail in the deep snow, as well as smooth handling and cornering when on-trail.
Features may include:
Rider-Balanced AXYS Chassis
The AXYS chassis for the SKS 146 provides rider balanced characteristics for the crossover rider. This sled offers both instantaneous lift when off-trail in the deep snow, as well as smooth handling and cornering when on-trail. The rider is placed into a balanced position on the sled so it rides flat through the corners. When the trail gets rough or the rider jumps off into the powder, rider balance enables the rider to move back and make the front end light to climb up on top of the snow or the moguls: Purpose-built for crossover riding, Provides improved sidehilling & faster, easier climbing, Upon acceleration, sled gets instantaneous lift & stays on top of the snow, Aluminum overstructure is lightweight & durable for all types of riding
The IGX Ideal Geometry Xover Rear Suspension delivers a smooth ride and outstanding handling on all terrain and in all snow depths and conditions: IGX Rear Suspension features optimized geometry to control pitch, Minimal bottoming & drag off-trail, Rail beam is tipped for optimal performance
Proven 800 Cleanfire H.O. Engine
Developed in conjunction with the AXYS platform, the proven 800 Cleanfire H.O. Engine delivers +10% increase in power-to-weight ratio and quicker throttle response to generate instantaneous lift. The integrated mounting position optimizes the balance of the chassis. Featuring: Grooved piston for improved durability and engine life, 3-stage electronically-controlled exhaust valves for increased power and responsiveness, Electronic oil pump for reduced throttle effort and improved durability, Thermostat with bypass warms up to operating temperature 40% faster and improves durability, High-efficiency intake and exhaust for improved breathability, which increases power, Exclusive VForce Reeds for more power and improved reed life, Lightweight crankshaft that's more durable, 2.5 lbs lighter and has 25% less inertia
3-Stage Electronically-Controlled Exhaust Valves
Valve operation increases power, responsiveness & efficiency, Ensures the most effective exhaust evacuation, Precise operation helps optimize fuel burn
Precise oil delivery reduces throttle effort, Reliable oil delivery for best performance & improved durability, Dependable oil delivery in all riding conditions
High-Efficiency Intake and Exhaust
Improved breathability, Less Restriction = More Power, Optimized airflow enhances fuel burn & exhaust evacuation
Petal design optimizes airflow to produce more power, Design enhances power across the power band, Reduced reed petal wear produces extended reed life
Low-inertia crankshaft enhances class-leading power-to-weight ratio, 2.5 lb. lighter + 25% less inertia = Better Acceleration, Design also increases durability, Proven in Polaris Racing sleds since Model Year 2014
Exhaust side grooves improve oil distribution, Enhanced oiling improves piston & cylinder durability, Design reduces friction & wear, improves efficiency & power
Image Gallery
Company Profile
Road Track and Trail
Contact Name Sales Department
Tel 262-662-1500
Fax 262-662-2009
Address W228 - S6932 Enterprise Drive
City Big Bend
State Wisconsin
Country United States
ZIP/Postal Code 53103