2018 Polaris 800 Switchback Assault 144 2.0 Series 4 SnowCheck E SOLD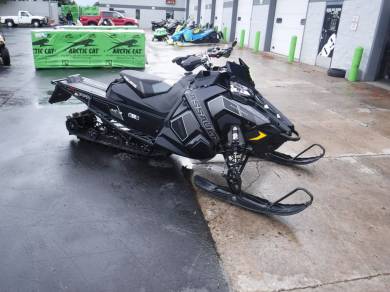 Year : 2018
Mileage : 4,976 Miles
Location : Big Bend, WI, US
Price : $ 7,999
Product Description
ELECTRIC START , REVERSE, SHIPPING AVAILABLE , , WALKER EVANS RESERVOIR SHOCKS, REAR BAG, HAND GUARDS, MIRRORS, PRO TAPER BARS

2018 Polaris 800 Switchback Assault 144 2.0 Series 4 SnowCheck ESSMOOTHEST RIDING. MOST VERSATILE.


The 800 Switchback Assault snowmobile is for aggressive, backcountry riders that demand off-trail agility and on-trail confidence. Its powerful, proven 800 H.O. Cleanfire engine paired with the AXYS Chassis and IGX 144 Rear Suspension deliver Rider-Balanced Control, Unrivaled Acceleration, and Rider Centric Comfort.
Features may include:
The AXYS chassis for the 144 platform is light and strong, offering rider balanced characteristics critical for the 50/50 rider. The rider is moved into a balanced position on the sled so it rides flat through the corners. When the trail gets rough or the rider jumps off into the powder, rider balance enables the rider to move back and make the front end light to climb up on top of the snow or the moguls.
A core element to the AXYS 144 platform is the IGX 144 uncoupled rear suspension, which offers the ultimate blend of durability and strength. The IGX 144 rear suspension provides RMK-inspired off-trail agility and balance with a drastically improved on-trail ride. Pitch is controlled through geometry in this rear suspension. And with 43% more front torque arm travel, this sled features reduced bottoming and less drag off-trail. An optimized, lighter, reinforced tipped rail beam design gives the sled a nimble feel.
PowderTrac Hybrid Running Boards
The PowderTrac Hybrid running boards offer optimized design with 56% open space for maximum snow clean out while maintaining extreme strength.
Designed to serve the needs of riders on- & off-trail
Efficient design delivers maximum strength & snow clean-out with 56% open space
Front is wide & flat for foot comfort & stability; rear has tapered, dual-angle design for mobility & snow clearance
At 456 lbs, the Switchback ASSAULT on the AXYS 144 platform is the industry-leading lightweight 50/50 crossover snowmobile. It allows you to get up on top of deep snow faster and offers quick acceleration.
800 Cleanfire H.O. Engine
Developed in conjunction with the AXYS platform, the proven 800 Cleanfire H.O. Engine delivers class-leading acceleration. The integrated mounting position optimizes the balance of the chassis. Featuring:
3-stage electronically-controlled exhaust valves
Thermostat with bypass warms up to operating temperature 40% faster and improves durability
High-efficiency intake and exhaust
Throttle body is lighter weight and reduces throttle effort
3-Stage Electronically-Controlled Exhaust Valves
3-stage electronically-controlled exhaust valves provide improved running quality, crisper throttle response, smoother idle and improved fuel economy. The active feedback for the exhaust valve position provides more accurate fueling in transient situations. These exhaust valves also improve combustion stability, leading to improved durability and engine life.
Electronic oil pump eliminates power-robbing gear drive and provides more precise, improved oil delivery for performance and durability as well as a 35% reduction in throttle effort. Requires no adjustments.
High-Efficiency Intake and Exhaust
Porous intake duct material and high-flow exhaust system create a better breathing engine package for more power. The silencer provides reduced sound levels while on the trail. Vforce reeds provide improved performance, throttle response and reed durability.
Image Gallery
Company Profile
Road Track and Trail
Contact Name Sales Department
Tel 262-662-1500
Fax 262-662-2009
Address W228 - S6932 Enterprise Drive
City Big Bend
State Wisconsin
Country United States
ZIP/Postal Code 53103