2019 Polaris 600 Switchback Adventure 137 ES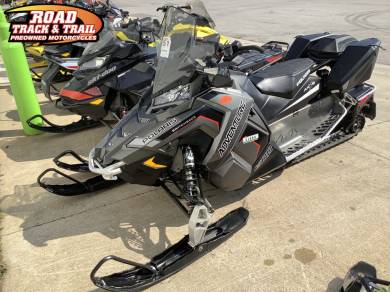 Year : 2019
Color : GRAY
Mileage : 1,732 Miles
Location : Big Bend, WI, US
Price : $ 9,299
Product Description
FACTORY LOADED!! P.I.D.D. NAVIGATION, ELECTRIC START, REVERSE, REAR HARDCASE LUGGAGE, RACK, STUDS, TALL WINDSHIELD, MIRRORS, WALKER EVANS RESERVOIR SHOCKS!! CRISPY CLEAN, AND HARD TO FIND!! SHIPPING IS AVAILABLE.

2019 Polaris 600 Switchback Adventure 137 ESVersatile, Do-It-All Crossover
Chase The Freedom You Were Born For
The Switchback Adventure snowmobile is a sled designed for on- and off-trail riders looking for the ultimate in versatility. Easily install the passenger seat for 2-up touring. The sled also comes standard with cargo rack and saddle bags for hauling gear on long journeys.
Features may include:
By placing the rider in the right location on the sled, we've built a sled that corners flat without sacrificing the fun factor of lifting the front end through the bumps or powder. More precise handling both on- and off-trail.
When developing the AXYS platform, our engineers minimized weight throughout the sled without compromising strength. Combined with powerful engines and class-leading power-to-weight ratios, the Switchback Adventure gives you the best go-anywhere versatility.
With ergonomic controls, integrated storage, enhanced wind protection, and industry-first LED headlights and gauge packages, comfort is woven directly into the AXYS platform's design.
The AXYS chassis design is the key to delivering rider balanced control through the right rider positioning and centralized vehicle mass. The rider's hand position is moved 4.5" forward, the feet position is 2" forward, the knee position is 4.5" forward, and the seat is 4.5" forward. This means more bite for flatter cornering when in the neutral riding position and a lighter front end for climbing on top of the snow or the moguls when the rider shifts to the back of the sled.
The PRO-XC Rear Suspension is optimized for the best performance and Rider Balanced Control. Through innovative engineering, the suspension is both lighter and stronger and features: lightweight, forged aluminum rear crank and a front torque arm moved rearward to control pitch, increased travel, and improved rail profile.
The PRO-XC suspension delivers Active Pitch Control which controls the pitch by suspension geometry and not simply by a high spring rate. This makes the sled less sensitive to adjustment while allowing optimal weight transfer.
The 600 Switchback Adventure snowmobile is for on- and off-trail riders that demand sled versatility - plus the reliable performance, easy starting, instant acceleration, and great response of the 600 Cleanfire engine.
Lock & Ride Adventure Cargo System
Electric Start & 12V Outlets
Image Gallery
Company Profile
Road Track and Trail
Contact Name Sales Department
Tel 262-662-1500
Fax 262-662-2009
Address W228 - S6932 Enterprise Drive
City Big Bend
State Wisconsin
Country United States
ZIP/Postal Code 53103