2018 Ski-Doo MXZ X Ice Cobra 1.6 Adj. Pkg. Rotax 600 H.O. E-TEC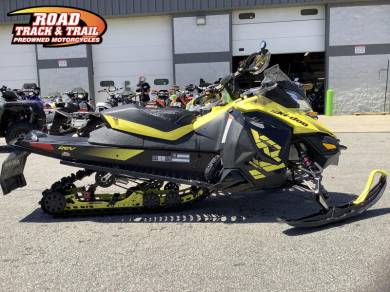 Year : 2018
Color : Yellow/Black
Mileage : 4,625 Miles
Location : Big Bend, WI, US
Price : $ 7,499
Product Description
ELECTRIC START, REVERSE, ICE RIPPER TRACK, HAND GUARDS, KYB SHOCKS, WIND DEFLECTORS, R-MOTION

WWW.ROADTRACKANDTRAIL.COM Give us a call toll free at 877=870-6297 or locally at 262-662-1500. Used There will be more pictures available upon request. We also offer great financing terms for qualifying credit. Call us for buying or trading your motorcycle, atv, or snowmobile

2018 Ski-Doo MXZ X Ice Cobra 1.6 Adj. Pkg. Rotax 600 H.O. E-TEC Sunburst Yellow & BlackRACE BRED ROUGH TRAIL DOMINATOR


The MXZ X package is field with all the capability and performance most trail carvers and bump bashers will ever need, especially rMotion 129 rear skid, premium shock package and more.
RMOTION 129 REAR SUSPENSION
CAPABILITY, CONTROL AND COMFORT
THE standard for control, capability, comfort and adjustability with added traction, better braking and more bump filtration in 129-inch (327 cm) version. Separate spring and shock dynamics, plus the most rising-rate/progressive motion ratio in the industry give the rMotion suspension its supple ride in small bumps with added capability in large ones. Easy adjustments for shocks, springs and coupling block.
PILOT TS ADJUSTABLE SKIS (OPTIONAL) (SPRING ONLY)
DIAL-IN HANDLING
The industry's first adjustable ski. Dial-in ski bite for any snow conditions or your riding style by turning a knob on the ski leg, which raises or lowers the ski runner over a range of .5 in. (12.5 mm). This blade runner and new square keel design work together to make darting a thing of the past. (Available as part of optional Adjustment Package)
ULTIMATE PRECISION
Ultimate geometry and lighter components deliver excellent precision and stability especially in extreme bumps and reduces roll in corners. Sharp styling, too.
RMOTION QUICK ADJUST SYSTEM (OPTIONAL) (SPRING ONLY)
TAILOR YOUR RIDE
Running-board-mounted controls for rear suspension spring pre-load and rear shock compression damping make fine-tuning fast and easy, even with gloves on. Increases spring preload adjustment range by 40%, with infinite settings. (Available as part of optional Adjustment Package)
PREMIUM PERFORMANCE
Lightweight and very capable aluminum shocks by KYB. Wide range of adjustability with rebound damping adjustment and rebuildable/revalvable design.
ICE RIPPER XT TRACK (OPTIONAL)
ADDED GRIP
A derivative of the RipSaw track with carbide studs embedded in track lugs for added grip in icy conditions.
RACE-PROVEN CAPABILITY
Race-proven aluminum shock with no-tool compression damping adjustment. Rebuildable/revalvable design.
ROTAX 600 H.O. E-TEC ENGINE
BEST SELLING, BEST PERFORMING
The 600 cc-class benchmark for fuel economy, oil economy, smoothness and ease-of-use. Up to 21 mpg (11.3 L/100 km) trail fuel economy. Virtually no two-stroke smoke and smell and easy starting. Preparing for the off-season is easy with built-in automatic summerization function. No wonder its the best-selling 600cc engine in snowmobiling*. 120 horsepower
*Based on retail sale results as of December 31, 2016.
4-STROKE POWER PERFORMER
This inline triple with EFI delivers 130+ hp, managed by our intelligent Throttle Control (iTC). iTC significantly increases throttle response, includes three performance driving modes and operates as either a thumb- or finger-throttle. In addition to increased performance, it delivers outstanding fuel economy up to 19 mpg (12.3 L/100km)* in ECO mode. A lighter weight muffler delivers a throaty performance sound.
Image Gallery
Company Profile
Road Track and Trail
Contact Name Sales Department
Tel 262-662-1500
Fax 262-662-2009
Address W228 - S6932 Enterprise Drive
City Big Bend
State Wisconsin
Country United States
ZIP/Postal Code 53103