2013 Yamaha RS Vector SOLD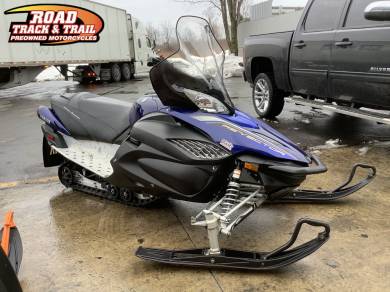 Year : 2013
Color : DEEP BLUE
Mileage : 4,318 Miles
Location : Big Bend, WI, US
Price : $ 5,999
Product Description
ELECTRIC START, REVERSE, HITCH, TALL SHIELD, HOOKS, CLEAN SLED. 4 STROKE ,

2013 Yamaha RS Vector


The 2013 Yamaha RS Vector features a series of key features which make it one of the most reliable snowmobiles in its class. Among them there are the industry-first EPS (Electric Power Steering) system and the strong Genesis 4-stroke engine. The EPS system helps you steer effortless with maximum precision and features a computer-controlled actuator which provides the optimum level of steering assistance. On the other hand, the fuel injected engines mapping was especially programmed to maximize performance and to offer a linear throttle response.
Its also worthy of being mentioned that the RS Vector L-TX is equipped with Yamahas 3rd generation front suspension, low-keel trail skis and mono Shock II CK 136 rear suspension.
The snowmobile is offered with many comfort features which include, a luxury seating, concentrated hand warmers, comfortable hand grips and an aerodynamic windshield.
Image Gallery
Company Profile
Road Track and Trail
Contact Name Sales Department
Tel 262-662-1500
Fax 262-662-2009
Address W228 - S6932 Enterprise Drive
City Big Bend
State Wisconsin
Country United States
ZIP/Postal Code 53103