2014 Yamaha Venture MP SOLD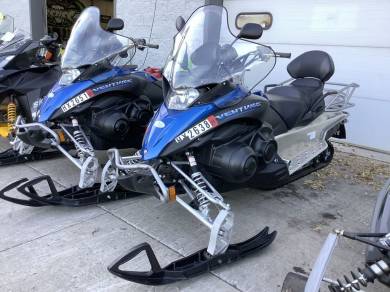 Year : 2014
Color : BLUE
Mileage : 72 Miles
Location : Big Bend, WI, US
VIN : JYE8GR006EA017013
Price : $ 8,499
Product Description
ONLY 72 MILES, 1-OWNER, ELECTRIC START, REVERSE, TALL WINDSHIELD, MIRRORS, REAR RACK, HITCH, PASSENGER HEATED GRIPS, FUEL INJECTED, AND 4 STROKE POWER! SUPER CLEAN 2-UP TOURING! HARD TO FIND!

2014 Yamaha Venture MPLightweight, Multi-Purpose and Can Handle Heavyweight Duty





Standard Features May Include:
Performance
Sport Performance 4-stroke engine
Lightweight, dependable and fun, the Genesis Sport Performance engine's high tech design puts down sport horsepower performance on the trail and off. Powering the distinctive Phazer family of sleds, this 2-cylinder engine is quick-revving and very torquey for sporty acceleration. The advanced fuel injection system automatically keeps it running at maximum output and fuel efficiency for the conditions.
Advanced fuel injection
The Sport Performance engine uses an advanced fuel injection system to control fuel flow to the engine. Consumers will enjoy the engine's spot-on performance and throttle response as a result of the advanced electronic fuel injection system.
Lightweight, counterbalanced crankshaft
The Sport Performance engine's crankshaft is designed to be light weight, responsive and durable. The lightweight, counterbalanced crankshaft delivers super-crisp throttle response and quick acceleration. It also helps mitigate the vibration inherent in a 2-cylinder engine
Handling
New Tuner dual-keel ski
The all-new Tuner dual-keel ski greatly contributes to the Venture MPs trail character. The dual keels keep the ski tracking straight and true down the trail, eliminating nosiness and darting. Each keel has its own wearbar, and Yamaha has four different bar configurations to choose from, which means you can tune your sled's cornering bite and steering effort to suit your personal preference.
Ultra light, ultra rigid FX chassis
The Venture MP is built on the FX Chassis. It features lightweight, rigid CF diecast member and chromoly tube construction. The FX Chassis was engineered specifically to house the Genesis Sport Performance engine and incorporates the engine package in its overall balance dynamic. The FX Chassis is also the backbone for the sport rider-forward position on the Venture MP.
Double wishbone front suspension
The FX Chassis uses a specifically engineered front suspension package to accommodate its unique weight distribution and handling needs. Because of the Venture MPs unique front end design, the A-arms need to be longer than even the second generation design found on the Deltabox II chassis models. The Venture MP also features lightweight extruded aluminum spindles.
Comfort
HPG front shocks
The 36mm High Pressure Gas (HPG) shocks on the Venture MPs front suspension deliver consistent performance with excellent fade resistance.
Large, protective windshield
The large windshield on the Venture MP is all about function. It is affixed to the chassis, offering consistent protection. The Venture MPs very large windshield provides excellent protection from the wind and snow debris.
Standard electric start and push button electric shift reverse
Yamahas electric starter system allows consumers to fire up their Venture MP with a turn of the key. The engines decompression system lightens the load required to turn the engine over, resulting in a small, lightweight battery. Yamahas Electric Shift reverse system lets users shift the sled into, and out of, reverse with the touch of a button on the digital gauge.
Image Gallery
Company Profile
Road Track and Trail
Contact Name Sales Department
Tel 262-662-1500
Fax 262-662-2009
Address W228 - S6932 Enterprise Drive
City Big Bend
State Wisconsin
Country United States
ZIP/Postal Code 53103