2017 Yamaha Sidewinder L-TX SE SOLD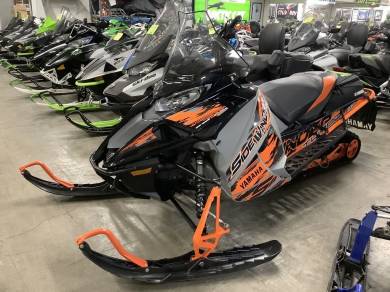 Year : 2017
Color : ORANGE
Mileage : 6,294 Miles
Location : Big Bend, WI, US
VIN : 4UF8MA100HT000577
Price : $ 11,999
Product Description
STUDS, REAR BAG, 4 WHEEL , SCRATCHERS, TURBO, 4 STROKE

2017 Yamaha Sidewinder L-TX SE


The ultimate performance factory turbo engine paired with the ultimate handling chassis and a track to hook it all up.
Features may include:
NEW 998cc Genesis Turbo Engine
The new Genesis 998 Turbo 3-cylinder engine delivers 800-class dominating performance in a compact package. The high tech engine system carries a full suite of features to ensure you have a great day on the snow and a fun night when you reach your destination. We use our advanced nine-sensor engine management system to control fuel flow for maximum performance, but it also incorporates a knock sensor to adjust ignition timing and even manifold pressure if the need should arise.
The Nickel alloy turbine body is extremely strong and precise, able to withstand highly elevated temperatures. Supported by premium, ceramic ball bearings, the Inconel turbine blade assembly is very light and strong. This yields a low moment of inertia for lightning quick response to exhaust gas input.
Yamaha has well over a decade of experience in harnessing the unique power delivery of a high performance four stroke engine. For the hyper performance Sidewinder L-TX SE, we have developed a new YSRC roller secondary system to deliver aggressive upshifting while also backshifting quickly to keep you in the power. In addition, we slightly upsized the new secondary to overshift and let the Sidewinder L-TX SE stretch its legs on a long lake run.
NEW Fox 1.5 Zero RC Shocks
The new Fox 1.5 Zero RC shocks on the R-TX SE front suspensions feature an adjustable coil spring, and a clicker adjustment that change both compression and rebound rate. They are fully rebuildable.
Dual Shock SR 137 Rear Suspension
The drop-link style Dual Shock SR 137 rear suspension is the cumulative result of years of punishment and development in snocross and cross-country competition. This crossover suspension offers premium bump compliance and control on trail, additional bump bridging capabilities thanks to its stretched length, and additional floatation and traction for occasional off-trail use. The SR 137 is a coupled suspension that utilizes a unique sliding front arm mount. With up to half-inch of movement at the front arm slot, the system allows the SR 137 to deliver controlled (reduced) ski-lift during acceleration while still retaining front arm bump compliance.
Our Deep Keel Tuner III Skis are engineered specifically for the SRV Chassis and the unique characteristics of the Sidewinder L-TX SE. They deliver reduced ski-pressure and near effortless steering; and the dual keel design delivers an assured bite in the corners with reduced darting. The design also allows you to customize the handling and feel of your sled with easy to change carbide runners in a variety of insert lengths for the inner and outer keel.
Image Gallery
Company Profile
Road Track and Trail
Contact Name Sales Department
Tel 262-662-1500
Fax 262-662-2009
Address W228 - S6932 Enterprise Drive
City Big Bend
State Wisconsin
Country United States
ZIP/Postal Code 53103