2018 Yamaha Sidewinder L-TX SE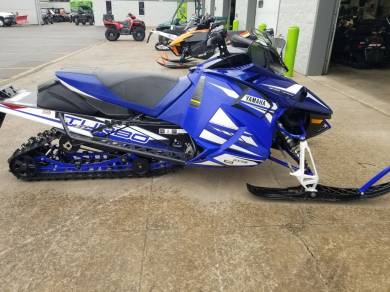 Year : 2018
Color : BLUE
Mileage : 3,934 Miles
Location : Big Bend, WI, US
Price : $ 11,799
Product Description
ELECTRIC START, REVERSE , MIRRORS, FOX FLOATS, AND MORE, CLEAN 4 STROKE TURBO SLED.

2018 Yamaha Sidewinder L-TX SEBUILT FOR THE AGGRESSIVE TRAIL RIDER.


The ultimate performance factory turbo engine paired with the ultimate handling chassis and a track to hook it all up.
Features may include:High Tech Turbo

The Nickel alloy turbine body is extremely strong and precise, able to withstand highly elevated temperatures. Supported by premium, ceramic ball bearings, the Inconel turbine blade assembly is very light and strong. This yields a low moment of inertia for lightning quick response to exhaust gas input. Triple throttle bodies are used exclusively to further enhance the quick delivery of compressed air from the impeller to intake valves.
Mitsubishi Electronic Control Unit
The Yamaha-developed Mitsubishi ECU uses a series of 9 sensors to gather running condition data which it computes using a predetermined memory map. It then adjusts ignition timing, fuel delivery, manifold air-pressure and turbo boost pressure to produce maximum Performance under any condition - reliably.
Triple Throttle Body Induction
Yamaha wanted an engine that's exceptionally quick to respond with little or no 'lag' as found in a conventional turbo. One of the ways they achieved their goal was to develop an intake system using three separate throttle bodies positioned very close to the intake valves. Instead of just one feeding long intake tubes something that is not seen in any other production turbo on the planet. And another first for Yamaha with the Genesis turbo.
Centralized Mass Design
The SRV chassis layout was engineered with the goal of centralizing mass. Approximately 60 percent of the sled's weight is tightly centered within the main triangulation. The result is a quick-handling, well balanced sled, that's fun to throw around in a wide variety of conditions.
SRV Front Suspension
The SRV front suspension geometry is aimed at managing spindle camber, resulting in minimized bump-steer and maximized cornering bite giving rider confidence in varying trail conditions. The A-arms are mounted at a 30-degree angle from the sled's centerline to efficiently dissipate impact force throughout the entire chassis. Likewise, the front shocks mount directly to the leading spar so that trail forces are routed to the strongest part of the chassis. Wide a-arm spacing minimizes flex and stress in the front suspension system, which means consistent and confident corner Handling.
Lightweight, Rigid SRV Chassis
The SRV chassis combines a load-bearing triangulated structure with lightweight aluminum construction to create a neutrally balanced sled that's centered on the rider. The pyramidal upper frame creates chassis strength without excessive weight.
Standard Electric Start
Yamaha's electric starter system allows you to fire up your Sidewinder L-TX SE with the turn of a key. There is no pulling on a nylon cord to get this high-tech engine growling! And you don't pay more - Electric start is a standard feature on all of Yamaha's 4-stroke machines.
Tapered Tunnel Design
The light weight, two-piece, tapered tunnel of the Sidewinder L-TX SE gives you strength for the long haul and a tapered "fit" for enhanced leg comfort and overall ride positioning. The reinforced running boards are punched with aggressive boot hold serrations and offers excellent snow evacuation to keep your feet planted where you want them.
Digital Gauge
Full-featured and easy to read, the digital gauge displays critical information in a glance including speed, fuel level, trip mileage, tach and more. We even included a clock so you can watch the time fly.
Image Gallery
Company Profile
Road Track and Trail
Contact Name Sales Department
Tel 262-662-1500
Fax 262-662-2009
Address W228 - S6932 Enterprise Drive
City Big Bend
State Wisconsin
Country United States
ZIP/Postal Code 53103