19th Annual Preston Pride Hillclimb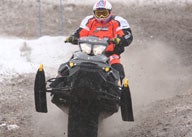 Vinnie Clark enjoyed a great weekend aboard his Ski-Doo hillclimbers
The Rocky Mountain Snowmobile Hillclimb Association (RMSHA) held its season opening hillclimb near Preston, Idaho, on a snowy weekend that made racing difficult due to low visibility. Despite less than perfect conditions the weekend of January 21-22, the Preston Pride event drew racers from Utah, Wyoming, Washington, Montana, and even from as far as British Columbia Canada to compete.
There were 144 racers making for 515 entries in 23 classes.  Classes ranged from Pro to Junior and from women's to masters. The first day of racing was set aside for qualifying. The qualifying course went halfway up the mountain to a catwalk, with only the top qualifiers moving onto the finals the following day.
The hillside course was laid out with two lanes up the mountain. Riddled with obstacles like stumps and rocks, each lane had its own level of difficulty. One lane had a nice side hill that some racers failed to properly negotiate. The other lane featured a stretch affectionately named the rock garden. Even some of the best riders fell prey to its rocks.
Race promoter and acting race director Bret Rasmussen was very pleased with the weekend event, noting,  "We qualified a lot of racers this weekend."
"The Preston Hill Climb is unique," explained Rasmussen. "It has the longest run when compared to other hill climbs, we use two lanes up the mountain so we can send two sleds up at the same time. It is non-stop action."
Even with plenty of snow, the course quickly wore down to dirt as high horse powered snowmobiles began chewing it up. As the day progressed the course became more and more difficult. More obstacles like large rocks and stumps were exposed, making it more difficult for racers to negotiate the course.
"We have it all here: fast flats, slow technical, and long fast up hill climbs," said Rasmussen. "We have done this hill climb for 19 years now and we feel it is one of the best mountains on the circuit."
Traveling from Valemount, British Columbia, Vinnie Clark enjoyed a great weekend on his Ski-Doos. He went home with the Stock King title, and was also first in Open Mod mod, and 1000 Stock. He took third in both 800 Mod and 800 Improved.
Tom Roby from Thayne, Wyoming, won the Improved King as well as first in 1000 Improved and Pro Masters Improved.
Riding his own custom-built Polaris Rush with an Assault rear end, Erin Beukleman from Nampa, Idaho, won the Mod King while also capturing firsts in 700 Mod and 800 Improved. He took second in 700 Improved.
Showing her racing dominance, Arctic Cat rider Amy Zollinger from Logan, Utah took all three of the women's classes — Stock, Improved and Mod.
The Semi-Pro King title went to Millville, UT, rider Dane Wilson on a Ski Doo. He added a first in the Semi-Pro Mod and Improved classes.
The classes proved very competitive, as sometimes only a thousandth of a second was all that separated first and second place. There frequently would be another thousandth of a second to third place.
To get their best rides in, hillclimb racers would constantly walk and examine the course trying to find a faster line that might save them a fraction of a second on their way up the mountain.
In addition to the action, spectators had plenty of eye candy to look at as many racers showed off custom hand-built mod snowmobiles. Many of these specialized machines were made up of lightweight materials like titanium, chromoly and aluminum. To set the fastest times it was commonplace to see mod racers competing aboard high-horsepower, turbo-equipped mod monster sleds. Trying to maximize power, some riders would opt to run their engine's fuel on the lean side — which sometimes resulted in motor seizures on some of the long hard pulls.
In its nearly two decades of history, the Preston hillclimb has become a great opening event.  In some spots it is as steep as Snow King Mountain, home to the Jackson hillclimb. But, the Preston hill is more forgiving. Even when riders have get-offs and sleds roll down this mountain, very little damage occurs.
For more information, results, and the rest of the hillclimb-racing schedule go to RMSHA.com.
Preston Hillclimb Results:
| | | |
| --- | --- | --- |
| Class | Winner | Brand |
| Stock King | Vinnie Clark | Ski-Doo |
| Improved Stock King | Tom Roby | Ski-Doo |
| Mod King | Erin Beukleman | Polaris |
| Semi-Pro Stock King | Dane Wilson | Ski-Doo |
| Pro 600 Stock | Keith Curtis | Polaris |
| Pro 700 Stock | Keith Curtis | Polaris |
| Pro 800 Stock | Keith Curtis | Polaris |
| Pro 1000 Stock | Vinnie Clark | Ski-Doo |
| Pro Masters Stock | Brad Sharp | Ski-Doo |
| Pro 600 Improved | Michael Crockett | Polaris |
| Pro 700 Improved | Shad Free | Arctic Cat |
| Pro 800 Improved | Erin Beukleman | Polaris |
| Pro 1000 Improved | Tom Roby | Ski-Doo |
| Pro Masters Improved | Tom Roby | Ski-Doo |
| Pro 600 Mod | Nathan Zollinger | Arctic Cat |
| Pro 700 Mod | Erin Beukleman | Polaris |
| Pro 800 Mod | Kyle Tapio | Arctic Cat |
| Pro Open Mod | Vinnie Clark | Ski-Doo |
| Pro Masters Mod | Rusty Johnson | Ski-Doo |
| Semi-Pro Stock | Patrick Trujillo | Ski-Doo |
| Semi-Pro Imp Stock | Dane Wilson | Ski-Doo |
| Semi-Pro Modified | Dane Wilson | Ski-Doo |
| Juniors | Mike Thompson | Ski-Doo |
| Women's Stock | Amy Zollinger | Arctic Cat |
| Women's Imp Stock | Amy Zollinger | Arctic Cat |
| Women's Mod | Amy Zollinger | Arctic Cat |
| New Member Imp | Shaun Crapo | Polaris |