Amber Holt Teaches Backcountry Basics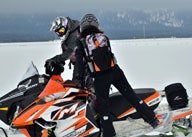 Amber Holt brings 20 years of experience and a new gender to backcountry powder
Backcountry snowmobile riding has come a long way in recent years. Terrain-specific snowmobiles have gotten exponentially better, along with the skill of backcountry riders.
One highly skilled rider who is trying to pass on her knowledge to new snowmobilers is Amber Holt – the lead "M" promoter for Arctic Cat and a skills master.
Holt, who hails from Idaho Falls, ID, owns Back Country Basics (BCB), where she demonstrates to her clients the basics of backcountry riding, as well as avalanche victim search and rescue. She has over 20 years in the field as a professional instructor/trainer. She is Cat's M line expert and represents the M series – the M6000, M8000 and M9000 – to Arctic Cat dealers and their customers.
Snowmobile.com recently caught up with this very busy rider for a question-and-answer session that provides a glimpse into her life as an instructor and Cat handler.
Snowmobile.com: How long have you been snowmobiling?
Amber Holt (AH): Ten years.
Snowmobile.com: Who taught you the art of technical backcountry riding, or did you learn on your own through trial and error?
AH: My husband Budd taught me. Some yes, through trial and error.
Snowmobile.com: What drove you to become a technical backcountry rider?
AH: I am an extreme four-season backcountry enthusiast. When I met my husband, he didn't do all that I did, but he did ride snowmobiles. When we married, we settled down in Alaska where Budd and I began backcountry riding. Budd is an amazing technical rider, so I strove to keep up with him. Eventually we moved to Sandpoint, Idaho and bought a house to live in for the winter.
The first snowmobile I rode was a Polaris with a 121-inch track, an okay length for Alaska's terrain, but not for North Idaho's deep snow and tightly spaced trees. I was beginning to become disinterested and frustrated. Budd recognized this and surprised me with a new Polaris Escape 144. With the correct equipment, my confidence and skill grew. With Budd's patience, two-year's worth, I outgrew the Escape – it would not follow the other bigger and newer chassis snowmobiles.
One evening I went to a club meeting and there was a new Arctic Cat M7, I knew it was for me. Budd and I purchased two.
Six weeks later I climbed a wicked hill called "Heaven." I do not fully remember the climb, but I remember that defining moment when I crested the top, which defined backcountry riding for me; it is that moment which drives me to help others find what I found.
Snowmobile.com: Now that you are Arctic Cat's leading technical backcountry specialist and backcountry spokesperson, what are your goals for yourself and your business?
AH: Grow the industry, not only for Arctic Cat, but as whole. I want to help bring more crossover outdoor enthusiasts into this sport, and grow the women's snowmobiling market. Until recently, the industry focused plenty on the extreme portion of the mountain segment, showcasing professional riders more as a celebrity. Yet, the "real world" rider needed enhanced skills; "experts" can give feedback all day long, but those trying to "become experts" are just as important. There are many products that need to be developed to make it easier and better for the smaller and newer rider segment and bring back the "family" factor to backcountry riding, to include Mom and her daughter.
My vision is to have a standardized school structure and new rider programs within the Arctic Cat dealer network that can properly outfit and educate any new rider from the first time they walk into a dealership to experiencing the rush of a new Arctic Cat M on the snow. From the day Arctic Cat and I joined together, I have felt privileged to be part of the input and changes that are in store for the industry.
I have had media overlook the fact that structured education, which I offer, is an essential growth factor that 80% of the riders relate to. There is absolutely no "bling" with what I do and offer, but it is a mainstream solid service. Enrollments are way up and Arctic Cat and I have started a completely new path together from any other rider OEM relationship. We are kind of writing a new book as we go, which keeps it interesting on that alone. As an instructor, I try to meet my students at their level, especially the clients I seek out to sign up that don't even know they are about to be addicted to backcountry snowmobiling.
Up until last year my clients were 80 percent male. It is only recently that this teaching and learning is available to women riders, that they too can enter the sport comfortably. My female registrations have equaled the male registrations. Keeping it real and letting people know BCB is for anyone, any gender, and any skill set.
Snowmobile.com: What is your preference when it comes to tree running, two-stroke or four-stroke?
AH: Two-stroke for lightness and four-stroke for throttle response and grow-able horsepower and torque. For me, it is a tossup. Up until the ProClimb I would have said the two-stroke, but there are many things about the four-stroke I really like. There is no perfect sled for every scenario.
However, the Arctic Cat ProClimb chassis is the easiest overall chassis for me to ride. It is well balanced and predictable in both configurations: four- and two-stroke.
Today, riding for me on a personal level, when I get the time to get out, is finding that serene space and inner rush as a result of the path it takes me while behind the throttle. Whether it is the trees, a chute, or backcountry terrain riding, it completely fills me up. Some people are competitive and that drives them, but for me I would have to say it's an inside spiritual thing that drives me to be a better technical rider.
Spending a Day with Amber Holt
In early February, we spent a full day with Holt and six students, being a fly on a snowmobile seat.
This particular day, Holt spent part of the morning covering the practical concepts of searching for and rescuing an avalanche victim, which brings us to describe Holt's program in whole.
Holt believes successful backcountry riding revolves around learning and mastering many skills, such as understanding snow composition, snow depth, terrain, nutrition, hydration, how to maneuver a snowmobile in many standup positions, such as: 1) standing over the seat, 2) both feet on one runningboard, or 3) one foot tucked up in a toe hold with the other foot (the outer foot) balancing out beyond the runningboard. These are but three of many positions (neutral, position one, position two, etc.) she teaches. According to her, these are crucial to safety, and to confidently and aggressively take it to the mountains in backcountry riding.
She teaches avalanche beacon/transmitter use, to include search and find, proper probing (as part of search and find), shoveling and how to administer basic first aid. She teaches team command-and-control and how to stay calm and clear thinking in such rescue situations.
However, Holt does not teach to make it about her. She is motivated to motivate others – to make her clients experience themselves. Call it a Zen thing. She encourages, and when a student doubts, she takes them back to the previous "basic" they mastered and builds them back up, and moves them toward that doubting point, and helps them bust through it.
Holt is a boundary breaker. Certainly not a "muscle" guy, this small-framed woman is strong, in shape, and is fiery. Can she whip a mountain muscle sled into shape as she has whipped herself into shape? With ease.
Holt's mission, as she reiterated to us, is to make backcountry snowmobiling a husband and wife or couples' affair as much as an individual affair. She also wants women snowmobile enthusiasts to believe they can master the skill of backcountry riding.
Now, if you are an ego dude and you conclude you can't learn from her? Well then, you are mistaken. She is in that elite group of backcountry artists where she can teach anyone who has the desire to learn, regardless of gender. Holt is not the Hollywood type; she is quiet about her fame, letting her work speak for itself.
Holt teaches from two main locations, Sawtelle Mountain Resort, Island Park, ID, and Seven Devil's Lodge, Council, ID. Other Locations and events include Arctic Cat corporation and dealer events/clinics throughout the US and Canada. For these events, clients can contact an Arctic Cat contact dealer to register.
Last season was a record setting time and according to Holt, this 2014 season be even bigger. BCB is booked for 16 weeks, December through March, where through this time period she will teach approximately 450-500 students through one- to two-day clinics.
She has hopes to franchise her business.
Outside of BCB, she will continue to host and conduct Arctic Cat's Demo Tours and continue as a product consultant for Arctic Cat.
In the off-season, which there is none for her, she fulfills responsibilities as a certified motorcycle instructor for Harley-Davidson, Idaho STAR (a State run motorcycle driver's safety program). She also runs a sister company as a motorcycle consultant called Backroads Basics.
For more information, check out http://www.backcountrybasics.com/.